What it's like to use a glory hole
One reader's first time receiving oral sex through a glory hole.
By Time Out editors Wed Oct 14 2009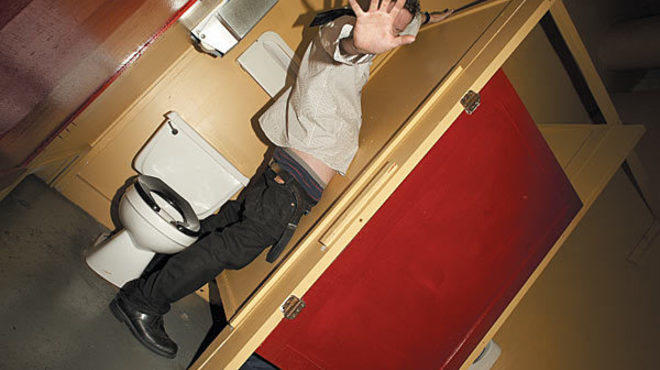 Photograph by Sean Williams
Male, 26, Uptown
My first experience with glory holes did not happen entirely by choice. In fact, before then, I'd been way too prudish to even consider having sex with anyone but my boyfriend, aside from a threesome.
But my guy talked me into going with him to our local bathhouse. Once we arrived, he explained the many options available. I decided that getting head through a glory hole was about the most anonymous thing I could do, so I set out in search of one. I discovered a room full of holes of different sizes and at various heights. After finding "mine," I stuck my junk through it.
While the very eager cocksucker on the other side of the partition was immediately…how shall I say…amazing, I was also being fondled by other men behind me, much to my dismay. You may ask, "Why is that a bad thing?" Aside from being a prude, I'm also kind of waifish, and these men were anything but. One of them thought it a good idea to start fucking me bareback, without my permission. What a lack of etiquette!
After fending off the overly zealous porn daddies, I took quite a bit more time to come than the giver on the other side of the wall wanted to spend. When this became obvious to me, I felt disappointed because I'd always thought of sex as a mutually pleasurable experience. It also made me realize I am much more a giver than a receiver. I suddenly wanted to make sure the other guy also got off. And that was when I made my biggest mistake: I looked over the wall to say hello. He gave me a derisive look and moved on to another hole.
FIRST TIMER'S TIPS * If you're a much better receiver than giver, be considerate to the giver and just come already. * Be assertive. You don't have to do anything you don't want to…unless that's your fantasy, of course. * Keep it anonymous. Don't peek over the wall and say hello; it only makes you look like a jackass.
You might also like
---