NATO protest's arresting images | The scene
By Jake Malooley Mon Aug 10 2009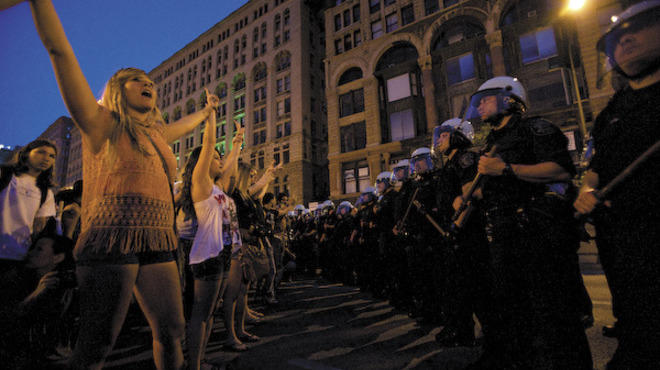 Chicago Police form a line not allowing Nato protesters to pass near the intersection of Congress Parkway and Michigan Avenue in downtown Chicago on May 19, 2012. Photograph: Michael Jarecki
Saturday, May 19, 8:34pm Between the scattered flare-ups of violence before and during the NATO summit, the coming together of protesters and police offered some arresting sights. When seen from the detached vantage point of the ubiquitous TV news choppers hovering above the South Loop, the bristling, kinetic tension between authority and anti-authority at the tail end of the May 20 rally formed patterns reminiscent of intricate magnetic fields. The symmetrical standoff at Michigan Avenue near Congress Parkway (pictured) the night before the big protest march could well be a publicity still from a contemporary West Side Story: "Gee, officer Krupke, Krup you!" Still, there were enough instances of levity to bridge the gap between law-enforcement officials and the demonstrators who love to hate them. Perhaps the NATO-resistance update of the flower-in-the-gun-barrel moment came when an audacious agitator waved a bag of Hostess Donettes under a police lieutenant's nose. The cop couldn't help but crack a smile.
You might also like
---
Users say
503 Service Unavailable
No server is available to handle this request.