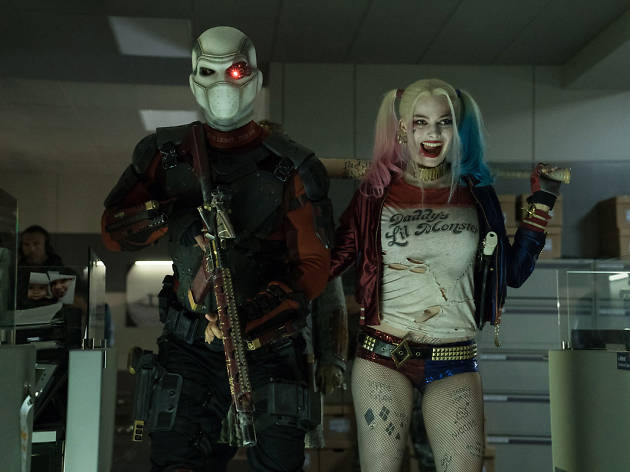 Never mind the Batmans: here's a rude antidote to dull superheroics and epic running times
The big fear about the punky, not-for-kids comic-book movie Suicide Squad was that it might be too try-hard: Hollywood awkwardly slumming it with the alt crowd. But this loony wise-cracking DC Comics story, directed with anti-glossy grit by David Ayer (End of Watch, Fury), plays like a twisted B-side to some of the slicker movies in the comics world.

"You want to put our national security in the hands of witches, gang-bangers and crocodiles?" asks one government official as ruthless high-up Amanda Waller (Viola Davis) – the baddest badass in a movie full of them – introduces her scheme. Law and order is crumbling after Batman v Superman, and Waller intends to assemble a ragtag band of sicko 'meta-humans' to fight evil.

One by one, the Squad is gathered. Will Smith is former gang member Deadshot; Margot Robbie is psychiatrist turned psychopath Harley Quinn; Adewale Akinnuoye-Agbaje is Killer Croc; and so on. Waller has a second trick up her sleeve: she controls Enchantress (Cara Delevingne), an archaeologist by day, possessed shape-shifter after hours.

This is Batman's world, and the chiselled guy (aka Ben Affleck) pops up but ends up looking like the square guy at a cool party. The soundtrack – Rolling Stones, The White Stripes, Eminem – says a lot about where this movie pitches itself: playfully fun in a Tarantino-lite sort of way. And it's not all ultra-violence: each member of the Squad secretly dreams of a family, a fitted kitchen and a garden. In the end, Suicide Squad ends up being less a celebration of bad behaviour and more a tribute to outsiders.

There are too many characters for the movie to handle: blink and you'll miss the Aussie guy with the boomerang. On the other hand, you might end up wishing for less of Delevingne, who winds up croaking like a chain-smoking granny. But what of Jared Leto's The Joker? We see little of him, but he still threatens to steal the film. Leto plays The Joker like a volatile over-privileged teenager, though his voice hints at some older influences (a bit of Brando, a dash of Pacino, a hint of Anthony Hopkins). His relationship with Margot Robbie also makes him a twistedly romantic villain (watch out for their big gushy moment in a vat of chemicals!). This is not The Joker's film, but must surely be a taste of things to come in sequels future.

In the end, the characters are more lasting than the story, which is a standard save-the-city-from-destruction yarn. But this crew is a riot, and their world is intriguing and even a little meaningful. What's more – and this is no small thing in a time of bloated blockbusters – Suicide Squad clocks in at just over two hours, swept into port on a swift wind of pace and style .
Release details
| | |
| --- | --- |
| Release date: | Friday August 5 2016 |
| Duration: | 123 mins |
Cast and crew
Director:
David Ayer
Screenwriter:
David Ayer
Cast:
Margot Robbie
Cara Delevingne
Scott Eastwood
Jared Leto
Will Smith
Ben Affleck

Average User Rating
2.6 / 5
Rating Breakdown
5 star:

0

4 star:

2

3 star:

6

2 star:

3

1 star:

2
I did not know what to expect, but I was really looking forward to a better film than the last Batman Vs Superman which underwhelmed me.. I was not disappointed this time around. The characters, although many, are well developed specially Deadshot (Will Smith) and the great Margot Robbie. She stole the show in my opinion, as did Jared Letto in the few minutes he was on screen. Action was good but there are clearly misses with the story - it is a lot to jam in two hours- but as hero film goes this one is good.
I hope the review has nothing to do with the fact the film splashed out on a big advert (the front/back cover...)