The 100 best romantic movies: break up
Experts including Tom Hiddleston, Joan Collins and EL James vote for the best films about love and romance
Now we know which are the 100 best romantic movies of all time. But which are funny and which are heartbreaking? Which depict a dignified romance and which are saucy? Which are strictly arthouse and which are cheesy? We've applied 19 handy labels to the 100 films in our list. Here you'll find all the films at the heart of which is a 'break up'.
Got something to add? Tell us what you think in the comments below.
The 100 best romantic movies: break up
3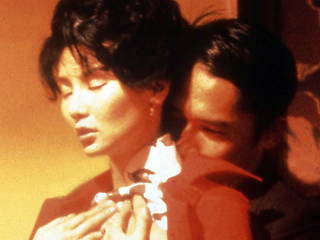 In the Mood for Love (2000)
Director: Wong Kar-Wai
Cast: Tony Leung Chiu Wai, Maggie Cheung
Best quote: 'Feelings can creep up just like that. I thought I was in control.'
Defining moment: Leung whispers his secret into the ruins of a wall.
 
The agony and the ecstasy
No one understands the ache of love like Wong Kar-Wai, and 'In the Mood for Love' is his masterpiece. In 1960s Hong Kong, two of the most glamorous leads ever to grace the screen – Leung and Cheung – move next door to each other. His wife is cheating on him with her husband, and out of this betrayal a friendship develops. Should they have an affair of their own?
Leung, impossibly handsome, is a study in reserved pain. Cheung is unutterably elegant. Honestly, they make the 'Mad Men' cast look like scruffy students. At the heart of this muggy, sensual story is the feeling that love is a matter of timing – that a moment missed can never be recaptured. And Leung whispering his secret into the ruins of a wall is an exquisite image of pain and yearning. CC

Read the Time Out review of 'In the Mood for Love'
4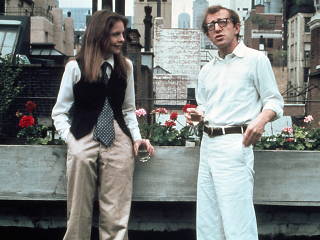 Annie Hall (1977)
Director: Woody Allen
Cast: Diane Keaton, Woody Allen
Best quote: 'Don't knock masturbation. It's sex with someone I love.'
Defining moment: Call the lobster squad! Dinner has escaped.
 
Analyse this
Irrational, crazy and absurd. 'Annie Hall' gives us love in its all its messy glory. It's the anatomy of break-up. 'Where did it all go wrong?' asks Woody Allen's neurotic comedian Alvy Singer after his split from scatterbrain singer Annie (Diane Keaton, enjoying a killer fashion moment in boyish slacks and a fedora).
Allen has said that 'Annie Hall' was his first film to go 'deeper'. And at its heart is the sad message that finding your soulmate doesn't guarantee a happy ending. Or, as an old woman tells Alvy: 'Love fades.' But for all that, 'Annie Hall' is hands down the most hilarious film ever made about love, hysterically funny and packed with gags. CC

Read the Time Out review of 'Annie Hall'
---
9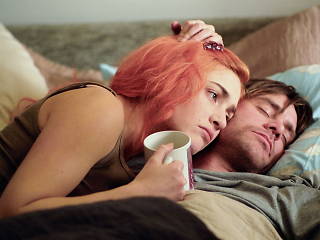 Eternal Sunshine of the Spotless Mind
Eternal Sunshine of the Spotless Mind (2004)
Director: Michel Gondry
Cast: Jim Carrey, Kate Winslet
Best quote: 'I've never felt that before. I'm just exactly where I want to be.'
Defining moment: That final conversation in the hallway, in which the repetition of the simple word 'okay' means so much more than just 'I love you'.
Brainwashing for beginners
You might see this extraordinary film, a joint career peak for Michel Gondry, writer Charlie Kaufman and its improbably but perfectly matched leads, described in generic DVD catalogues as a romantic comedy. It's a term that seems wholly unequal to its dizzying conceptual acrobatics, not to mention the profound sadness in its absurdist excavation of post-romantic trauma.
But a rich, tragedy-tinged comedy it is: Kaufman has essentially given a scruffy sci-fi makeover to a 'Philadelphia Story'-style farce of second chances and destiny denied, without letting the film's beating screwball heart get overly chilled by its wintry New York cool. No longer just the hipster's choice, it's become the go-to love story for an entire generation of, to paraphrase Kate Winslet's Clementine, fucked-up girls – and guys – looking for their own peace of mind. GL

Read the Time Out review of 'Eternal Sunshine of the Spotless Mind'
---
12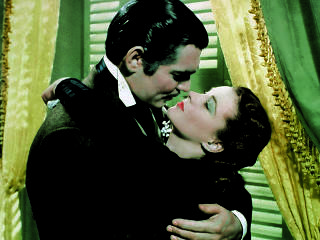 Gone with the Wind (1939)
Director: Victor Fleming
Cast: Vivien Leigh, Clark Gable
Best quote: 'Frankly, my dear, I don't give a damn.'
Defining moment: Rhett Butler's scandalous proposal – Scarlett is in mourning, her husband not yet cold in his grave.

 
Whistlin' Dixie
Why should we still give a damn? Because after more than 70 years, 'Gone with the Wind' still does it bigger and better. At nearly four hours long it's the ultimate rainy-day-in-bed-with-the-flu movie and features maybe the greatest ever screen lovers. Every actress in Hollywood was screen-tested or considered for the role of spoiled Southern belle Scarlett O'Hara. In the end, it went to the hardly-known British actress Leigh, with Gable cast as infamous ladies' man Rhett Butler.
Scarlett knows exactly what kind of man Rhett is the moment she meets him – the kind of who has a pretty good idea what a girl looks like in her petticoats. Years later, after toughing out the Civil War, Scarlett notches him up (or is it vice versa?) as husband number three. And their stormy marriage gives us one of cinema's greatest unanswered questions. Can she win him back? Is tomorrow another day? CC

Read the Time Out review of 'Gone with the Wind'
---
19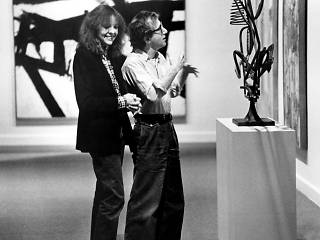 Manhattan (1979)
Director: Woody Allen
Cast: Woody Allen, Diane Keaton, Mariel Hemingway, Meryl Streep
Best quote: 'You look so beautiful I can hardly keep my eyes on the meter.'
Defining moment: The stately black-and-white shots of the city cut to Gershwin's 'Rhapsody in Blue'.
A hell of a town
There's so much in 'Manhattan' that's familiar from Woody Allen's other films, not least Woody himself playing a writer, Isaac, with endless hang-ups and a variety of women in his life. Here, those women are his 17-year-old girlfriend, Tracy (Hemingway); another love interest, Mary (Keaton); and his ex-wife, Jill (Streep).
For Woody, romance is fluid, complicated and alive. Yet by far the biggest romance in 'Manhattan' is Woody's affair with the city itself. New York is often the backdrop for Woody's films, but here a sense of place is more important than ever. There are those famous montages of the Manhattan skyline, lent a rare beauty by Gordon Willis' loving black-and-white photography, and at the film's climax we see Isaac running through the streets that have shaped him – and Woody Allen – and continue to do so. DC

Read the Time Out review of 'Manhattan'
---
34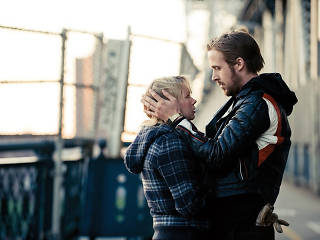 Blue Valentine (2010)
Director: Derek Cianfrance
Cast: Ryan Gosling, Michelle Williams
Best quote: 'In my experience, the prettier a girl is, the more nuts she is, which makes you insane.'
Defining moment: When Dean threatens to throw himself from a New York bridge if Cindy won't tell him what's up.
 
In sickness and in health
The rough follows the smooth in this bittersweet US indie which flits back and forth from the dying embers of a five-year marriage to the first throes of heady passion. Cindy and Dean are tired, frustrated young parents, but not long ago they were dancing on the streets. Cianfrance gives us a frank portrait of where love can head if there are problems from the start.
It's a difficult and sad watch, but an invigorating one as we run along with the energy of Cindy and Dean's first meetings and then scratch our heads at where it all went wrong. What makes 'Blue Valentine' a smart summary of a faltering romance are the specifics of Dean and Cindy's problems: there's no cynical suggestion that all or most relationships head south with time. Instead, Cianfrance makes subtle suggestions as to why this one might not last the distance. DC

Read the Time Out review of 'Blue Valentine'
---
53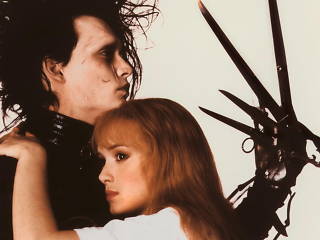 Edward Scissorhands (1990)
Director: Tim Burton
Cast: Johnny Depp, Winona Ryder
Best quote: Kim: 'Hold me.' Edward: 'I can't.'
Defining moment: Kim dances in the 'snow' Edward makes from an ice sculpture in sunny California.

 
Cuts you up
The scariest thing about Burton's gothic fairy tale is reading the list of actors who were considered for the part of Edward, the man with scissors for hands created by a scientist. The studio insisted Burton meet Tom Cruise (who believed the story needed a 'happier ending'). Michael Jackson badly wanted the part. Tom Hanks turned it down.
Finally, Burton got his way and cast Johnny Depp, who, like a Camden goth Charlie Chaplin, plays Edward with a dash of slapstick and sad-eyed loneliness (watch Edward's scissor fingers twitch when he's nervous). It was the beginning of a beautiful friendship between Depp and Burton, who've made seven films together since. Not such a happy ending for Depp and his co-star and then-girlfriend, Ryder. They split in 1993. CC

Read the Time Out review of 'Edward Scissorhands'
---
59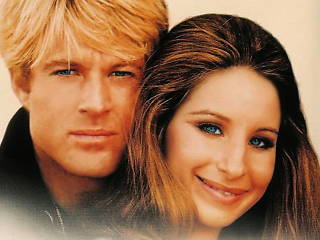 The Way We Were (1973)
Director: Sydney Pollack
Cast: Barbra Streisand, Robert Redford, Bradford Dillman
Best quote: 'When you love someone… you go deaf, dumb and blind.'
Defining moment: The first sight of Babs and His Bobness as 1930s college students.
 
Let's call the whole thing off
'Scattered pictures from the corners of my mind…' Alan and Marilyn Bergman's lyrics and Marvin Hamlisch's melody proved an Oscar-winning combination, bolstering the already considerable star power which has long made this a mums' favourite. Barbra Streisand is a bolshy, strident Jewish lefty, Redford a WASP prince out to further his own literary career. They seem like chalk and cheese, but such is the stuff of romantic sagas.
That said, the movie never seems quite sure whether it's unabashed retro-styled escapism or a serious look at the currents of US politics leading to the cultural strife of the '50s – though the studio's slashing cuts to the McCarthy-era footage certainly tip it towards the former. Like the song says, 'Misty watercolor memories, of the way we were'. TJ

Read the Time Out review of 'The Way We Were'
---
71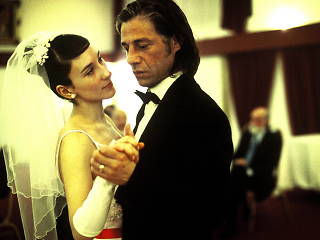 Head-On (2004)
Director: Fatih Akin
Cast: Birol Ünel, Sibel Kekilli, Catrin Striebeck
Best quote: 'Are you strong enough to stay between me and her?'
Defining moment: Devil-may-care Ünel celebrates his newfound love by shredding his hands in broken glass and dancing bloodily on stage with a Turkish dance band.
Culture crash
Judging by his ravaged-rocker looks, Turkish-born, Hamburg-resident Birol Ünel is heading for oblivion by the scenic route – drink, drugs, sex, argy-bargy – and that's before he drives his car head-on into a wall. The last thing he needs while recovering in a psychiatric unit is an offer of marriage from fellow patient Sibel Kekilli, another Turkish-German misfit of equally volatile temperament.
The mayhem which follows has a lot to say about the travails of growing up between two cultures – one ultra-liberal, the other repressive – but amid all the rage, blood and aggro of a truly headbanging storyline, there's a profoundly moving recognition of the power of love to bring meaning and commitment where previously only existed substance-fuelled nihilism. A stone-cold modern classic. TJ

Read the Time Out review of 'Head-On'
---
79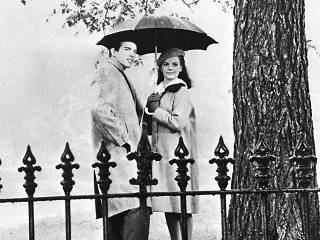 Splendor in the Grass (1961)
Director: Elia Kazan
Cast: Natalie Wood, Warren Beatty, Pat Hingle
Best quote: 'My pride? My pride? I don't want my pride!'
Defining moment: The young lovers break from their frenzied necking as waters symbolically cascade in the background.
 
Youth in revolt
Rural Kansas, 1928, when 'nice' girls were supposed to hold out until the wedding night. Every fibre of her being is telling high-schooler Natalie Wood she wants alpha male Warren Beatty right now, but his oil magnate dad has decided she's too ordinary for marriage. Welcome to a world before contraception, as acclaimed playwright William Inge's Oscar-winning script puts in place a devastating conflict between fundamental human desires and layers of obfuscating social hypocrisy.
Both in their early twenties at the time, Beatty and Wood make a sensual couple, as director Kazan constructs a pristine vision of Americana, played against a coruscating narrative where yearning slides uncontrollably into hysteria. Wood's startling performance deserved an Oscar but got only a nomination. TJ

Read the Time Out review of 'Splendor in the Grass'
---
81
Waterloo Bridge (1940)
Director: Mervyn LeRoy
Cast: Vivien Leigh, Robert Taylor, Virginia Field
Best quote: 'Every parting from you is like a little eternity.'
Defining moment: Viv and Bob slow-dancing the 'Auld Lang Syne Waltz'.

 
They are in paradise
The young Vivien Leigh will always be remembered for her indomitable Scarlett O'Hara in 'Gone with the Wind'. But she also displayed heartbreaking fragility in this famous version of Robert E Sherwood's play, an ill-starred romance 'twixt soldier and ballerina set against the chaos of war.
As WWII breaks out, colonel Taylor finds himself on Waterloo Bridge, assailed by memories of his whirlwind love affair in the same city during the Great War. Cue triple-strength schmaltz in the golden-age Hollywood manner as fate comes between the radiant couple, though not before they've shared an all-time classic clinch on New Year's Eve, breathily smooching as lights are extinguished round a darkening dancefloor. Passion and foreboding in potent harmony. TJ

Read the Time Out review of 'Waterloo Bridge'
---
---
The best songs from the top 100
Read a review of...
Regular Time Out film features
The best films now showing
Fond and giddy, the film of Michael Bond's books is everything you want it to be
Rated as: 4/5
Critics choice
A boys-own retelling of adventurer Thor Heyerdahl's 1947 Pacific crossing
A soulful, uplifting documentary following the occupants of a Nepalese cable car
See more Time Out film reviews