The 100 best romantic movies: cheesy
Experts including Tom Hiddleston, Joan Collins and EL James vote for the best films about love and romance
Now we know which are the 100 best romantic movies of all time. But which are funny and which are heartbreaking? Which depict a dignified romance and which are saucy tales of lust? Which are strictly arthouse and which are purely populist? We've applied 19 handy labels to the 100 films in our list. Here you'll find all the films we think deserve the label 'cheesy'.
Got something to add? Tell us what you think in the comments below.
The 100 best romantic movies: cheesy
40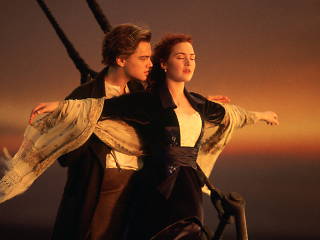 Titanic (1997)
Director: James Cameron
Cast: Kate Winslet, Leonardo DiCaprio
Best quote: 'Where to, Miss?' 'To the stars!'
Defining moment: Oh, go on then: the prow scene, where Leo claims to be the king of the world, and just for a moment we all believe him.
 
My heart will go on… and on… and on…
Few films inspire as much passion as James Cameron's epic would-be folly. Following a troubled production, when the film finally splashed into cinemas, it became the biggest money-spinner of all time, provoking an ocean of housewives' tears and one of the biggest Oscar hauls in history. Then the backlash hit, like an iceberg in Arctic waters: wait a second, people pointed out, the dialogue's godawful, the depiction of social class is farcical, and the romance is just join-the-dots Mills and Boon nonsense.
So which is true? Well, both, to be fair. 'Titanic' is an incredibly involving experience, especially once the ship hits the berg and all hell breaks loose. Sure, it's about as intellectually valid as a Jilly Cooper novel, but if you're looking for a high-concept crowd-pleaser with its heart firmly on its sleeve, they don't come much bigger, sillier or more enjoyable. TH

Read the Time Out review of 'Titanic'
---
43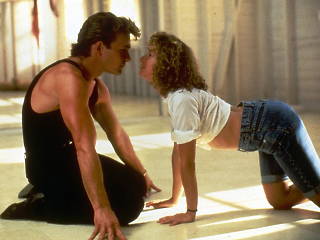 Dirty Dancing (1987)
Director: Emile Ardolino
Cast: Patrick Swayze, Jennifer Grey
Best quote: 'Come on, ladies. God wouldn't have given you maracas if He didn't want you to shake 'em.'
Defining moment: Nobody puts Baby in a corner. When even Ryan Gosling has scored using your defining moment (in 'Crazy, Stupid, Love'), you know it's a good 'un.
Sir Patrick of Swayz
She dreamt of studying the economics of underdeveloped countries and volunteering for the Peace Corps. He just wanted to dance the night away. Until one day she manhandles some watermelons into his backstage area (not a metaphor), and falls in love at first sight.
Filmed at the peak of Patrick Swayze's handsomeness, with a healthy dollop of none-more-'80s style and a cracking jukebox full of irresistibly catchy numbers, a thousand clip shows would have us remember 'Dirty Dancing' as something of a minor classic. And, for once, they would be right on the money. CB

Read the Time Out review of 'Dirty Dancing'
---
46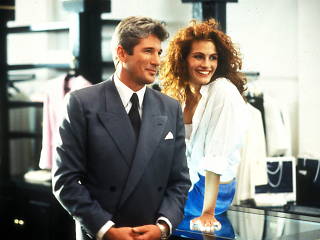 Pretty Woman (1990)
Director: Garry Marshall
Cast: Richard Gere, Julia Roberts
Best quote: 'You and I are such similar creatures Vivian. We both screw people for money.'
Defining moment: Gere and Roberts take a private jet from LA to San Francisco for a date at the opera.
 
Date with destiny
Roberts offered a very different shot in the arm to prostitutes everywhere with this ludicrous but undeniably charming romantic fantasy about a Hollywood streetwalker who falls for a stinking rich businessman (Gere) after he hires her for a week to be his companion at dinners and evening engagements, in between his epic workload of barking at lawyers.
Sure, the idea of a prostitute who's as beautiful, clean, happy and glamorous as Roberts is absurd, but then Gere's portrait of the archetypal 1980s business shark with a core of ice yearning to be melted is just as caricatured as her tart with a heart.
'Pretty Woman' is slushy, cheesy and so smoothly crafted that it succeeds as the very definition of romantic escapism. Roberts also has some winning comic moments, including her curtain-call quip to an elderly lady at the opera: 'It was so good I almost pee'd my pants.' DC

Read the Time Out review of 'Pretty Woman'
---
48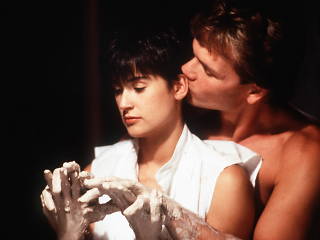 Ghost (1990)
Director: Jerry Zucker
Cast: Demi Moore, Patrick Swayze
Best quote: 'I love you. I really love you.' 'Ditto.'
Defining moment: Swayze and Moore send shares in pottery classes skywards.

 
Care for a little necrophilia?
Screenwriter Bruce Joel Rubin was initially dismayed to hear that producers planned to hand his heartbreaking supernatural romance over to 'Airplane!' director Jerry Zucker ('I thought with this director that they were going to turn "Ghost" into some kind of comedy and it'd be horrible'), but in fact the move led to a skilfully put-together mixture of tearjerker and madcap farce, enabling Whoopi Goldberg to turn in an Oscar-winning Best Supporting Actress performance for her role as con artist/medium Oda Mae Brown.
Counting sexy pottery as a given, 'Ghost' is also romantically notable for the queer frisson of the scene where Sam's spirit possesses Oda Mae to share one final dance with Demi Moore's grieving Molly. CB

Read the Time Out review of 'Ghost'
49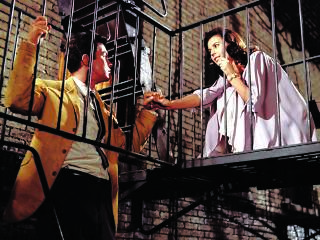 West Side Story (1961)
Directors: Jerome Robbins, Robert Wise
Cast: Natalie Wood, Richard Beymer, Russ Tamblyn
Best quote: 'There's a place for us, somewhere…'
Defining moment: It's as camp as Christmas, but Maria (Wood) singing 'I Feel Pretty' while anticipating her next date with Tony (Beymer) is a magical moment of romantic exuberance.
The song of the streets
Baz Luhrmann's 'Romeo + Juliet' may have made all the tweeners' hearts melt (and scored a higher place on this list), but the real hep chicks and finger-poppin' daddies know which version of Shakespeare's play is the real leader of the pack.
'West Side Story' is like no other musical: sure, it's sappy ('Mariaaaaaaaaaa') and slightly ridiculous, but it's also brazenly political ('if you're all white in A-me-ri-ca!'), sneakily self-mocking ('Hey, I got a social disease!') and ferociously, aggressively emotional: the operatic finale is a masterclass in three-hanky audience manipulation. Also, the film contains perhaps the single best song ever written for the musical theatre: 'Somewhere', the ultimate romantic ballad for trapped and dreaming lovers. TH

Read the Time Out review of 'West Side Story'
---
58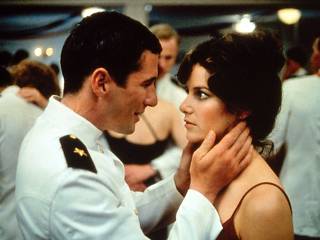 An Officer and a Gentleman (1982)
Director: Taylor Hackford
Cast: Richard Gere, Deborah Winger, Louis Gossett Jr
Best quote: 'I got nowhere else to go!'
Defining moment: That '80s-tastic finale, with Richard Gere in naval whites and 'Up Where We Belong' on the soundtrack.
 
Come on and join your fellow man
'Star Wars' showed the movie business that audiences were ready for old-fashioned stories in shiny new packaging, and this mega-hit melodrama took a not-dissimilar approach. Old Hollywood might have pictured the local girl trying to keep her honour yet win the heart of a dashing navy recruit. Here, Richard Gere hogs the limelight as the would-be flyboy learning to love someone other than himself – while Debra Winger alternates good-girl and bad-girl moves.
It's far from subtle, but certainly delivers more grit than a payload of weepy master Nicholas Sparks' adaptations. And the big hit single made the image of uniformed Gere ubiquitous for a while – provided you could get goggle-eyed, windmill-armed vocalist Joe Cocker out of your mind. TJ

Read the Time Out review of 'An Officer and a Gentleman'
59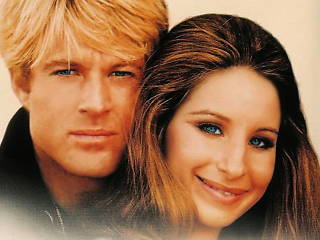 The Way We Were (1973)
Director: Sydney Pollack
Cast: Barbra Streisand, Robert Redford, Bradford Dillman
Best quote: 'When you love someone… you go deaf, dumb and blind.'
Defining moment: The first sight of Babs and His Bobness as 1930s college students.
 
Let's call the whole thing off
'Scattered pictures from the corners of my mind…' Alan and Marilyn Bergman's lyrics and Marvin Hamlisch's melody proved an Oscar-winning combination, bolstering the already considerable star power which has long made this a mums' favourite. Barbra Streisand is a bolshy, strident Jewish lefty, Redford a WASP prince out to further his own literary career. They seem like chalk and cheese, but such is the stuff of romantic sagas.
That said, the movie never seems quite sure whether it's unabashed retro-styled escapism or a serious look at the currents of US politics leading to the cultural strife of the '50s – though the studio's slashing cuts to the McCarthy-era footage certainly tip it towards the former. Like the song says, 'Misty watercolor memories, of the way we were'. TJ

Read the Time Out review of 'The Way We Were'
---
73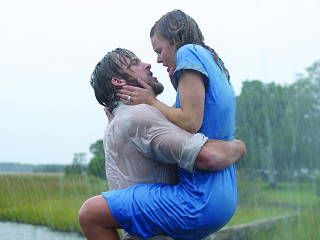 The Notebook (2004)
Director: Nick Cassavetes
Cast: Ryan Gosling, Rachel McAdams
Best quote: 'Do you think our love can make miracles?'
Defining moment: That snog in the rain, just after Allie learns about the 365 love letters from Noah that she never received.
 
The world gets Gozzled
The, er, literary oeuvre of Nicholas Sparks has been churned into an awful lot of insipid Hollywood schlock – nobody past puberty got misty-eyed over Miley Cyrus in 'The Last Song', and surely no one of any age remembers Kevin Costner in 'Message in a Bottle'.
On the face of it, it's hard to say why the aggressively sentimental 'The Notebook' is any different. But there's something so earnest about the way this star-crossed teen romance – he's a common country boy, she's a beautiful heiress, you do the math – hits its clichéd marks that the film itself takes on the unassailable, idealistic purity of first love. Magic casting, too: here's where the world's love affair with Ryan Gosling started, before he got way too cool for this sort of thing. GL

Read the Time Out review of 'The Notebook'
---
76
Four Weddings and a Funeral (1994)
Director: Mike Newell
Cast: Hugh Grant, Andie MacDowell
Best quote: 'In the words of David Cassidy, when he was still with The Partridge Family, I think I love you.'
Defining moment: When Grant's Charles makes a stuttering declaration of love to MacDowell's Carrie on the sunny South Bank.
This is mumblecore
Yes, it's all a bit safe and cosy, but it's the touch of chaos and the breezy sense of truth running through Richard Curtis's neatly-structured romcom that makes it so appealing and enduring. It's also so very British, from the vicar (Rowan Atkinson) with a penchant for Spoonerisms when conducting marriages to the cringey best-man speeches and the delicious caricatures of wedding guests.
At its heart is Grant's winning portrait of a man unlucky in love, and it's impossible to imagine another actor in the role. It may sound silly nearly 20 years on, but respect to Curtis, too, for putting an uncomplicated gay relationship at the heart of such a mainstream film – and ensuring there's not a dry eye in the house when that WH Auden poem is read at the funeral of Simon Callow's character. DC

Read the Time Out review of 'Four Weddings and a Funeral'
---
92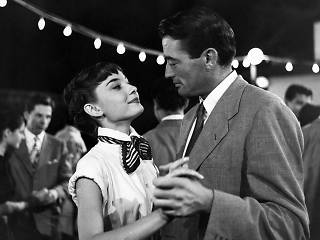 Roman Holiday (1953)
Director: William Wyler
Cast: Audrey Hepburn, Gregory Peck
Best quote: 'I'm not two hundred years old. Why can't I sleep in pajamas?'
Defining moment: A swooningly sad, near-perfect love-story ending.
 
I wanna live like common people
It was the film that made Hepburn an overnight star at the age of 22. She fizzes as tomboyish Princess Ann, who is bored to tears of dreary ambassadors' balls and hobnobbing with crusty old majors with walrus moustaches.
On a state visit to Rome, Anne slips away to see how the other half live. Peck is the American reporter who can't believe his luck, picking up a real-life runaway princess. Sure, he tells her, he'll show her the sights… On the sly he's cooking up the scoop of the century. Of course they fall in love. Swoon at its near-perfect ending, with its tender message that a moment's happiness can last you a lifetime. CC

Read the Time Out review of 'Roman Holiday'
---
100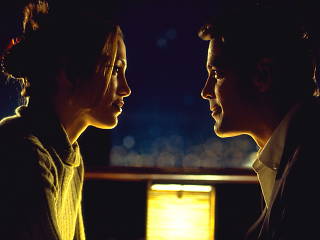 Out of Sight (1998)
Director: Steven Soderbergh
Cast: George Clooney, Jennifer Lopez
Best quote: 'Jack, please don't make me do this.'
Defining moment: J-Lo and Clooney get up close and personal in the boot of a getaway car.
 
 
Junk in the trunk
It's got to be the sexiest meet-cute in the movies. Clooney is a bank robber who's just bust out of prison. Lopez is the federal marshal who gets in his way. We already know she likes a bad boy, so when he bundles her into the boot of a getaway car, sparks fly.
The chemistry between Clooney and Lopez is smokin' hot in Soderbergh's down-and-dirty adaptation of Elmore Leonard's novel. Sandra Bullock was originally tested for the marshal role, but it's impossible to believe she would have sizzled like J-Lo. 'Out of Sight' will also go down in history as the movie that finally made TV pin-up Clooney a bona fide Hollywood star. CC

Read the Time Out review of 'Out of Sight'
---
---
The best songs from the top 100
Read a review of...
Regular Time Out film features
The best films now showing
The sequel to the prequel is a knockout
A near-perfect film about growing up from Richard Linklater
Keira Knightley is newly dumped and singing her heart out
See more Time Out film reviews
Latest Time Out film features