A beginner's guide to Fire Island
Fire Island offers many gay delights. Here's what you need to know before you strap on your Speedo and head out
By Ethan LaCroix Thu May 22 2014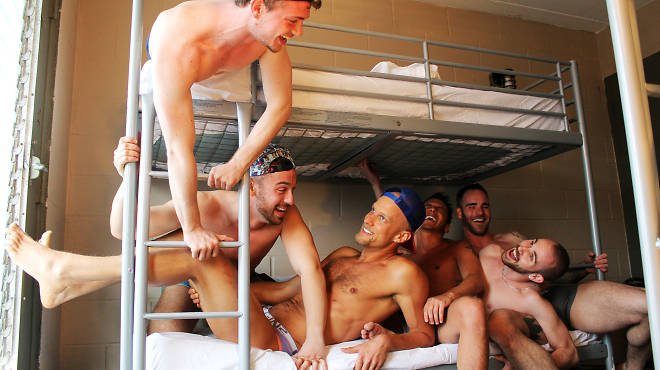 The new Botel Barracks offers bunks for boys on a budget.
Getting there
It may be synonymous with summer in gay New York, but Fire Island is, in reality, mostly straight. The two gay communities on the 31-mile stretch—the partycentric Pines and the slightly mellower Cherry Grove—are accessed via the Sayville Ferry (sayvilleferry.com), located about a mile and a half from the Sayville LIRR stop. (It's a fairly easy walk, but cabs will be waiting at the station.) Take any of the other boats to F.I. and you'll still find lovely beaches… covered with retirees and screaming toddlers. Be sure to time your trip so that your train arrival matches up comfortably with your ferry departure; otherwise you could have a long, boring wait in Sayville.
Thanks to NYC party guru Daniel Nardicio, Fire Island will be stocked with boys like these all summer long. Photograph: Greg Endries
Sleeping over
While it's close enough for a day trip, nightlife abounds on F.I., so the full experience involves spending the night. Unless you want to risk the potential humiliation of trying to casually "find a place," you're probably going to have to spend some serious cash. Right now, you can score a basic room at the Grove Hotel (grovehotel.com) for less than $90 midweek; come weekends later in the summer, though, the same room costs $300, and people will be fighting for the privilege to pay it. For the young, thrifty and adventurous, there's the new Botel Barracks (pinesfi.com/botel-barracks) offers a budget alternative to the storied Botel, featuring bunks and shared bathrooms. Multinight stays are required, but a whole weekend is just $119.
The Pavilion is the center of party life in the Pines.
Staying busy
Every summer, NYC nightlife impresario Daniel Nardicio (dworld.us) settles into Cherry Grove's Ice Palace (facebook.com/icepalacefi) with his underwear parties (beginning Friday 23) and the Icon Series of cabaret performances, kicking off Saturday 24 with Dina Martina. In the Pines, the scene is centered around the famed Pavilion club (pinesfi.com/pavilion), where you can dance until sunup every weekend. Key events include two multiday dance blowouts: the Pines Party (July 25–27, pinesparty.com) and Ascension (Aug 16–18, ascensionparty.com), both of which draw thousands. (Translation: Book now.) For more info on Pines party life, check out thepinesfireisland.com.
You might also like
---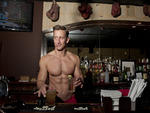 The best gay bars in New York, as chosen by Time Out New York's editors
Gay parties in New York offer something for everyone
Mary Lambert, the voice behind Macklemore and Ryan Lewis's hit "Same Love"
See more in Gay & Lesbian