Interview: A$AP Rocky
A fast-rising rapper puts NYC hip-hop back on the map.
By Drew Millard Fri Jan 20 2012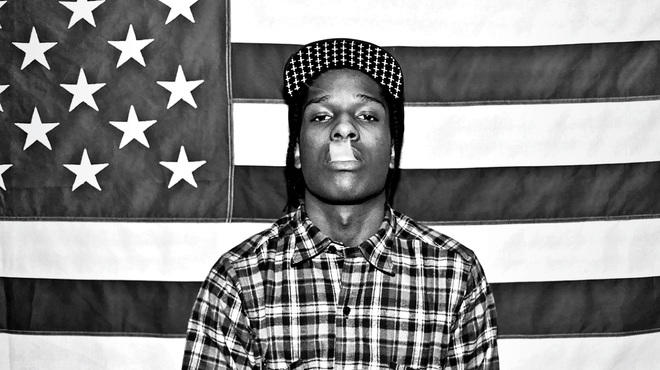 A$AP Rocky Photograph: Courtesy of RCA Records
If there's one thing anyone with even a dial-up Web connection or access to rap radio knows, it's that A$AP Rocky is one pretty motherfucker. "I feel like I'm a handsome fella," says Rocky, speaking on the phone from a Los Angeles recording studio. "Growing up they used to call me a 'pretty boy.' I was just feeling myself on that record." The record in question is "Peso," a majestic, shimmering neck-snapper of a single released in August, which quickly became ubiquitous on hip-hop radio stations and the Internet. Calling yourself pretty in a rap song might be nothing new, but here's the thing: The way Rocky says it, the prettiest motherfuckers may be the most dangerous of them all.

Born Rakim Mayers, Rocky grew up in Harlem under conditions standard for that neighborhood. "It's like any 'hood," he says. "Every 'hood has movie segments where it's just unbelievable, so radical that it's almost 'ghetto prolific.'" He has a flair for language—neither a Talib Kweli--style lyricist nor a ghetto poet la Tupac Shakur, Rocky is an aesthetician—he puts words together not for what they say, but because of how they sound. It's an important distinction considering the increasingly barren wasteland that is conventional New York hip-hop, in which rappers are often held back either by an unyielding allegiance to history or through awkward stabs at pop crossover.

With LiveLoveA$AP, his debut mixtape, Rocky gracefully avoids both pitfalls. He's a New York rapper who doesn't really come across like one, his post-regional hybrid sound drawing upon hip-hop's penchant for movements: both large, as in the homages to Houston's chopped and screwed scene that pepper his debut, and small, like his collaborations with one-man genres like New Jersey's Clams Casino and Miami's SpaceGhostPurrp. His is a unique, compelling combination, one that caught the ear of RCA, which signed him for a nearly unprecedented $3 million—especially impressive considering Drake, a legitimate rap superstar, signed for a comparatively scant $2 million. "When I got offered the deal," says Rocky, "not only was the terms crazy, but my creative control wasn't gonna be tampered with. It felt too good to be true."

At a glance, Rocky's range seems almost comically limited. On LiveLoveA$AP, he seems interested only in drugs, money, having sex with other people's girlfriends and his insane, borderline-Adonis level of prettiness. Nor does he show especially deep insight into those subjects—the phrase I be that pretty motherfucker pops up in nearly every song on the tape, often multiple times. But Rocky's genius—and perhaps the reason RCA signed him despite his limited output—lies in his flow, a slippery, effortlessly technical, near-Southern drawl that seems well beyond his 23 years. It's a style he honed early in his rapping career—he claims he started rapping like that "when I was 17."

It's fairly obvious that Rocky carries himself with a regal air—during the interview, he pauses to ask an assistant very politely to fetch him a vegetarian sandwich from Subway. He concludes his order with a heartfelt thanks, followed by a decidedly non--New York "That's trill as fuck, right there!"

The exchange prompts the question, is Rocky a vegetarian? "Yeah, yeah," he confirms. It's a relatively new commitment, one he began after "Peso" dropped. "You gotta do research on the way they treat chickens, man," he explains.

The mercurial energy in nearly everything Rocky says or does is also reflected in his music. LiveLoveA$AP is at its core calm, nearly ambient at times—some of his beats sound like boom-bap takes on Brian Eno's Music for Airports—yet it can melt away into sheer menace at the drop of a Yankee fitted, especially in a live environment. "When you're onstage, you feel this untamed energy coming from the crowd," says Rocky. "It just brings out this alter ego. You wanna mosh with them, slam-dance, crowd-surf, just jump and hop around and be a kid again. It makes you appreciate being young. You gotta think of this as punk-rap."

Irving Plaza; Wed 1; See complete event information

Buy "Peso" on iTunes
You might also like
---
Live music calendar for New York City
Having trouble deciding which one of your friends'...

This year, Mariah Carey's seasonal smash, Merry Ch...

Erstwhile angry young man Billy Joel—now an offici...
36

more events »
Time Out videos
---
---
@TimeOutNewYork
Subscribe to Time Out New York on Spotify for playlists and recommendations from our Music team.


Check out New York's best restaurants, hottest street style, cool apartments and more.