Top 25 patriotic protest songs
By Wilbert L. Cooper Wed Jun 29 2011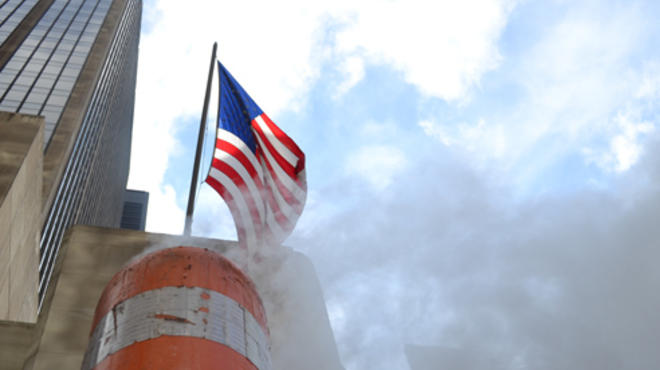 Photograph: Wilbert L. Cooper
The Fourth of July isn't just about fireworks and lukewarm hot dogs, it's about revolution. Two hundred thirty-five years ago, our Founding Fathers declared independence from tyrannical British control. In honor of that act of rebellion, we've decided to take a look of some of the most potent and important protest songs ever recorded by (mostly) American artists—because what's more patriotic on the Fourth than self-expression in the face of oppression?
25. "Georgia Bush" by Lil Wayne
Lil Wayne's music is usually consumed by scatological metaphors, codeine references and lewd descriptions of sex acts. Needless to say, he's not generally the go-to guy for politics. But when New Orleans was devastated by Hurricane Katrina in August 2005, the N.O. native broadened his lyrical scope to address the dire conditions of his home and blast President Bush for FEMA's lackluster response to the disaster. This standout song from 2006's classic DJ Drama—hosted Dedication 2 mixtape is a passionate representation of the feelings of abandonment felt by many of Katrina's victims.
---
24. "Dry Drunk Emperor" by TV on the Radio
Few bands encapsulated the malaise of post-9/11 New York better than Brooklyn indie heroes TVOTR, whose tunes blend romance and optimism with the desperate, disconcerting nature of our times. "Dry Drunk Emperor" is not about love in times of war—it's about action. In the song, frontman Tunde Adebimpe calls for all the bleeding hearts and the families of soldiers to get guns and march on Washington to put an end to the then-escalating war in Iraq. The band was so passionate about this song's message, they released it as a free download in 2005 almost immediately after it was recorded.
---
23. "When the President Talks to God" by Bright Eyes
Bright Eyes boldly played this wordy rebuke of President George W. Bush on The Tonight Show with Jay Leno in 2005. Connor Oberst probably should have spent more time plugging the album I'm Wide Awake It's Morning that night, but like TV on the Radio, the war prompted a vitriolic response in him that superseded business as usual. The song, which satirically explores the uneasy relationship between war and the tenants of most religions, was released for free on iTunes.
---
22. "Hunger Strike" by Temple of the Dog
Temple of the Dog was a preemie supergroup. Eddie Vedder of Pearl Jam and Chris Cornell of Soundgarden collaborated on this song and the short-lived group's 1991 self titled album before their respective bands blew up with albums Ten and Badmotorfinger. Cornell penned the steal-from-the-rich-and-give-to-the-poor song lyrics, but its Vedder's Robert Plant--style yelp that puts this song over the top. When the voices of these two grunge gods collide, it makes anyone feel like it's a good idea to skip Chipotle for the cause.
---
21. "Lost Woman Song" by Ani DiFranco
There are a surprising number of songs written by men about abortion. Every guy from Neil Young to Kid Rock has given their two cents. But those songs often don't work because they're strictly ideological. DiFranco succeeds in navigating the minefield of this controversial topic by approaching it from her own personal experiences. "Lost Woman Song" was released on her self-titled 1990 debut album.