Memorial Day in NYC guide
Have the ultimate Memorial Day weekend in NYC using our guide to memorial day parades, parties and Fleet Week events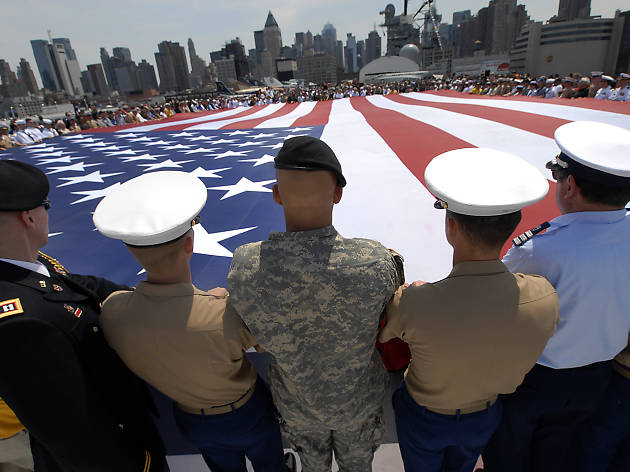 The unofficial kickoff to things to do in summer is, of course, Memorial Day. NYC is the perfect destination to celebrate the three-day weekend. However, let us remind you that the annual holiday is not just another excuse to day-drink. The last Monday in May is about honoring the men and women who have died while serving in our armed forces. Before you chow down on the city's best BBQ and get tipsy atop New York's best rooftop bars with insane views, remember the sacrifices made for the red, white and blue. It's no coincidence that Fleet Week overlaps with Memorial Day weekend either. Use this time as your chance to rub shoulders with our sailors at one of the many Memorial Day parades and events happening in all five boroughs. The best New York beaches also open for swimming during Memorial Day weekend, so start working on your tan and get psyched to welcome the warm-weather season with open arms.
When is Memorial Day?
Memorial Day is on the last Monday in May every year. This year it falls on Monday, May 27, 2019.
Where are the Memorial Day Parades in NYC?
The biggest Memorial Day parade, Little Neck-Douglaston, kicks off at Jayson Avenue and Northern Boulevard in Queens on Monday, May 27 at 2pm, although festivities begin at 10am. The 152-year-old Brooklyn Memorial Day Parade starts in Bay Ridge at 78th St and Third Ave at 11am and ends at John Paul Jones Park for the memorial service. Manhattan's Soldiers' and Sailors' Memorial Day Observance takes place at Riverside Dr. and 89th Street at 10am. There's also Staten Island's Memorial Day Parade on Forest Ave on May 26 between noon and 2pm.
Things to do for Memorial Day in NYC
Archive Memorial Day content