Memorial Day in NYC guide
Have the ultimate Memorial Day weekend in NYC offers a chance to fill your extra day off with food, drinks and fun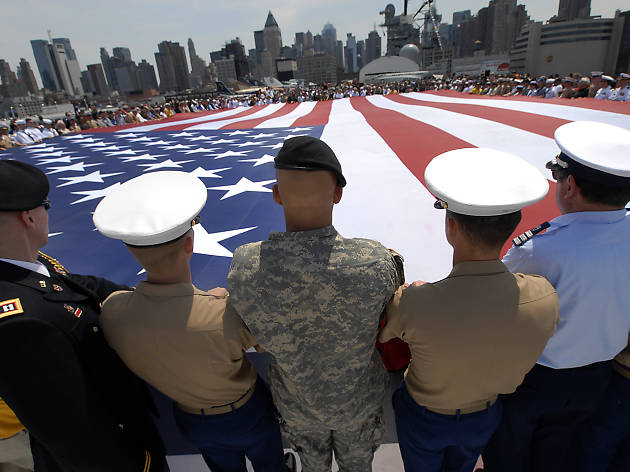 Thing are different this time around for Memorial Day weekend in New York City. Despite that, you can still have a good time (as long as you are social distancing).
Sure, New York City beaches remain closed, but you can still enjoy your three-day weekend by dusting off your grill or just lounging around watching the 50 best family movies.
To help you figure out what to do while you're at home, we've gathered some suggestions for how to spend your weekend, including great delivery options, ways to watch a concert online and a guide that covers what you can (and can't) do while spending time outdoors.
And remember, the annual holiday is not just another excuse to day-drink. The last Monday in May is about honoring the men and women who have died while serving in our armed forces.
When is Memorial Day?
Memorial Day is on the last Monday in May every year. This year it falls on Monday, May 25, 2020.
Where are the Memorial Day Parades in NYC?
The parades have been canceled this year.
Things to do for Memorial Day in NYC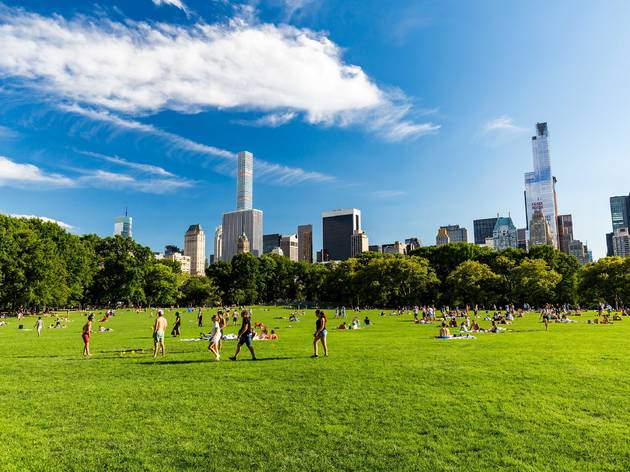 The best Memorial Day weekend events in NYC
Memorial Day weekend is the unofficial kick-off for things to do in summer. It's the weekend that starts it all.  And while this year is different, what with NYC beaches being closed among other changes, there are still some fun ways to chill out and enjoy your long weekend, from ordering some of NYC's best burgers to picnicking at some of the city's best kept secret spots. RECOMMENDED: Full guide to Memorial Day in NYC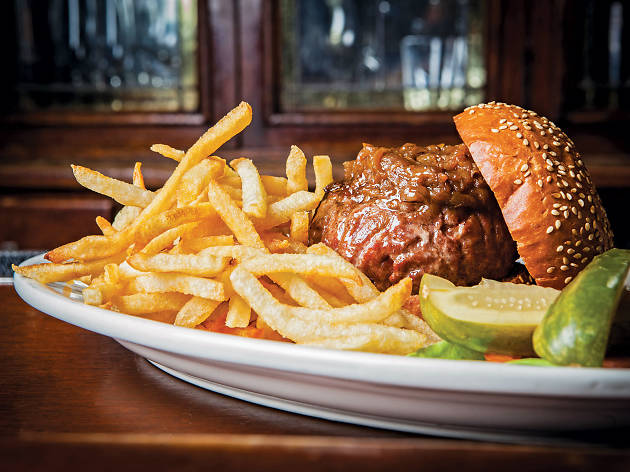 The best burgers in NYC still available for delivery
Recalling the simple joys of diner food has us salivating for the outside world. Burgers, perhaps the ultimate diner-like comfort food, have long-been a delivery favorite for New Yorkers. But, now, in these especially trying times where news about restaurants is changing daily, you might be down on your luck when it comes to finding that burger near you. Sadly, some favorites such as the burgers at J.G. Melon, Peter Luger Steakhouse, Au Cheval and Bar Sardine are temporarily closed and are spots we'd also normally recommend to help ease some of the pain coming out of the news. But, thankfully, we've put together a guide to the best burgers across the city that are still available to be enjoyed in your own home via delivery, and, in some cases, takeout.    Minetta Tavern Yes, it's really 33 bucks, and yes, it's cheeseless. But it's still our favorite, what with nine succulent ounces of prime-grade, dry-aged rib eye, skirt steak and brisket from carne king Pat LaFrieda to distract you. If that's not enough, the caramelized-to-a-melt onions and seeded Balthazar brioche should seal the deal.  Delivery is available here. View this post on Instagram A post shared by Minetta Tavern (@minettatavernny) on Apr 1, 2020 at 1:04pm PDT   Shake Shack One of the city's best fast casual restaurants has continued to stay open and innovate its options. In addition to their newly-launched steak frites, you can get DIY Shake Shack kits using meat from Time Out Market partn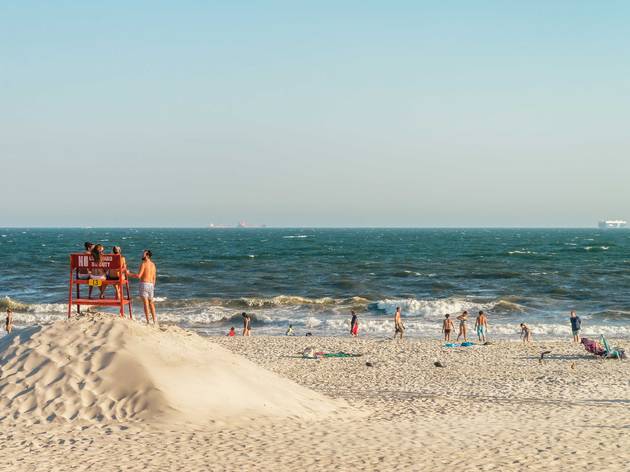 New York State beaches are open Memorial Day Weekend with restrictions
New York and the surrounding states of New Jersey, Connecticut and Delaware will now allow beaches and lakeshores to open next Friday at a reduced capacity. "State beaches will open Friday of Memorial Day weekend with strict precautions," Governor Andrew Cuomo said. "Beaches will be at 50% capacity and masks will be required when social distance is not possible." Under the requirements outlined by Cuomo, local officials must monitor capacity by controlling beach parking lots and beach entrances. Cuomo stated that, in New York, all beachgoers are required to wear face coverings when people cannot social distance. On the beaches of New Jersey, face masks are highly encouraged but were not mandated by New Jersey Governor Murphy at a press conference Thursday. While New York state beaches will open come next Friday, local town and county beaches can decide whether or not they want to open their own beaches. If they want to open, they must meet the state's restrictions, including crowd regulating and enforcing social distancing measures. Contact sports on all beaches like football and volleyball will also be prohibited, Cuomo said. Pools, amusement parks, arcades, playgrounds and concessions will remain closed to prevent people from gathering in crowds. "The calculation is I'm trying to work in conformity for accommodation of our surrounding states. They were going to open beaches, and if New York did not open beaches, you would see an influx of New Yorkers there,"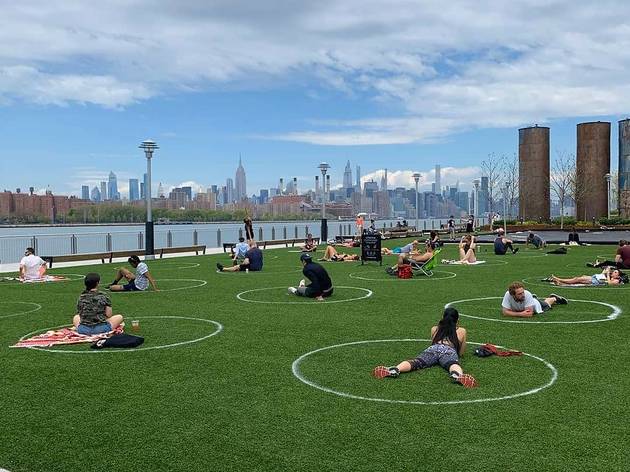 New York will limit entry to some city parks to stop overcrowding
As the weather gets warmer, the New York Police Department will limit the amount of people in some NYC parks, starting with Domino Park and Hudson River Park Piers 45 and 46, according to Mayor Bill de Blasio. This weekend, police will limit capacity at both these parks that have "had particular problems," the mayor said during his Friday briefing. This is the latest measure the city has taken to keep people apart—on Thursday it opened more streets to pedestrians around parks so that they could spread out more. RECOMMENDED: The NYPD will no longer arrest you for not wearing a mask You've seen the photos—last weekend, both parks were stuffed to the gills.  Rode my bike for 30 miles from The #Bronx to #Queens, #Brooklyn, & #Manhattan, everyone was mostly being safe by practicing #SocialDistancing until I arrived at the the Christopher St Pier...This is APPALLING.It's going to be warmer tomorrow. Police enforce social distancing? pic.twitter.com/0qdw09z5Uk — Welcome2theBronx™ (@Welcome2theBX) May 3, 2020 These particular parks' layouts lend themselves to overcrowding, which is why they are the first to be monitored, according to the mayor.  "Last weekend, the parks were more crowded than they should've been," he said. "It was the physical reality of the parks. We think limiting access at the beginning makes sense and helps us to stop problems before they begin. There has to be limited time and turn over. Why are we doing this? Because it saves lives." So this weekend, police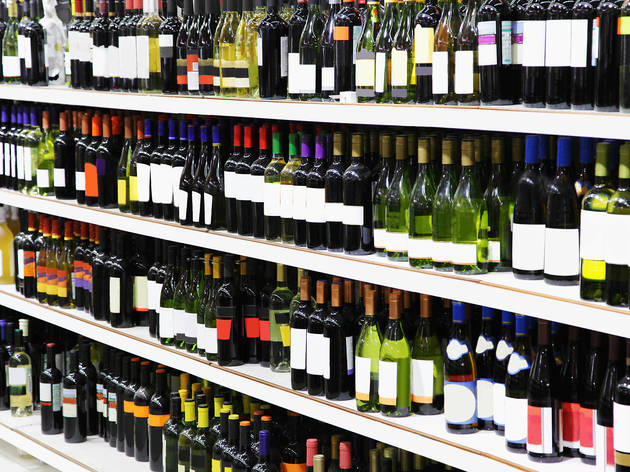 The best options for alcohol delivery in NYC
Shopping for groceries is a chore, especially when you're carrying around cases of beer and bottles of wine to your fourth floor walkup. So why bother carrying them all the way from the store to your apartment when there are so many delivery services that can get that done for you? New Yorkers order so many things direct to their homes that 'the city that never sleeps' might as well be renamed 'the city that never schleps'. Seriously, there's no end to what you can get dropped off at your door: groceries, flowers and even cleaning services in NYC are all readily available at the click of a mouse or tap of an app. You'll still have to show your ID to the delivery person and chill your champagne but the last thing you'll have to worry about is running out of booze.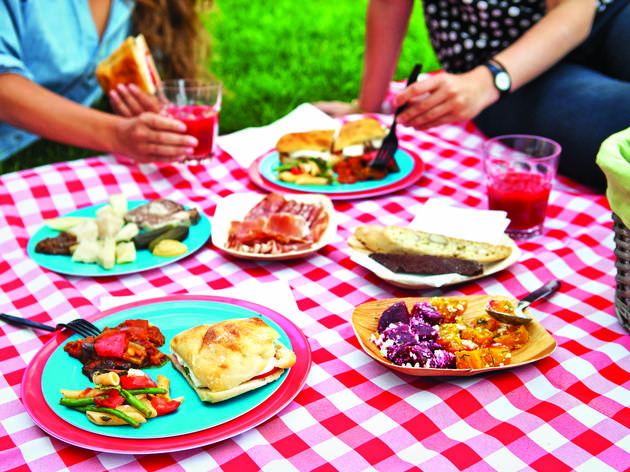 The 10 best lesser-known spots for a lovely NYC picnic
New Yorkers can't wait to unfurl their blankets and (discreetly) drink outdoors with Memorial Day around the corner and picnic season about to kick into high gear. But as the state slowly lifts its stay-at-home orders, we're all antsy to leave our shoebox-sized apartments while abiding by appropriate social distancing norms. Like us, you've probably seen on social media how crowds have swarmed Central Park, the Christopher Street Piers and even McCarren Park. To that, we say: thanks but no thanks. Luckily, the city is dotted with other lesser-known parks and hidden gems to picnic all summer long. Roosevelt Island View this post on Instagram A post shared by Pankaj Prasad (@nomadlife_33) on May 10, 2020 at 9:55pm PDT It's easy to forget about Roosevelt Island, that funny little sliver of an island that sits in the middle of the East River between Manhattan and Queens. But don't let that stop you from staking out a spot at the Franklin D. Roosevelt Four Freedoms Park (just take the F train or even better, hope on the tram for a bird's eye view of the city skyline for the same price at the subway station). This park, which was designed by the late Louis Khan and opened in 2012, sits on a triangular-shaped lawn with trees framing views of the water and city that's perfect for a lazy afternoon hang. Red Hook Waterfront View this post on Instagram A post shared by Larry Nicosia (@nyc_street_level) on May 5, 2020 at 1:13pm PDT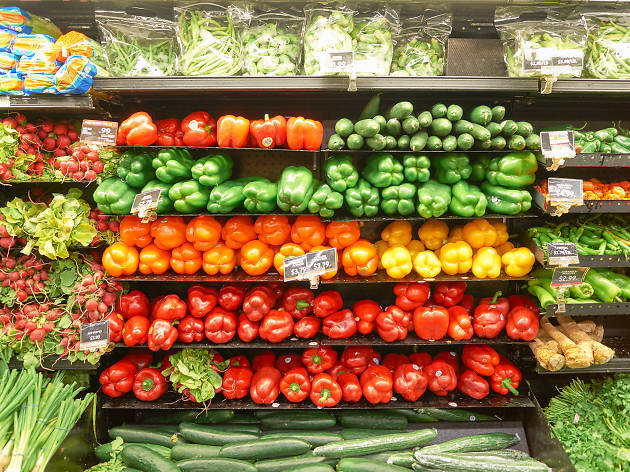 The best ways to get your groceries delivered in NYC
We're all short on time, so why wouldn't you take advantage of grocery delivery? On the list of things that put New Yorkers on edge, grocery shopping is on par with being anywhere near Times Square. But of course, you can't live on Seamless forever—that's why we've reviewed the best grocery store and delivery services in the city. Some are free, some arrive in less than an hour, some have late-night delivery and some even offer alcohol delivery in NYC, but all of them will help reduce your daily stress level.  RECOMMENDED: Full guide to shopping in NYC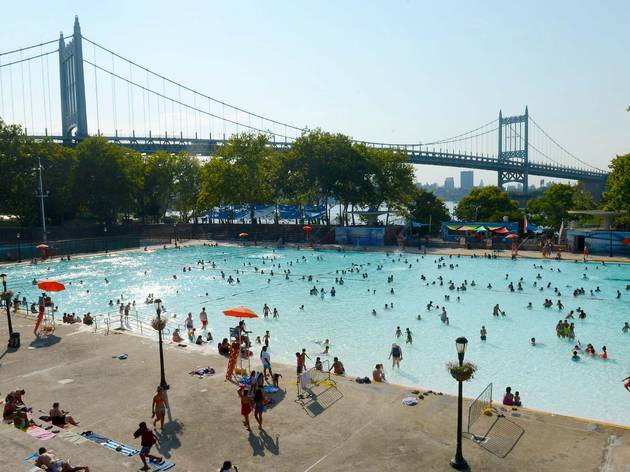 NYC's outdoor pools will be closed all summer
We'll be doing a lot less swimming this summer.  All of New York City's outdoor public pools will be closed this year. With New York City facing a $7.4 billion loss in tax revenue based on drops in sales, hotel, business and personal income taxes, Mayor de Blasio unveiled a budget including $2 billion in "very tough cuts" on Thursday.  Closing outdoor pools across the city this summer is expected to save $12 million. This action is meant to preserve funds for live-saving priorities such as the health and safety of NYC residents and having a budget to provide food and shelter to those who need it.  "If we can't provide the basics for our people, then you can kiss your recovery goodbye," he said. Mayor de Blasio warned that the city's beaches could be officially shuttered for the summer next. "Right now, we do not have a plan to open the beaches." De Blasio said people should "lower their expectations" this summer when it comes to outdoor activities as the city is still trying to slow the spread.  "Every one of us would love to have our summer or some part of our summer," he said. "But let's make sure we get it right." Most popular on Time Out - 10 incredible photos of last night's rainbow over New York City- This drone-shot video provides a breathtaking aerial view of an empty NYC- NYC subways, busses and ferries are sounding their horns on Thursday- New York's top salons share advice on how to cut your hair at home- 10 New Yorkers tell us the restaurant meals they're
Archive Memorial Day content