Succès des Quais
Some of the year's best films get a re-run in the 19th arrondissement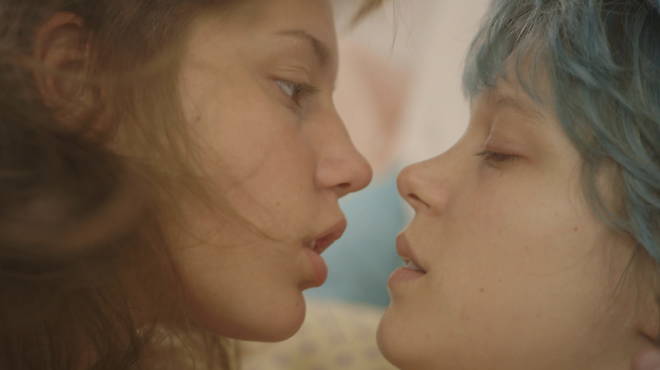 Until August 31, the MK2 cinemas at Quai de Loire and Quai de Seine are putting on a selection of morning screenings of their best films from the last year. For €6.50, you can see titles like 'Blue Is the Warmest Colour' and 'The Grand Budapest Hotel' again on the big screen. Check out our selection, with reviews and trailers, below.

For the full programme, click here.
MK2 Quai de Seine
This hipster weepie from Belgium has left audiences in puddles of snivelling slush. I have to admit it left me a little cold. Like 'Blue Valentine' it tells the story of a couple falling in and out of love by flashing back and forward in time. In hospital, a doctor tells Didier (Johan Heldenbergh) and Elise (Veerle Baetens) that their six-year-old daughter has cancer. In the next scene we see them seven years earlier in the first flush of love, everything sunshine and hope. He's a dude with beard and a banjo who plays in a bluegrass band – the music gives the film its heart. She's a rockabilly girl covered in tattoos.
It's '84 Charing Cross Road' with extra chutney in this enormously likeable Indian romantic comedy-drama. Irrfan Khan plays the grouchy, widowed claims adjuster who discovers that his lunch has been accidentally switched with a co-worker's. Instead of notifying the delivery service he tucks in, and is transported to culinary heaven in the magical hands of isolated housewife Ila (Nimrat Kaur). It's not long before this mismatched pair are exchanging furtive letters tucked into folded chapatis.There's nothing wildly original here, but it's carried off with charm and wit, and a pair of very enjoyable central
'Blue is the Warmest Colour' is a minutely detailed, searingly erotic three-hour study of first lesbian love. Its writer-director, the French-Tunisian Abdellatif Kechiche, had a setback with his last film, 2010's 'Black Venus'. An imposing biopic of the nineteenth-century South African slave-turned-freakshow-act Saartjie Baartman it proved too harrowing a vision for British or American distributors. Most directors would retreat into safer territory after an experience like that, but most directors aren't Kechiche. 'Blue is the Warmest Colour' is the most brazenly singular return the 'Couscous' director could
---
MK2 Quai de Loire
The word 'breathtaking' is bandied about a lot, but when was the last time a film truly had the power to leave its audience gasping for air, pinned to their seats, sick and dizzy? In 'Gravity', Sandra Bullock and George Clooney play nervous newbie astronaut Dr Ryan Stone and seasoned pro Matt Kowalsky, whose work on the Hubble Space Telescope is violently interrupted by a catastrophic debris collision. Cut off from ground communications and drifting in space, their only hope lies in making it to the International Space Station before Stone's air supply runs out. Mexican director Alfonso Cuarón already displayed the
While other filmmakers get their hands dirty in kitchen sinks, Wes Anderson surely slips his into luxury cashmere mittens. His films overflow with intricate detail and make no pretence of existing in a world other than their own, just-about-earthbound parallel universe. So the five-star premises of his energetic new comedy 'The Grand Budapest Hotel' – a wedding-cake-like, pastel-coloured establishment situated somewhere in 1930s Mitteleuropa and peopled by eccentrics and lunatics – feel like business as usual. What's different, though, is that the film's shaggy-dog, sort-of-whodunit yarn offers laughs and energy that
---