French fashion designers
The best boutiques for local talent in Paris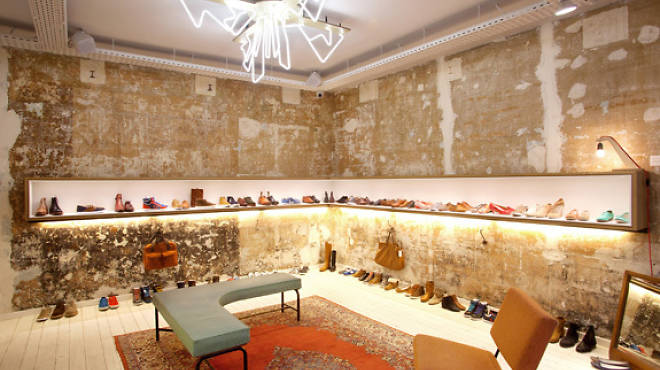 Top picks
Just a few metres from l'Hôtel Amour, the Pigalle offers a good range of streetwear and designer brands. The concrete and velvet décor is reminiscent of the red light district and is inspired...
After five years spent as Kolam, the owners of 9km decided to reinvent their concept. The new name represents the exact length of a piece of cotton long enough to sew a whole T-shirt...
In the same genre as its neighbours Chez Prune, Maje, A.P.C. and Claude Pierlot, Medicine Douce doesn't upset the neighbourhood's balance of hip elegance. Inside, white and grey walls and a total...
When Stéphanie Allerme opened this boutique in November 2012, she didn't want to sell her designs from behind a counter, but rather to display them as if in her sitting room at home...
Don't expect a warm welcome from the aloof staff at this boutique – but perhaps it's all a sign of success, as the pieces from Alix Petit's proudly cosmopolitan label are worth the visit all by themselves...
The 9th arrondissement is perfect for a Sunday stroll, complete in a plethora of great (and expensive) little boutiques – the sort that make you want to throw out your entire wardrobe and start all over again as an epitome of classy French style...
After six years of good and loyal service at Sonia Rykiel, Sandie Jancovek decided to start her own label in 2007, focusing on highly-designed shoes: espadrilles with bows (€65), heels with a houndstooth pattern...
The sort of place where you can't help but leave smiling – it might be the bright colours and the original cuts, or the charm and enthusiasm of the owner, who opened this boutique in its little corner of Montmartre...
The new French Trotters flagship store occupies no less that 200 chic square metres, just down from the road from the old boutique at 116 Rue Vieille du Temple...
Anne-Cécile Zitter and her and cohorts cleverly mix leather, textiles and paper to create Japanese-influenced rings, necklaces, bracelet, headbands and more. Japan also comes through...
Rumour has it that before this space was Qhuit, it was Daft Punk's studio. A pret-à-porter collection for men influenced by street art and urban culture, the pieces are simple but sophisticated enough...
---
Multi-brand stores
---
Write your own review