Tour de France
Get set for the grand finale, 21 July 2013 on the Champs-Elysées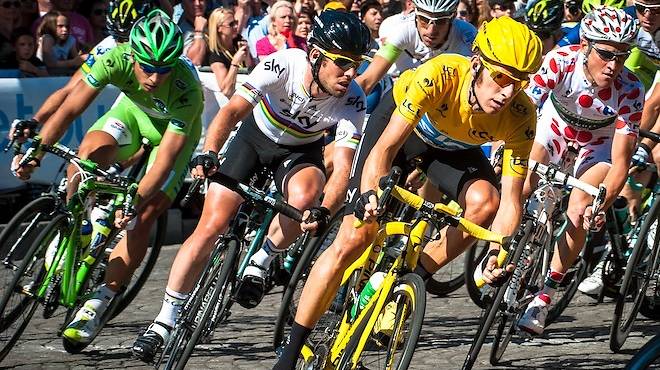 The grand finale of the bike race to rule them all returns to Paris again this year. The chance to watch last leg of the Tour powering up the Champs-Elysées after cycling 2,000 miles in 21 days draws crowds of thousands.

But you don't just have to jostle elbows with the hoi polloi – sign up in advance and pay a €5 registration fee for the chance to don your yellow cycling togs to make a celebratory 6.9km loop along the same route as the pro cyclists, and then be in pole position to cheer them on as they arrive later in the day. All the info here.

If you're inspired to eat out or sightsee around the Champs-Elysées, or to make your own tour of Paris by bike or scooter, check out our guides below. You can also get in the mood with no lycra involved between 27 March and 27 July, when the history of the tour will be illustrated with an exhibition of 80 photos on the railings of the Palais du Luxembourg – all the details here.
Around the Champs-Elysées
---
Make your own Tour de Paris
In 2007, the mayor launched a municipal bike hire scheme – Vélib. There are now over 20,000 bicycles available 24 hours a day, at nearly 1,500 'stations' across the city. They feel sturdy, have a handy basket for transporting your groceries, and best of all, are available every 300 metres, so even if a stand is empty, you should find a bike at the next one. If you're not resident in France, you'll have to overcome the 'right-hand-side-of-the-road' issue.Just swipe your travel card to release the bikes from their stands. The mairie actively promotes cycling in the city and the Vélib scheme is complemented by the 400km (250 miles) of bike lanes...
---
If you can't be bothered to cycle
Versailles on a Vespa? Saint-Germain by scooter? Paris's two-wheeled travellers are a zippy lot, and if you've got the stomach for their daredevil driving habits then you'll quickly see the attraction: quick, cool, mobile and above all out in the fresh air, scooter travel beats the smelly old Métro by a very large margin.And it's easy enough to stop staring longingly at the chrome-trimmed fleets of bikers zooming around Paris with élan, and join their ranks. Anyone with a driving licence can rent a 50cc scooter in Paris (and if you're over 25, you don't even need one of those) – for 125cc and over you will need a current motorcycle and be over 20 years old...
---