The best hotels in Boston
Looking for affordable accommodations or a deluxe room? Find the perfect place to stay with our guide to the best hotels in Boston.
By Jessie Rogers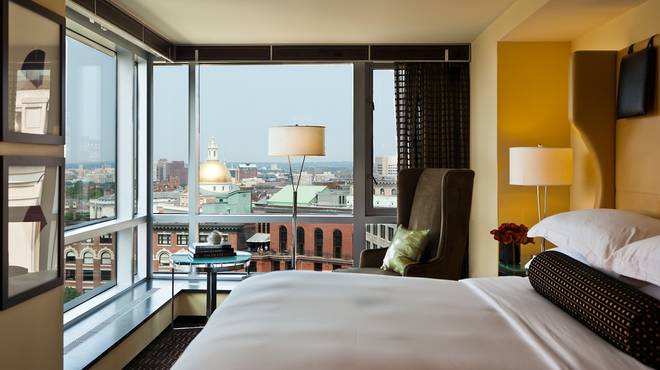 One of the best hotels in Boston, Nine Zero was at the vanguard of the boutique trend in the Hub
Hotels in Boston can finally count the chic and boutique among their ranks, in addition to the old-school opulence and business-class hotel options that have long been the city standard. Before the 1999 arrival of the first bona fide boutique hotel, XV Beacon, the choices for visitors were limited to old-school establishments, homey guesthouses or bland corporate chains. That's all changing. After 80 years, the Back Bay landmark Ritz-Carlton flagship moved across the Common and the older space was taken over by Indian luxury group Taj. Downtown, the trendy, modern and hotly anticipated W Hotel in the Theater District complements the refurbished Paramount Center performance complex. Meanwhile, the grande dame Fairmont Copley Plaza, which once housed the Museum of Fine Arts and is now well placed for shopping in the nearby Copley Place mall, is looking fine following its $34 million facelift.
Mid-range
Price band: 2/4
Critics choice
Converted from a private residence, the slender Charlesmark is a beacon of minimalist boutique elegance on busy Boylston Street. The chic lounge and patio, opened in 2005, draws a local crowd. There's no restaurant, but Back Bay's culinary wealth more than compensates. The hotel is the work of local architect Dennis Duffy—a man responsible for some of the hippest restaurant, commercial and private revamps in town—whose clean, simple aesthetic is perfect for maximizing space in the modestly proportioned rooms.
655 Boylston Street, at Copley Square, MA 02116
More info
Price band: 2/4
Critics choice
Housed in a beautifully renovated 1860s merchant's townhouse, this luxury bed and breakfast is a far cry from Boston's staid, conservative image—take the rooftop hot tub, for instance, with its views over Back Bay. Rooms are individually designed and furnished with impeccable attention to detail, mixing carefully chosen antiques with sleek contemporary pieces. Some rooms have original fireplaces, but they're now only for decoration. Marble and limestone bathrooms and high-thread-count linens add to the appeal, although there are no king-sized beds, only queens. The Clarendon suite, with its splendid freestanding Victorian bath, is popular for romantic breaks. Wireless internet access is complimentary, and limited guest parking (reserved in advance) is a boon in the area.
198 West Brookline Street, between Tremont Street & Warren Avenue
More info
---
Boutique
---
Deluxe
---
You might also like
---