North End neighborhood guide
Get to know Boston area by area—the best local restaurants and bars, arts and entertainment and things to do in the North End
By Time Out editors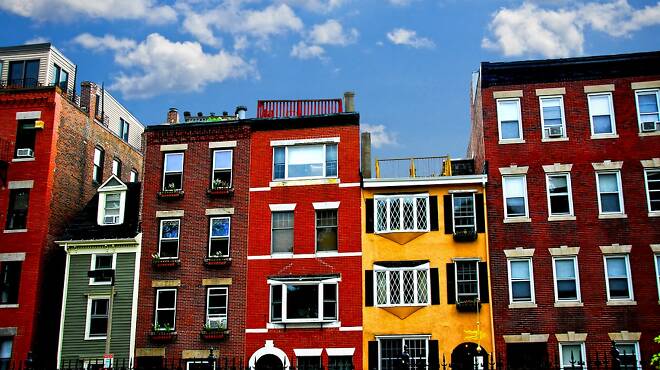 The North End: Colorful houses Photograph: Shutterstock

An ideal neighborhood for a stroll, the North End has a distinct character that combines Italian heritage and a traditional New England setting rich in historic associations. The red brick buildings yield gastronomic treasures around every corner; small salumerias, bakeries and pastry shops are perfect for creating an impromptu picnic in the brick-paved Paul Revere Mall (also known as the Prado) or North End Park.

North Square
Paul Revere House, at 19 North Square, is one of three Freedom Trail sites in the area. He owned the house for 30 years and his silversmith's workshop was on nearby Clark's Wharf; some of his handiwork can be seen in the house today. While Revere's story is the neighborhood's main claim to fame, a little exploring will reveal some fascinating architecture—not least the red-brick Georgian Pierce/Hichborn House.

Hanover Street & around
The North End's two main drags, Hanover Street and Salem Street, are a paradise of Mediterranean gastronomy, crammed with everything from humble trattorias to chic nuovo Italiano eateries. At the opposite end of Hanover Street is the open-air produce, meat and fish market known as Haymarket. But it's not all about food: The area's historic sites include St Stephen's Church, the work of Boston-born architect Charles Bulfinch, and the handsome Clough House, once home to master mason Ebenezer Clough.

Salem Street
Formerly the hub of the neighborhood's Jewish population, Salem Street has lost practically all traces of its Semitic heritage. What it has retained is the Old North Church, the city's oldest place of worship and one of its most famous Revolutionary landmarks. Today, the southern end of the street is dominated by old-fashioned food shops, including the 1930s Polcari's at no. 105.
You can't get more crunchy-granola conscientious than this organic, fair-trade North End café. Expect a label denoting the place of origin for almost every menu item, including the coffee beans, which come from as far afield as Nicaragua and Uganda. The food is entirely local, with sandwiches from Danish Pastry House, bagels from Iggy's and baked goods from Haley House, Glutenus Minimus and Totally Sweet. The spicy hot chocolate has a kick to it, while the cappuccinos deliver some deliciously malty undertones. Equal Exchange also serves surprisingly tasty tofu spring rolls.
Rated as: 4/5
Price band: 3/4
With name chefs blowing in and out of its kitchen, this dark, suave neighbourhood pioneer of alta cucina has hit its share of rough patches over the years. But its capacity for comebacks is astounding. Give it a go when you're feeling flush—chances are you'll score some marvelously silky pasta (the meatball-studded timpano is a wonder), rounded out by intriguing seasonal contorni-like foie gras-laced butternut squash or potatoes mashed with pink grapefruit. Meanwhile, the allure of the obscure tints the all-Italian wine list.
This tiny Italian-owned coffee-seller doesn't actually serve java to go, but you can't beat its charm, friendliness and amazing variety of high-quality roasts. Original owner Mr. Polcari and his son Bobby consider themselves museum owners more than baristas, dedicated to preserving the mantle of the neighborhood corner store. Also for purchase are fresh spices, quinoa, bulk Nutella and, in the summer months, tasty lemon slush that puts store-bought Luigi's to shame. Be aware that with its quaintness come some limitations, like being cash-only and closed on Sundays.
See more restaurants and bars in the North End
---
Improv Asylum is primarily known for its improv and sketch comedy revues, and is almost always worth the stress of parking in the North End. The shows rotate throughout the year, with the main stage cast performing every Thursday through Saturday. Midnight on Saturdays is the "Raunch" show, which provides a much-needed late-night entertainment option in sometimes-sleepy Boston. Improv Asylum also accommodates private events and groups shindigs like bachelorette parties; so ladies, please keep your penis tiaras out of stand-up shows.
216 Hanover Street, at Cross Street
More info
See more music and nightlife venues in the North End
---
A highly browsable combination of casual clothing from the likes of Ella Moss and Velvet, jewelry and accessories, unusual toiletries, stationery and decorative homewares such as picture frames and ceramics. Some of the items, such as hip jewelry by Flauxy and Wardmaps' mousepads, printed with 19th- and early 20th-century maps of Boston (including the North End), are locally made.
See more stores in the North End
---
You might also like
---