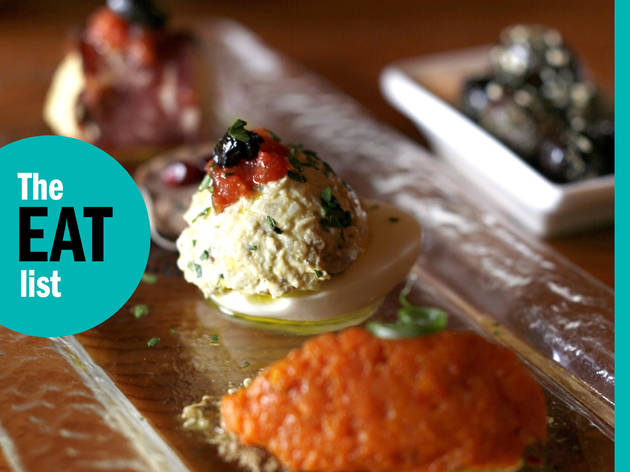 The 42 best restaurants in Boston you need to try right now
There's no shortage of fantastic food in the Hub, but these Boston restaurants made our shortlist of the city's top eats
January 2021: There's no denying that Boston's dining scene has changed dramatically over the past few months as restaurants fight to survive. We've watched James Beard Award winners turn to takeout and neighborhood eateries reinvent themselves as takeaway joints. Along the way, we've poured one out for those that didn't make it, like Legal Oysteria, Max Brenner and Cafeteria. Right now, we realize that everyone is moving at a different pace—some folks are excited to enjoy the best heated outdoor dining, while others are sticking to the best restaurants that deliver for the foreseeable future. The EAT List aims to help you navigate Boston's dining landscape no matter your comfort level. Don't forget to wear a mask, respect social distancing rules and tip generously.
When you think of the best things to do in Boston, eating like royalty might not be the first activity that comes to mind. But some of the city's best restaurants are changing the perception that Boston isn't a destination for gourmands. From the North End to the Back Bay and beyond, an impressive roster of local culinary talent is fostering a dining scene to rival those of DC or Philly. The city may be small, but its many neighborhoods offer plenty of dining options, and one doesn't necessarily have to break the bank to eat well.
Time Out's local experts scour the city for the best eats and insider info. We appreciate fun, flavor, freshness and value at every price point. We update the EAT List regularly, including whenever there's a truly spectacular new opening. It could be a mega-hyped destination restaurant or a humble neighborhood newcomer: if it's on the list we think it's awesome and reckon you will too. (We take curation seriously—look at how Time Out Market Boston came out.) Eaten somewhere on this list and loved it? Share it with the hashtag #TimeOutEatList
We should also note that a number of the best chefs, restaurants and concepts in the city have been welcomed to participate in Time Out Market Boston. Because that is the highest honor we can award, and we now have a tighter relationship with them, establishments related to market vendors have all been included in the EAT List but not ranked alongside other great establishments in the city. You can find those amazing places below.
Here are the best restaurants in Boston—find out more about how we make the list, and start making your reservations.
Best restaurants in Boston
Local chefs, restaurants and concepts we love so much that we welcomed them into Time Out Market
Best restaurants in Boston by cuisine