Best of 2013: Best classical music of 2013
R. Andrew Lee made headlines with a newly reconstructed minimalist milestone
By Steve Smith Mon Dec 30 2013
Classical music is dying, the record store is long gone, record companies are going under, the sky is falling… as if. Yes, it's true that we've incurred dramatic losses in 2013 (see both of our Worsts, below). Yes, it's grown nearly impossible to find a record store that sells classical music meaningfully in Manhattan. But while the major labels gobble one another up – and still squeeze out discs like Christian Gerhaher's breathtaking Mahler recital – indie labels continue to produce superb recordings across an increasingly broad range of styles. To the ten albums listed in this admittedly personal countdown, ten or twenty more could easily have been added without diluting the pool. Ready? Dive in.
Click the right arrow on the image above to see the best classical music of 2013.
The worst of 2013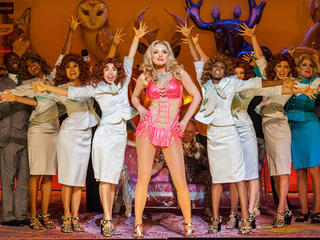 Sarah Joy Miller in Anna Nicole at BAM Photograph: Stephanie Berger
New York City Opera
Long before its final leaders took the fall and closed down the company, the writing was on the wall for this storied NYC institution, which went out with a bang.
Minnesota Orchestra
Inexplicable management and an interminable lockout took a toll on one of America's finest ensembles, which sacrificed a star music director and Carnegie Hall exposure.
FINAL GRADE: A The year found room for an astonishing range of individual sounds, conveyed with expertise and conviction.
---