Ancient Sidon
Time Out Beirut has a handy guide on things to do in ancient Sidon (known also as Saida), including the Temple Of Eshmun and Crusader Sea Castle near Beirut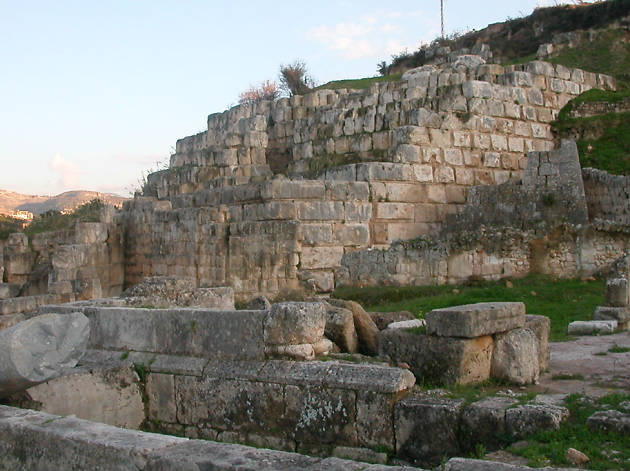 Sidon holds a prominent place in history, with some of the world's greatest civilisations wandering through at one time or another. The name Sidon, is the ancient biblical name, and is referenced in the book of Genesis, as the name of Canaan's son, who was also Noah's grandson. Today, among Lebanese it's more commonly known as Saida, but each of them is perfectly accepted and understood.
Evidence suggests that the city has been inhabited since prehistoric times, but it really came into prominence under Phoenician rule. It operated as an industrial powerhouse of the region, producing glass, dyes and embroidery that were made by the skilled women of the city. In fact the city has maintained its glassblowing heritage and is still home to one of the oldest families of traditional glass blowers in the country.
If you're looking to explore some of this ancient Phoenician history then it's well worth going to see the Temple of Eshmun on the Awali River, two kilometres north east of Sidon, the site has been occupied since the for around 1500 years.
Since it was first built, the site has been used by a myriad of different rulers, both local and foreign. Today, this means you can see a medley of differing architectural styles and influences. While it's still possible to see these different influences, the site isn't as amazingly intact as much of the country's ancient wonders, and slowly nature is taking over. That said, it's still a beautifully tranquil spot and an ideal place to spend a morning or afternoon.
To carry on the tour through history, head down to the coast and check out the Crusader Sea Castle. It was originally built in the 13th century by - surprisingly - the Crusaders before being destroyed by the Mamluks, who then rebuilt it. It was subsequently destroyed and rebuilt a number of times by whichever occupying force was in the city at the time. Today it's not intact, but there is more than enough for you to imagine what it would have been like, and its great fun traversing the narrow winding staircases. Get to the top and you can some gratifying views of Sidon's seafront and the fishing harbour.
For anyone visiting Sidon, the old souks are one of those must visit places. The winding alleys with vaulted ceilings are packed to busting with small shops selling a variety of local crafts, household goods and souvenir shops. It's very easy to get lost in this maze twisting passageways, but also a real delight. If you came to Lebanon expecting Arabian Nights and found more Dolce and Gabbana than 40 thieves, then Sidon's old souks is one of the places where you can redress that balance a little.
At some point while getting lost in the souks, you're likely to stumble across the Sidon Soap Museum. The museum utilises the same space that has been used to make soap since the 17th century, however it's thought that soap has been made at this site since the 13th century. The restored museum was opened to the public in 2000, and for visitors today there are a number of interesting exhibits showing how the soap was made in the past. Soap is still made there today, and you can pick up a bar from the gift shop.
Once you've left the soap museum, and found your way out of the main part of the souks, go check out Khan el Franj. This typical 17th century khan was used by travellers resting there animals and for relaxing in the shade. It is still in remarkably good condition, and feels like a real step back in time.
If you've got a car, then it's well worth taking a trip up to Our Lady of Mantara (www.churchesforjesus.org/lady_of_awaiting_mantara.html), in Maghdouche, just outside Sidon.
By: James Haines-Young