Your ultimate guide to Singapore
Discover the best Singapore events, things to do, restaurants, music, film, art, theatre, nightlife and more...
What's on in Singapore this week
Singapore Night Festival
The annual festival returns with more lights and sounds. Set to the theme of 'Ten Magical Years', this year's Night Festival is anchored by majestic – and interactive – light installations around the Bras Basah-Bugis precinct.  We check out six events happening at Singapore Night Festival 2017.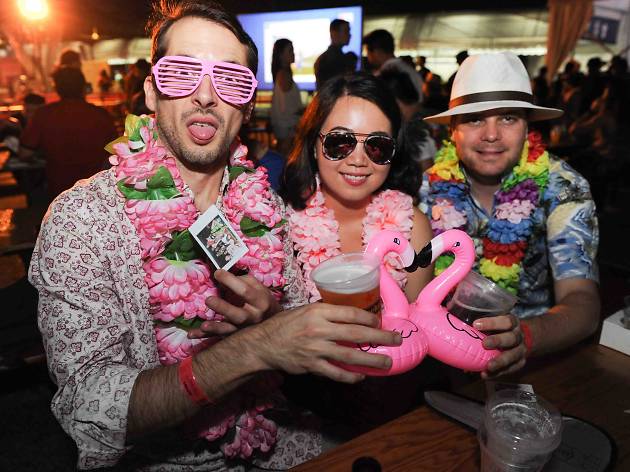 Beerfest Asia 2017
In this year's edition of Singapore's annual sloshfest, expect four days of beer-driven debauchery, and plenty of tribute acts blasting sounds of Bon Jovi, Def Leppard and Guns N' Roses. The early list of beer highlights is dominated by big brand names and commercial brews such as Germany's Schneider Weisse, Spain's Estrella Galicia and Brother's coconut and lime ciders. Those looking for more esoteric, craft-driven sips best look for the various craft beer distributors looking to push the cause for tasteful drinking such as Epicurean Nomad, Puntastic Beverages and The Mad Tapper. Ticket prices, which include one complimentary welcome beer, start from $28 for a one-day pass, and peak at $184 for a one-day VIP package, which includes free flow drinking and express entry. Better stock up on milk thistle – your liver will need it. 
Cigarettes After Sex
Dream pop is not dead. Featuring the hushed androgynous croonings of Greg Gonzalez over echoey guitars, Cigarettes After Sex churns out spellbinding ambient pop that's equal parts heartwarming and melancholic. Started out as a solo project by Gonzalez nine years ago, the band has finally put out its first full-length studio album last June. 
Buy tickets
Army Daze 2
After 30 years, Michael Chiang's well-loved comedy Army Daze returns, this time a sequel that traces what's become of the five 18-year-old 'blur as sotong' BMT recruits. In this comedic get-together, Ah Beng's an entrepreneur, Johari runs a fast-food chain, Kenny's since become a renowned designer and Krishnamoorthi's a successful architect – yet the spectre of CPL Ong continues to haunt them. Directed by Beatrice Chia-Richmond and featuring Don Richmond's original compositions, fall into the lives of the former recruits of Hotel Company Platoon 4, 1987.
Buy tickets
Late-Night Texting
No, the event is not about being glued to your phones at night. Instead, catch a series of text-based acts at Centre 42 as part of the Singapore Night Festival. There are performances by Dark Matter Theatrics, Proletariat Poetry Factory and more, who will fill your night with poems, stories and plays. Newcomers to the second edition of Late-Night Texting include improv comedians The Latecomers and playwright collective Main Tulis Group. Be sure to fuel up on snacks and drinks from Coffee Bandits to keep you going through the night. And if you're still hankering for more stories, pick up a book from BooksActually's pop-up store.
Red Dot August
Local artists are the highlight of Esplanade's Red Dot August programme. Come by on August 9 and get serenaded by Stillsunrise as they bring their distinctive mix of alternative folk music. Or relive your army days and celebrate five decades of National Service with former SAF musicians as they play familiar ceremonial tunes such as 'Purple Light' and 'I Ask My Girl'. Make sure to check out 'Creating a Home Away from Home', a showcase of personal objects contributed by the migrant worker community which gives us a glimpse into the lives of foreign individuals who have adopted our island as their second home.
See more events in Singapore this week
101 things to do in Singapore