Guide to Bcharre and Qadisha Valley
Time Out Beirut has a handy guide to Bcharre and Qadisha Valley, a popular destination near Beirut, including access to places to ski in Lebanon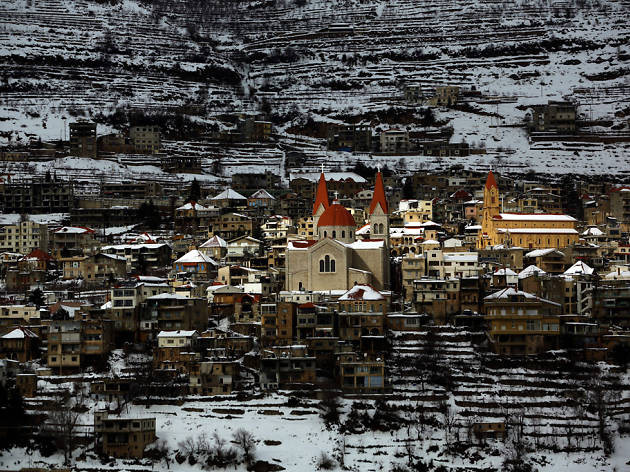 Bcharre, dotted with Maronite Christian monasteries and pristine vistas, is one of Lebanon's many UNESCO World Heritage Sites. Although it's quite a trek from Beirut, it's a handy spot for exploring a wilder Lebanon and seeing the famous cedars.
The town boasts pretty traditional houses and several restaurants. For a night-time hang out head to Makhlouf Elie, a cosy favourite for travellers. Many of the restaurants are in the valley below Bcharre. Abu Joseph, buried deep in the trees and vines of Wadi Qannoubine (Qadisha Valley), is particularly notable – although more of a daytime spot, as getting there can be challenging at night. Towering above the town on the wild, windy and snow-capped Makmal Mountain are Lebanon's famous cedars. Named the Cedars of God they sit at an altitude of around 2000m. Getting up to the reserve requires a taxi and a round trip shouldn't cost more than LL.20,000. It is very possible to walk down from the reserve to Bcharre, though it takes around an hour.
In winter Bcharre is also home to Lebanon's highest ski slopes. Due to the height, the season here is longest – normally from late November right through to early April weather permitting.
The village of Hasroun nearby is also worthy of a visit and, clinging to the side of the Qadisha valley, has some stunning views. Café Le Casino is a rare, authentic slice of old village life and is alive with the clatter of backgammon chips and the chink of coffee cups.
On your way to or from Bcharre it's worth stopping off in Ehden, the summer home of many of Zgharta's residents. Ehden's nucleus is Al-Midan square with cafes and streets shaded by trees this rural village is an enjoyable bit of tranquility to walk around.
The Qadisha gorge is definitely a highlight. Although you would struggle to do the whole length in a day, there are plenty of tracks that lead you out to the roads above from where you can walk, hitch or taxi back to Bcharre. One popular route follows the main track down the centre of the valley and runs down from Bcharre near to Ehden and is around 15km (with some steep sections). For detailed maps and hiring walking guides see Lebanon Mountain Trail (LMT) association.
Throughout the valley floor are cave hermitages and historic monasteries – the valley has been a shelter for monks ascetics and hermits since the dawn of Christianity. It was a home for a variety of different religious sects with both Christian monks and Muslim Sufi mystics finding solace in these hills. The church of Saint Marina has beautiful frescoes painted onto the cave walls and is worth visiting.
Staying in Bcharre
Tiger house is a popular budget spot with beds for around LL.15,000 with breakfast. Dinner is also an option here if you arrive late. It's a no frills but pleasant spot for a night or two. Hot water showers and dormitory style bedrooms.
Tiger House (03 087126) Cedar's Road, Bcharre
Getting there
Buses for Bcharre leave from Beirut's Dora Roundabout north of the city around every two hours, and are priced at LL6,000. It is also more than possible from Tripoli although you will likely need to change buses at Chekka just south of the city – your driver will point you right. Leaving Bcharre is relatively easy as it's a small village and if the bus doesn't pass your hotel to pick you up you can grab it from the main square.
By: James Haines-Young