Things to do in Broumana and Beit Mary
Time Out Beirut has a handy guide on things to do in Broumana-and-Beit-Mary, including restaurants, bars, festivals and other events near Mount Lebanon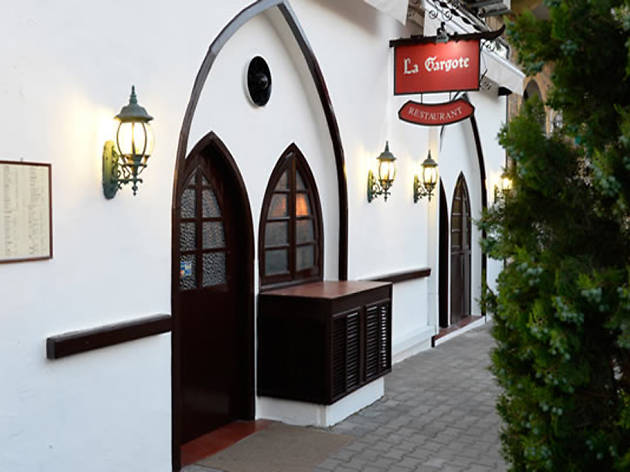 Once you've taken the twisting winding road out of Beirut and into the fresh mountain air, one of the best things that you can do is turn around and gaze back down at the city. The steep climb out of the city means in a matter of minutes you're towering over the metropolitan sprawl. You get a great sense of satisfaction at managing to escape the chaos of below, but mixed with a sense of wonder at the picture perfect scene of the towering city jutting out into the blue Mediterranean Sea. This feels even better if you're sitting down in pleasant surroundings, eating some lush food. There are a number of exquisite restaurants in the area that can bring a tear to the wallet and leave a song in your stomach. One of the more prestigious institutions in the area is Qasr Fakhreddin. Serving a cacophony of Lebanese food, you'll find every bit of mezze that you can bring to mind. The kibbeh nayyeh is extremely fresh and well worth including in your order, as is the kebab khachkhach, with its beautifully balanced spicy tomato sauce. A dinner, set among Qasr Fakhreddin's palatial surroundings for two people will be about LL 165,000. But don't panic yet, for those of you with lighter wallets, options do exist.
For something quick, cheap and easy try out Restaurant Kanaan. A classic collection of pizzas and burgers as well as one of the best, and lightest, crepes in town. Open till late, this place is good anytime of the day, for two people to eat and keep the price below LL 30,000. It's not all or nothing in this area though, some restaurants do fall somewhere in the middle. Le Gargote has been serving excellent Lebanese food, with some French dishes added to the mix, since 1961. Th French dishes here are generally the go-to choices for locals who have a long tradition of dining on French cuisine. You won't be disappointed if you ordered all Lebanese, but we'd urge you to be brave and try the snails, which are the house specialty. Coated in garlic and cooked to perfection, they are good enough to change the mind of even the staunch critic. It's a friendly local crowd who generally fill the friendly French theme surroundings. A meal for two will set you back around LL 90,000. Along with Le Gargote, there is also Le Gargotier. They only differ in name; the menu, price and even owners are all the same.
There comes a point when every meal must stop, but that doesn't mean that the night has to end. Head over to Calvados, easily one of the warmest and most fun drinking holes around. This converted 18th century house is a bundle of fun wrapped in an always welcoming Catalonian styling. On or off season, you can be sure that you'll have a good time, or at least enough alcohol to make you feel like you're having a good time.
Qasr Fakhreddin (04 96 04 07)http://www.kasrfakhreddine.com/website/default.html
Restaurant Kanaan (04 960 084)Broumana, 1204 Broummana.
Le Gargote (04 96 00 96) www.lagargote.net
Calvados (03 487 150)
Now you've eaten enough to feed a small army and you have a choice: try eating enough for a large army or walk it off. In Beit Mary you've got the opportunity to tick another of Lebanon's Roman ruins. This 1st century AD shrine was originally built in honour of the local god Baal Marqod, who was in charge of thunder, lightning and earthquakes; when the Greeks got their hands on it, they worshipped Poseidon and when the Romans turned up it was all about Jupiter. In truth, it's big for all three. Measuring 40 metres long and 17 metres wide, the impressive nature of the building is still clear from the remaining massive foundations and huge columns. Large amounts of the original structure was removed in the 1750s to build the St John's Maronite monastery that still stands nearby today making use of the original architectural columns. A smaller temple still exists about 100 metres from the site of an original.
There is another monastery in Broumana, which is well worth checking out. Lazarus Monastery was once used by Emir Abillama, an eminent Druze in the area, as his serial, or government, building. Quite a large part of it is now closed off to the public but you can still see the large two level courtyard with the cloisters that lead from it. If you carry on down the road you should stumble across the Church of St Isaiah. This 16th century building is thought to have been built on top of an old fortress. You'll know when you've found it when you see the gigantic oak tree, which locals claim is 1,500 years old.
February is a good month for Beit Mary as the Al Bustan Festival, rolls into town. It's been going since 1994 and showcases a variety of classical music, with solo performances, orchestras, and choirs.
Al Bustan Festival, albustanfestival.com
By: James Haines-Young