Tavern revival
Wine bars are making a comeback. Don't miss these two essential stops on your route to discover them all
By Ricard Martín Wed Sep 4 2013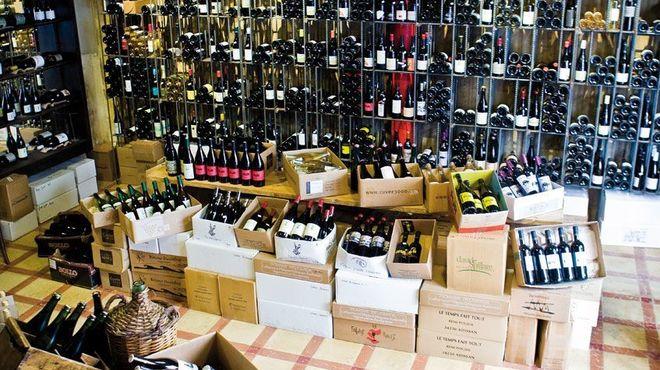 Can Cisa / Bar Brutal is pumping out bulk wines at full capacity in the Born. Xemei's Colombo twins, Stefano and Max, are the driving force of this joint project - along with wine importer Joan València - who inadvertently mark a before and after in the comeback of taverns (call them neotaverns, hipster wine bars or what you will). Their enfants terribles image of rockers covered in tattoos with a reputation for partying hard hides a reverence for the finer things in life often more associated with the senior set, especially when it comes to taverns, wine and food.

In the pleasantly cool, shadowy interior of Can Cisa - in true wine cellars, air conditioning is superfluous ­- take a moment to appreciate the care that's gone into the restoration of a neighbourhood bar. Stefano admits that he and Max, trained architects, may have got a bit carried away with the renovations, but it was worth it. Can Cisa, he says, was already 'so beautiful that we wanted to get everything that was inside, restore it, and put it all back in its place', which has led to the difficulty of cleaning up a space that was closed for 60 years: the warehouse. Stefano explains with a laugh that during the time Can Cisa was closed, their grandparents were constantly putting pressure on them. But for the twins it was more about appreciation for the religion of the barrel and jug than any local or familial pressure that has led them to combine a wine shop at the front with a bar at the back where you can fill your jugs and wineskins with barrel wine. They stock more than 300 wines from all over the world, all organic or biodynamic, 'without chemicals or additives, at prices that are neither cheap nor expensive, but in a very attractive price range'.

This is the 'more proper and commercial' part of the venue, says Stefano. Carry on to the back and you're in the bar with wineskins of Gandesa, rancio, moscatel and vermouth. 'The same wine at the same price as always. We want older people from the neighbourhood to socialise here the way they used to, so we don't lose that essential feeling - an old-style tavern that sells vermouth by the litre.'

The back room
At the end of the L-shaped tavern, you step into part two of their plan, the more 'fun and rogue' part that is Bar Brutal, a dining room with tables and plenty of space at the majestic marble bar. Bar Brutal announces its presence on C/ Barra de Ferro with a neon sign. The idea is to buy a bottle of wine for €10, pay a €6 corkage charge, and drink it at your leisure.

The menu ranges from the good to the fantastic. 'We went out looking for small producers who would make us small quantities of very specific products.' There are cured meats, cheeses, and high-quality tinned seafood. And starting from 12.30pm, they serve Xemei dishes including : sautéed mussels, carpaccios of various types of fish, soufflés - try the one with grilled cheese and figs - or their version of a hamburger, which is lobster. 'If you want a banquet, we can oblige, but for only €20 you can have a great meal.'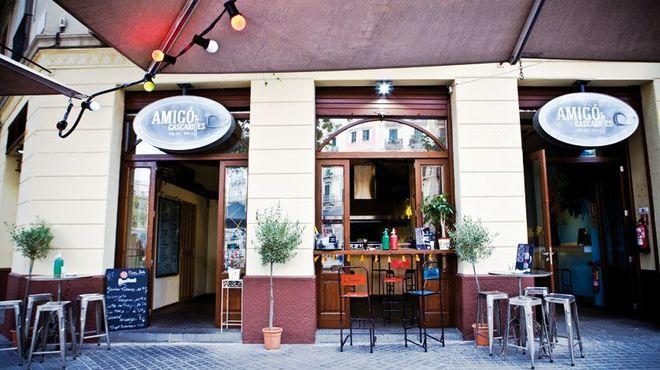 The Delta on the griddle
Another old-school tavern making a comeback under a new guise is Bar Amigó. Always a popular spot for menus and tapas on the corner of C/Urgell and C/Tamarit, it has reopened as Amigó Cascarilles, with two new proprietors who are time-served veterans behind the bar, and are both called Pere. They want it understood that they're not just investors, but they'd rather not give their surnames 'because in the restaurant/bar world, there's a lot of jealousy and envy'. I heard about the changes from a good friend of one of the Peres, Santi, who's also the owner of Gelida (which is one of the Colombo twins' favourite spots, it has to be said). And the truth is that Cascarilles does have a lot to envy. The formerly cramped interior of Amigó now boasts a single bar and a planxa - a hotgriddle on which they cook fresh seafood and shellfish from the Ebro Delta. They also have draught beer, and a vermouth from the region - both excellent.

The idea is 'to turn the clock back to an older style of bar, but to serve fresh products as well as tinned shellfish.' Their raison d'être, according to one of the Peres, is 'to promote products from a struggling region that you don't find here, and which deserve to be reconsidered.' And at the same time, to offer a more informal seafood dining experience, with bar stools and toothpicks instead of maitre d's and linen napkins. Specials chalked up on the board include a half kilo serving of mussels (a snip at €5.95 and very tasty), razor clams, frogs' legs, and xapadillo (fried eel - delicious). As one of the Peres tells me, the planxa doesn't lie: this kind of cooking is all about the quality of your ingredients.
More info
14, Princesa, (Barra de Ferro)
More info
More info
---
Best of the wine bars
Lovers of good wine and tapas will be happy here: they offer a stunning selection of wines from around the world, with a good range of wines from Catalonia, all at shop prices and with a corkage charge of €4. They also have six different beers on tap. Propped against a barrel, you can enjoy a drink with selected cured meats and tinned products, and unusual tapas such as the quail egg omelette with black truffle oil.
Parlament, 51, Eixample Esquerre, 08015
More info
At the Casa Mariol Wine Bar, which is part of the bodega of the same name, you'll have the chance to get to know Suau, which is an version of a drink (a blend of soda and coffee) that was popular in the Ribera de l'Ebre region decades ago. You can also taste cask wines from the Ebre, accompanied by a nice 'clotxa' (bread stuffed with herring, onions, tomatoes and garlic) and then top it all off with delicious cakes from Batea (a town also in the Ebre).
Rosselló, 442, Eixample Dret, 08025
More info
An ideal place for all kinds of food and wine lovers, both beginners and gourmets. The dishes, all made from fresh market fare, accompany the wines without eclipsing them.
More wine bars