Your guide to Barcelona's LGBT community
Come out and join the party with these top spots and diverse fiestas
By Josep Maria Sarri Wed Jun 26 2013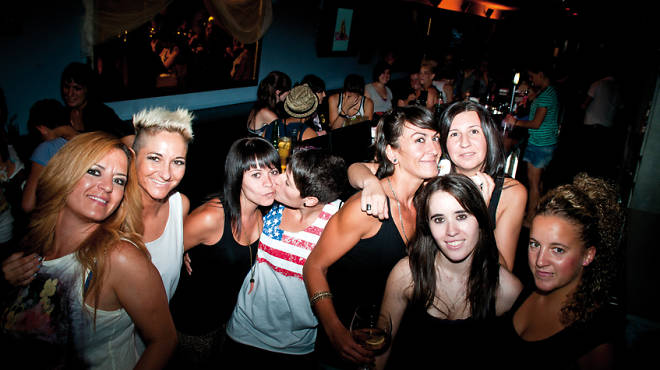 Barcelona, the gay capital of southern Europe, where you're free to express yourself. Whether yours is cultural gatherings, meeting for drinks or foam parties, the city has it all. Check out these top spots, parties and assocations that help make our city a heterogeneous destination. Welcome to diversity!
What's new in the Gaixample
Although the city's gay district is suffering through the crisis just as everyone else – some winter nights out can paint a rather bleak picture – there are still some who want to venture out and please with new ideas and parties. Recent months have seeing the opening of new cafés such as Bim Bar, putting a bit more life into the area during the day. The newest night spot is Mercury, which stands where Bubbleboys once was, and pulls a bit in the direction of nostalgia. Since February 2013, Latino gays have a new destination in Stage Light. 
La Sue BCN Irene Fernández
Lesbians out and proud
There's something about bars for the girls that often leads them to an untimely demise. So when one survives the passage of time, it is not only to be congratulated but celebrated as well. La Rosa is still the city's great lesbian club. But there are new alternatives carving out their niche, such as La Sue BCN and La Bambolina. The latter is a start-up from the Melon girls, a group of young lesbians who also branch out to organise events in larger spaces, and even exursions and weekends in the mountains only for women.
Boyberry
Hot down below
Although apps like Grindr have stolen some of their clientele, cruising spots always have their draw. One of the city's most successful, Boyberry, has recently expanded its space with a basement of 200 square metres. It's reasonably priced, and there are special days where under-30s get in for free, or you can get the cover charge waived if you're packing more than 20 cm (7 in). The latter is the 20th of each month. There's a guy who has the pleasure of measuring those who think they qualify for free entry, and if you're among the gifted, you won't pay a cent. And you also get a wristband to wear so the whole place knows your shoe size.
Fighting homophobia
Barcelona is a city that breathes freedom. This is in part thanks to the many associations that, since the 1970s, have continued to fight for equal rights. And there is still much to do. Luckily, there are a number of organisations that devote a lot of time and effort to the cause. Currently, one of the most active groups is the collective Brot Bord (website in Catalan), a queer assembly that fights against patriarchy, homophobia and transphobia. They are quite active and tend to organise lectures, workshops and documentary screenings. They meet on Sunday afternoons at the Casal Independentista de Sants.
La Penúltima Maria Dias
On the road
Around the world and back ... to the Raval. You might not know that the first lesbian bar in Barcelona (La Sal) was on C/Riereta. The Raval and has long been a meeting place for the most alternative gays, thanks to bars like La Penúltima. But if there is one street in the Raval that is becoming more and more popular, especially among the girls, it's C/de Carretes, home to spaces like La Casa de la Pradera and the newest spot Bar Lupita. If you're hungry, stop by Las Fernández first.
Bear Sex Party
The new bear circuit
Since Woofy opened where the old Zeltas was, C/Casanova has become the epicentre of Barcelona's bear community. A few metres away is the lair of another favourite for the city's bears and chasers, the Bacon Bear Bar. On Thursdays, both places put on a spread of snacks, making it a great time to move among and admire the crowd of hairy men, their bellies full and content. Once a month it's the triumph of the Bear Sex Party in the Open Mind sex club where everyone gets right to the point and hair is synonymous with happiness.
©Pódame
A cut above
In many of the world's big cities it is increasingly common to see men-only aesthetic centres where you can even get anal and genital bleaching. As far as we know, the bleaching hasn't really become fashionable here yet, and salons for gay men to pamper themselves are engaged in more mundane activities, such as haircuts. You'll be treated very well in the Gaixample in salons such as Paparazzi or Tön Vangard, but if you head to the Raval you can also find modern hairstylists that come highly recommended and have first-rate service, like Pódame.
A community link
For many gays, lesbians and transsexuals, getting older means climbing back into the closet. Those with no children are often left on their own. The Fundació Enllaç ('The Link Foundation') is here to help. The organisation aims to protect the welfare of LGBT people who live in situations of vulnerability and dependence. The association has a multi-purpose room where they put on film screenings, host lectures and activities such as tai-chi, provide space for the Coral de les Panteres Grogues ('Yellow Panthers Choir'), and hold workshops to promote emotional and spiritual wellness.
Trans visibility
Transsexuals have always been the most stigmatized group within the LGBT community. Fortunately, a new generation of transgender people are doing a lot to promote awareness. In Barcelona this is thanks to initiatives such as the Espai Obert Trans-Interse (website in Spanish and Catalan), a group that meets once a month at the Casal Lambda, and Cultura Trans (website in Spanish), a project to promote visibility and new models when it comes to the trans question. On 6 July they hosted a cabaret featuring local and international artists.
International briefs
One of the newest shops in the Gaixample is brought to you by the clothing brand ES Collection, which has undergone a real facelift. This brand that specialises in swimwear and underwear was born in 2006 out of the initiative taken by a textile company based in Poblenou. They were the first to incorporate 'pack up' in their pieces, which is a foam insert to boost the appearance of your package. Thanks to this invention and their ad campaigns featuring smooth-skinned, muscular men with piercing eyes, they're doing very well indeed and now boast more than 300 outlets worldwide.
A sweet party
They started out discreetly in a small space in the Raval, and in September 2012 they made the leap to Apolo's La [2]. Churros con Chocolate is a free monthly party with an eclectic play list of danceable tunes that sees longer queues outside the entrance every month, with some latecomers left outside. It's a fun and changeable session that draws a diverse clientele where anything goes and where good times are had by all. The early birds get a treat of churros with chocolate.
---