John Baldessari
By Lauren Weinberg Wed Dec 12 2007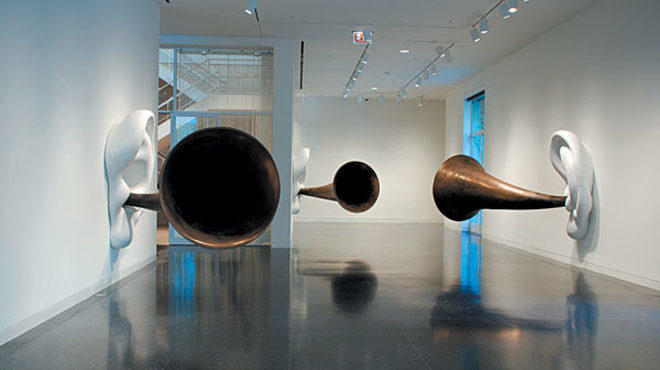 John Baldessari, Beethoven's Trumpet, 2007 (installation view).
Conceptual artist John Baldessari lends us not just one ear, but four, in a show that is disappointingly slight despite the massive scale of its components. Baldessari has mounted four six-foot sculptures of snow-white human ears on the pristine walls of the Arts Club lobby. Protruding from each is an enormous bronze-plated ear trumpet, a replica of the one used by Ludwig van Beethoven.
The installation, which was originally shown in Beethoven's hometown of Bonn, Germany, refers to the composer's eventual hearing loss in one other crucial way: When triggered by sound, each piece plays a short excerpt from a string quartet Beethoven wrote after going deaf.
According to the accompanying commentary, Baldessari's sculptures are intended to "question the process of…hearing, and underscore the paradox of a musician who does not hear." Unfortunately, they also underscore the paradox of an interactive sculpture that is anything but user-friendly. During a recent visit to the show, the ears were mute as well as deaf, failing to respond to claps, coughs or exploratory "Hellos." A security guard had to insert his upper torso into one of the trumpets and shout to start the 30-second burst of music, which was over before it could be appreciated. Other pieces responded only to furtive thumps. ("I'm really not supposed to do this," fretted the guard.)
Baldessari's work is dramatic and fun when it functions properly, but here it really does go in one ear and out the other.
You might also like
---