Dimo's makes a Jeppson's Malört pizza and it's good
By Time Out editors Wed Sep 4 2013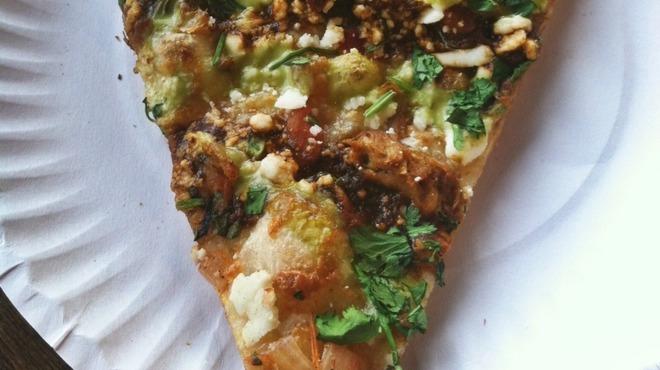 Dimo's Pizza is selling a chicken mole-Jeppsons' Malört pizza this week. Credit: Amy Cavanaugh
We usually visit Dimo's Pizza for Philly cheesesteak or chicken and waffle pizza after having too much to drink, but now the pizza purveyor is saving you a trip to the bar. This week's special is the Jeppson's Chicken Mole, made with none other than Jeppson's Malört, the bitter wormwood liqueur everyone loves to hate.
It was only a matter of time, we suppose, before two Chicago icons joined forces, and who better to make it than Dimo's, best known for a ridiculous slice of mac and cheese pizza. We stopped by last night to try the pizza, which is available for $3.75 a slice at the Wrigleyville (3463 N Clark St) and Wicker Park (1615 N Damen Ave) locations through the end of the week.
The pizza is topped with chicken thighs doused in a mole sauce spiked with Malört, pico de gallo, avocado tomatillo salsa, crumbles of mild cheese and a shower of cilantro. While we wouldn't know there was a really bitter liqueur in here if we didn't know, the mole sauce has a lot of depth and the salsa has a piquant kick. The cheese and cilantro cut the spice, and the whole slice just works really well. Dimo's has added special slices to the regular rotation in the past (see: chicken and waffle pizza), so we're keeping our fingers crossed that we'll be able to eat this slice again someday, preferably when we've had too much Jeppson's.
And yes—Dimo's is BYOB, and we won't blame you if you bring in Malört to sip while you eat.
You might also like
---