Eat Out Awards: Readers' Choice
TOC readers voted for their favorite restaurants, bars and chefs of 2010.
By Time Out editors Tue Apr 14 2009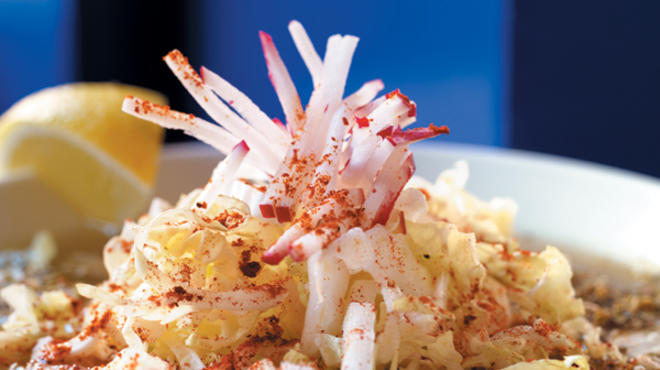 Best New Restaurant: XOCO
It's been a banner year for Rick Bayless. The chef took top honors on Top Chef Masters, consulted on a big L.A. restaurant opening and opened XOCO, his fast-casual ode to tortas, caldos, churros and chocolate. Sure, some of the serving times are idiosyncratic, but once you figure them out, it's easy to get your hands on that torta of salsa negra–drenched pork belly (Wednesdays only, starting at 11am), the ham-and-egg breakfast bread pudding (only until 10am daily) and those hot-from-the-fryer churros dipped in pudding-thick Barcelona-style hot chocolate (available anytime, thank God). 449 N Clark St (312-334-3688).—Heather Shouse
Best Wine Store: Lush Wine & Spirits
Owner Mitch Einhorn made biker bars safe for whiskey-lovin' foodies back in the day with the Twisted Spoke. Now he's taking on the big-box Binny's chain with a string of small neighborhood wine stores staffed by friendly, passionate wine geeks slinging rare spirits such as Old Rip Van Winkle bourbon or tasty, reasonably priced wines, some with a serious back story: We once scored a shiraz made by a dude who lives off the grid in a California mobile home. • 2232 W Roscoe St (773-281-8888) • 1257 S Halsted St (312-738-1900) • 1412 W Chicago Ave (312-666-6900).—Michael Nagrant
Best New Burger Joint: Five Guys Burger & Fries
If the Obamas' endorsement didn't convince you (both Barack and Michelle have visited franchises in Washington, D.C.), then the magazine and newspaper quotes lauding the never-frozen, freshly griddled and smashed patties covering every square inch of the place should do the trick. Though we really think it's the addiction to the dark brown, salty, skin-on french fries (and their 30 grams of fat and 620 calories) that keeps everyone coming back. • 2140 N Clybourn Ave (773-327-5953) • 6474 N Sheridan Rd (773-262-9810) • 2368 N Clark St (773-883-8930).—Michael Nagrnant
Best New Vegetarian: Falafill
Close inspection of the crispy falafel, featuring an almost neon-green, fluffy interior that wafts cumin and coriander perfume, reveals this Lakeview spot has serious balls. But it's the salad bar filled with shards of pink radishes, verdant Middle Eastern salads and a tangy selection of pickles—the greatest assortment of condiments since the bountiful salad bar at Brazzaz—that really reels in the non–meat eaters. 3202 N Broadway (773-525-0052).—Michael Nagrant
Best New Late-Night Dining: Purple Pig
For such an action-packed city, night owls have surprisingly few options for defeating late-night hunger pangs. Sure, we have Chinatown, Korean barbecue, a handful of taquerias, but where's the serious stuff? Purple Pig, that's where. At this Mag Mile porcine palace (pictured), Jimmy Bannos Jr. feeds the need for both style and sustenance, dishing out salads of crispy kale and pig's ear, dropping a spoonful of ricotta into a pool of pork-neck-bone gravy and giving humble parts like tongue a sweet-and-sour cure worthy of a Roman salumeria—all served until midnight on weekdays and 1am on weekends. 500 N Michigan Ave (312-464-1744).—Heather Shouse
Best New Hotel Restaurant: Cibo Matto
With its cherry-blossom fantasia-like ceiling fresco, sleek white banquettes and hand-crafted pastas—including tender, saffron-perfumed garganelli piled with sweet bay scallops, Calabrian chiles, mint and salty bottarga—Todd Stein's modern Italian jewel box of a restaurant in the snazzy Wit hotel challenges red-sauce joint stereotypes and takes solid aim at that other upscale Italian spot, Spiaggia. 201 N State St (312-239-9500).—Michael Nagrant
Best Indie Restaurant Blog: Chicago Gluttons
These food bloggers' caustic humor (using testicles, say, to illustrate Gilt Bar's pork meatballs) suggests Richard Pryor, but the Gluttons are capable of spitting restaurant knowledge on par with pro critics. These humanitarians (many of them work for aid agencies and nonprofits) also aren't afraid to skewer things like the overblown pork phenomenon and food writers who take free meals. chicagogluttons.com.—Michael Nagrant
Best New Mexican Restaurant: XOCO
Damn, Bayless: You're not even Mexican and yet you still own this category like Lady Gaga owns crazy. True, we can get tortas similar to XOCO's elsewhere, but they don't have the same punch. And you're not the only guy doing posole—you just have a way with hearty hominy stew. Even your churros and hot chocolate one-up the competition, because the cacao beans are ground in-house and the churros are fried to order. —Heather Shouse
Best Charcuterie Program: The Publican
From the salty Southern Benton's to the cool, mild NYC Culatello of Babbo, this West Loop beer hall spotlights more hams than the Second City. That, and the Publican's winey boudin blanc; garlicky kielbasa; apple-studded, fennel-kissed pork breakfast sausage; snowy lardo; and chunky, sweet spiced headcheese will fulfill your wildest dry- and wet-cured porcine dreams. —Michael Nagrant
Best New Bakery: Bakin' & Eggs
Voters had a hard task choosing among the Danish of Fritz, the breads of La Farine, the homey cakes of Bake and the elegant morning goods of Bakin' & Eggs. How did they decide? We suspect it had to do with the little twists Gina and Bob Hartwig give their treats: the scalloped edges of their muffins, the notes of honey in their chocolate-chip cookies. Of course, it always helps when a bakery also offers a bacon flight. 3120 N Lincoln Ave (773-525-7005).—David Tamarkin
Best Bartender: Paul McGee at the Whistler
McGee, the bow-tied man behind the Whistler, is everyone's favorite bartender: He's patient. He's unflinching. He can hear what you're ordering even when electronic music is blaring. And not only are his cocktails delicious, they make anyplace charging more than $8 a drink seem greedy. 2421 N Milwaukee Ave (773-227-3530).—Julia Kramer
Most In-Demand Dish: Pork-belly tacos at Big Star
You'll likely have a tough time securing a seat in this Wicker Park barroom. But due to plenty of standing room and a takeout window on Damen Avenue, those laws of scarcity don't apply to the Tacos de Panza, featuring luscious hunks of pork belly smothered in tomato guajillo sauce and showered with queso fresco, all swaddled in warm tortillas. 1531 N Damen Ave (773-235-4039).—Michael Nagrant
Best Weekly Special: Farm Dinner at Lula (Mondays)
Here's a rare treat: a three-course prix-fixe meal for less than $28. But just because the price is right doesn't mean Lula skimps on quality. Past dinners have included locally sourced Slagel, Gunthorp and Rasmussen farm meats, Prairie Fruits Farm chèvre-larded salads or sustainably grown Mick Klug fruit–topped desserts. 2537 N Kedzie Ave (773-489-9554).—Michael Nagrant
Best Specialty Shop: Hoosier Mama Pie Co.
Paula Haney took a leap a couple of years back by ditching her life as a restaurant pastry chef to build a cult following for her flaky crusts and pure fillings. Her banana cream pie alone made her a farmers'-market celebrity, helping build the funds and confidence to launch a West Town pie shop in fall 2009. Limited hours and a limited menu are no obstacles to pie lovers, who've come to know her seasonal shifts, and habitually buy out the day's supply by closing time. 1618 W Chicago Ave (312-243-4846).—Heather Shouse
Best New Brunch: The Publican
There is no better incarnation of the bubbly brunch than this meat-packing district restaurant's pan-fried French toast paired with an omlette so fluffy it's practically a soufflé and a side of spicy vinegar–splashed pork rinds, all washed down with a bottle of Deus Brut des Flandres, a clear golden Belgian ale bottled in the méthode Champenoise. 837 W Fulton Market (312-733-9555).—Michael Nagrant
Best New Gastropub: Revolution Brewing
The way this gastropub trend is going, if you're planning to open a bar you'd better study up on craft beers, hire a consulting chef and give people something more than poppers. Revolution did one better: It decided to brew its own beer, enlisting Jim Cibak (Crown, Three Floyds, Goose Island) to man the tanks. While Cibak strives to keep up with the pace at which the drunkards down his Belgian-style wheat, dry-hopped pale ale and English luncheon beer, chef Jason Petrie is slammed with orders for Parmesan-bacon-sage popcorn, applewood-smoked chicken wings and beer-battered scrod with red-pepper rémoulade. 2323 N Milwaukee Ave (773-227-2739).—Heather Shouse
Most Worth the Wait: Hot Doug's
The Internet may have lessened the number of physical queues in the world, but two things you can't procure with the click of a mouse include the jovial smart-assery of the real sausage king of Chicago, Doug Sohn, and his wonderful gourmet topping–laden encased meats like foie gras and Sauternes duck sausage with truffle aioli, foie gras mousse and fleur de sel. For those, my friends, you still have to bide your time on the sidewalk. 3324 N California Ave (773-279-9550).—Michael Nagrant
Best New Pastry Chef: Patrick Fahy of Blackbird
In replacing pastry chef Tim Dahl last fall, Blackbird looked to the Blackbird of the West, Yountville, California's French Laundry. Fahy's known for nuanced, offbeat desserts: Under ice cream you'll find pickled raisins, or maybe a crunchy pile of streusel; ganache is at times made just with chocolate and at others with Ovaltine. We come back for Fahy's creations again and again—sometimes to try his newest dish and other times to revisit one, just to see if there's something we may have missed. 619 W Randolph St (312-715-0708).—David Tamarkin
---
You might also like
---