Bars worth visiting over and over again | Lincoln Park Neighborhood Guide 2011
By Time Out editors Wed Jun 1 2011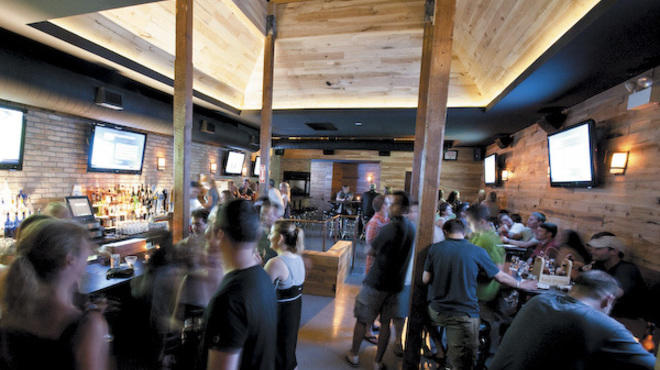 Racine Plumbing Michael Jarecki
D.O.C. Wine Bar This cozy wine bar is a sibling of next door's Dunlays on Clark, a casual bar/restaurant, but the high ceilings here give it some kind of urban barnyard feel. The bottle selection is excellent, and you won't find even the slightest whiff of pretension, despite the mostly yuppie clientele. 2602 N Clark St (773-883-5101). El: Brown, Purple (rush hrs), Red to Fullerton. Bus: 11, 22, 36. 5pm–2am. Average glass of wine: $9.
Delilah's One of the city's best spots for rock & roll doesn't even have a stage. Instead, this Lincoln Park favorite has one of the best jukeboxes in town for the main room and hires DJs who know their Buzzcocks from their Bullocks. Add an insane whiskey selection, more than 200 beers and frequent free movie nights, and you have a bar to call home. 2771 N Lincoln Ave (773-472-2771). El: Brown, Purple (rush hrs) to Diversey. Bus: 11, 76. Sun–Fri 4pm–2am; Sat 4pm–3am. Average beer: $5.
Goose Island Clybourn Watching beer ferment in tanks is about as exciting as C-SPAN, so we're pretty sure it's outgoing brewmaster Greg Hall's concoctions like Matilda and Sofie that bring in the crowds. Recently, Goose flipped its reputation from a great bar that serves food to a gastropub with excellent beer, and with a line of beers brewed in conjunction with local chefs, Goose seems to have bridged the gap entirely. 1800 N Clybourn Ave (312-915-0071). El: Brown, Purple (rush hrs) to Armitage; Red to North/Clybourn. Bus: 8, 72, 73. Sun–Thu 11am–midnight; Fri, Sat 11am–2am. Average beer: $5.
Local Option Nestled on a tree-lined street in Lincoln Park, this watering hole is the epitome of neighborly drinking. (It is named for the laws that allow neighbors to decide how communities sell alcohol.) A friendly bartender will chat you up and introduce you to the locals as he mixes your Hendrick's and tonic. But he knows when to shut up and let you listen to Ryan Adams's cover of "Wonderwall." 1102 W Webster Ave (773-348-2008). El: Brown, Purple (rush hrs), Red to Fullerton. Bus: 73, 74. Sun–Fri noon–2am; Sat noon–3am. Average beer: $6.
Neo Break out the ten-hole Doc Martens and the hair products for this goth-punk outpost that hasn't changed much since, well, before you were born. Neo has a small dance floor and a calendar crammed with DJs specializing in everything from metal and industrial to new wave and electro. 2350 N Clark St (773-528-2622). El: Brown, Purple (rush hrs), Red to Fullerton. Bus: 22, 36, 74. Sun–Fri 10pm–4am; Sat 10pm–5am. Average cocktail: $4.
Racine Plumbing Any cringing at the name will cease after entering this pale wood–toned pub, where neighborhood couples dig into burgers, and the younger crowd steels itself for the night with gin and tonics served in mason jars—a twee legacy from the owner's great-grandfather, a turn-of-the-20th-century plumber. 2642 N Lincoln Ave (773-871-1600). El: Brown, Purple (rush hrs), Red to Fullerton. Bus: 8, 11, 76. Mon–Fri 5pm–2am; Sat 11am–3am; Sun 11am–2am. Average beer: $5.
Rose's Lounge Just above the far end of the bar peeks the white-haired head of Rose. As the tiny, friendly Macedonia native slowly rises to pour drafts of Old Style, she explains how crime-ridden her now-posh Lincoln Park environs were when she opened her bar 35 years ago. On a Friday night, the bar hosts an old regular, a smattering of hipsters and a few pool-playing men who are clearly quite protective of their tavern and its matriarch. 2656 N Lincoln Ave (773-327-4000). El: Brown, Purple (rush hrs), Red to Fullerton. Bus: 11, 74, 76. 4pm–2am. Average beer: $2.
Small Bar Fullerton Famous for its past life as a pool hall once given screen time in The Color of Money, the space, which has a lofted mezzanine level, is now outfitted with a gorgeous bar and a couple of flat-screens devoted to soccer. And at least as far as the extensive and well-curated selection of 22 drafts and 180 bottles of beer is concerned, the Small Bar guys have always been known to go big. 1415 W Fullerton Ave (773-525-2727). El: Brown, Purple (rush hrs), Red to Fullerton. Bus: 9, 74. Mon–Fri 11am–2am; Sat 10am–3am; Sunday 10am–2am. Average beer: $5.
Vintage 338 On weekends it can get pretty noisy in this compact wine bar. And what's not to be excited about? Father-and-son team Tom and Chris Barkulis have developed a menu of casual European fare much heartier than your average finicky wine-bar small plates. Of course, more food calls for more wine, an easy task thanks to a small, inviting and affordable wine list, where a mix of familiar and unusual wines—all from Spain, France and Italy—average $8–$10 a glass. 338 W Armitage Ave (773-525-0521). Bus: 11, 22, 36, 73. Mon–Thu 5pm–1am; Fri, Sat 5pm–2am (closed Sun). Average glass of wine: $10.
You might also like
---