Debby does produce | vegetable sex toys
TOC's sexpert shows you a whole new way to appreciate fruits and veggies (and chocolate)-without ending up in the ER.
By Debby Herbenick. Photographs by Martha Williams. Mon Oct 20 2008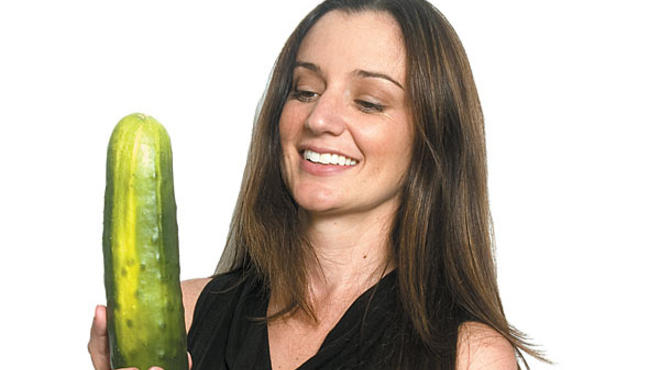 Given the current economic climate, people are looking to cut costs wherever they can—including in the bedroom. Before you spend big bucks on a double-action, multispeed vibrator with ball bearings and Paris Hilton–worthy rhinestones, why not check out what's available at the grocery store? With a little forethought and imagination, you might be surprised at the myriad ways foods can satisfy a different kind of craving.
Cucumbers When it comes to poor-man's (or woman's) dildos, nothing does a better stand-in job than a cucumber. But size does matter: Some cucumbers can be painfully porn-star–sized. Look for one that's no larger than what could comfortably fit inside you for vaginal or anal play and never, ever, ever insert produce into the vagina or anus without slipping a lubricated condom over it to reduce potential irritation from chemicals, pesticides or bacteria not meant for one's genitals. If using cucumbers for anal play, hold onto the end of the condom for dear life, lest the condom-clad cucumber get sucked up inside your body and make you the laughingstock of the ER. Zucchini and yellow squash also make good dildo understudies.
You might also like
---