Mad for midcentury modern
The ad execs of Mad Men sell their clients envy and desire-but we're sold on the furniture.
By Liz Plosser Mon Oct 27 2008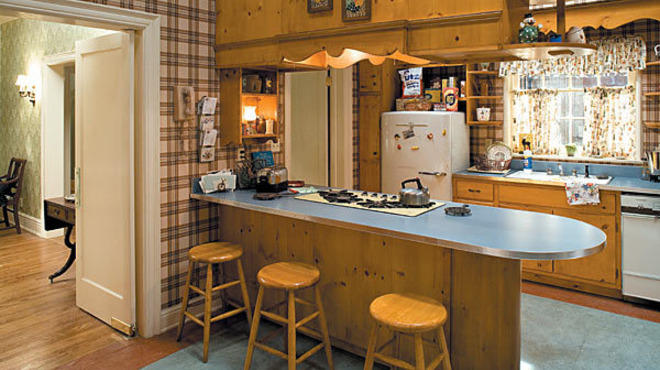 We're not sure when the AMC television series Mad Men, which chronicles the exploits of Madison Avenue advertising executives and their families in the early '60s, became this year's "it" TV show. Was it when it showed up on a June cover of The New York Times Magazine? Or when it won the Best Drama Emmy in September? Whenever it happened, one thing is for sure: It's not just the complex characters, brilliant scripts and palpable drama that turn casual viewers into Mad Men addicts. It's also the oh-my-gosh-I-want-it furniture and accessories we see each week—covetably stylish designs that reflect the aesthetic of the period: the years during which the country transitioned from the repression and conformity of the Cold War era into the about-to-bust political and social turmoil of the 1960s.
"I don't think people can separate what they're seeing in a dramatic sense from what they're looking at in a design sense," says Dan Bishop, the show's production designer. "And the timing is right because the midcentury-modern idea of architecture and decor has experienced a revival."
The pieces that anchor the show's eye-candy sets are the genius of set decorator Amy Wells, who scavenges furniture, wallpaper, ashtrays and other trimmings that create the atmosphere in each scene. "Part of what appeals to people [about the Mad Men look] is the clean lines," Wells says. "It's a warm modern, not a stark modern—not white plastic and chrome."
For authentic, period-specific inspiration, Wells leafs through '50s and '60s home-decor books and design magazines, which she finds at thrift shops. She can appreciate the connection viewers have with the old-fashioned designs because she's smitten herself. "The simplicity of the sofas and a lot of the pieces is very appealing," Wells says. "You have this beauty and warmth—and really high quality."
To bring the aesthetic into your apartment, furniture stores such as Crate & Barrel, Design Within Reach and Restoration Hardware are great hunting spots, Wells says. But she prefers—and enthusiastically recommends—weekly scouting trips to eBay, vintage stores and estate sales for original furniture from the period. Thrifty design gurus are obsessed with the midcentury furniture at Jubilee Furniture in Carol Stream, about 45 minutes west of the Loop.
"It's a very green show," Wells boasts. "We hardly ever buy new stuff. There's something so rewarding about being able to go out and find an old chair that's been abused and return it to its original, beautiful, simple form."
You might also like
---