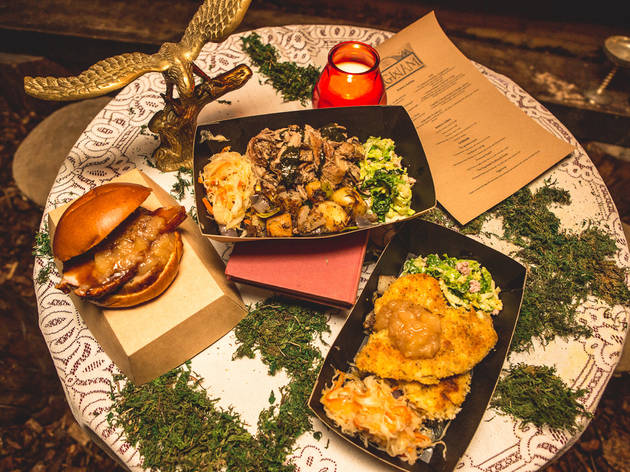 1/5
© Graham Turner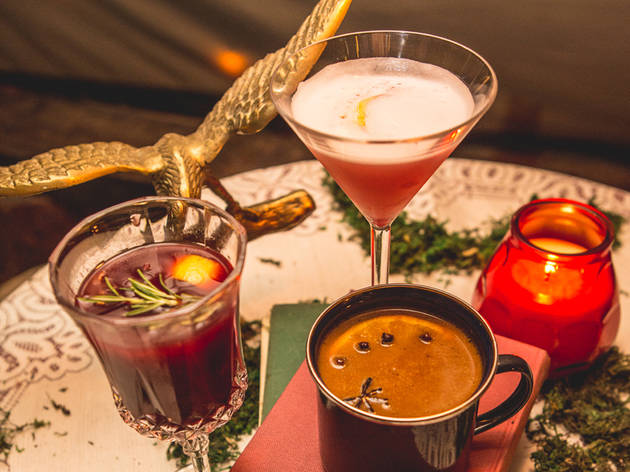 2/5
© Graham Turner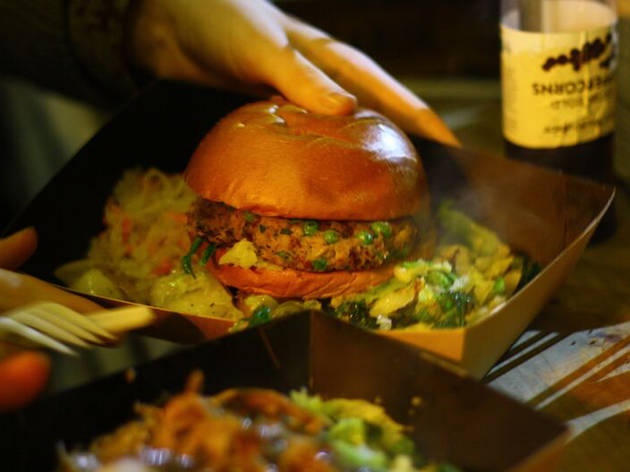 3/5
Filipe Guerreiro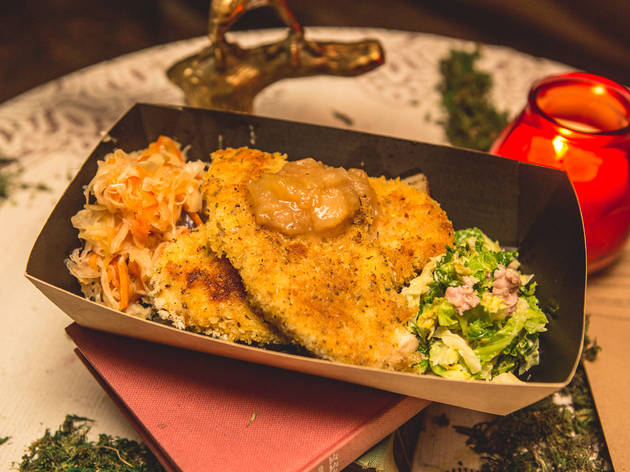 4/5
© Graham Turner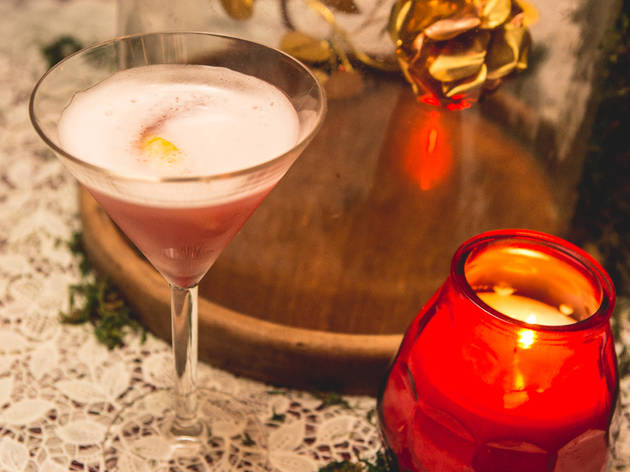 5/5
© Graham Turner
The Queen of Hoxton – pub, club and everything in between – offers an eclectic mix over two fun floors, with DJs playing on a cutting-edge disco/house tip on the weekends, while film nights, fringe theatre and food often take centre-stage during the week. Their huge rooftop is one of the funnest in London too – with an enormous wigwam set up during the winter months.
Venue name:
Queen of Hoxton
Contact:
Address:
1 Curtain Rd
London
EC2A 3JX

Opening hours:
Open 5pm-12midnight Mon-Wed; 5pm-2am Thu-Sat; 12noon-12midnight Sun
Transport:
Tube: Old St/Liverpool St; Rail: Shoreditch High St Overground
Do you own this business?
After 2004's straight-to-DVD sequel, the superior original is re-released, digitally restored, to mark the film's twentieth anniversary. Aside from making fans feel very old, this is also likely to make them feel just as jubilant and light-footed ...

Read more

In this live-action adventure, Mowgli (Scott Lee) is five before he's jungle-bred. The animals act like animals, sort of, which means that Mowgli wrestles with Baloo the bear, tumbles with wolves, but doesn't discuss philosophy with 'em. He swims ...

Read more

Half the world can repeat half the dialogue of Curtiz's great wartime (anti-)romance, re-released in a new digital restoration for Valentine's Day, and half of Hollywood's scriptwriters worked on it. If Peter Bogdanovich is right to say the Boga...

Read more

'Anomalisa' is an animation about a lonely man on a business trip written and co-directed by Charlie Kaufman, the writer of 'Adaptation', 'Being John Malkovich' and 'Eternal Sunshine of the Spotless Mind'. Like all of Kaufman's films, which tend t...

Read more
Our Party

Various DJs supply a wide range of music from disco, electro funk, pop to R&B and everything in between.

House, disco and techno

Until Friday October 7 2016

Queen of Hoxton Rooftop: A Tribute to Doctor Strange

The Queen of Hoxton's party-friendly Shoreditch rooftop is open again for the summer, with a trippy Summer of Love theme. Head up on any day of the week for food, fun and flower power – psychedelic ice cream sandwich, anyone? And check out the venue website...

Daytime parties

Until Saturday October 1 2016

Free

Wild Life

Divided supplies house, disco, electro and techno in the basement plus party jams, pop and R&B courtesy of Matthew Hayman on the ground floor.

House, disco and techno

Until Saturday August 27 2016

We Control The Dance

We Control the Dance returns for it's first birthday, with TCTS dropping house and dance downstairs, and The Boulevard All Stars, Phaze One and NARX keeping it real upstairs.

House, disco and techno

Saturday August 27 2016 - Sunday August 28 2016

We Control The Dance

We Control the Dance returns for it's first birthday, with TCTS dropping house and dance downstairs, and The Boulevard All Stars, Phaze One and NARX keeping it real upstairs.

House, disco and techno

Saturday August 27 2016 - Sunday August 28 2016

Supa Dupa Fly x Rooftop Sessions x So Solid Crew

R&B, hip hop and garage from the 1990s to now courtesy of So Solid Crew's Asher D and Swiss, DJs Snips, CJ Beatz, Matchstick, Emily Rawson, T.P. 7oel and Rock The Bells DJs hosted by Big Ted.

Bass, garage and D&B

Sunday August 28 2016 - Monday August 29 2016

Kick Out The Jams

Embark on a musical journey as DJs explore their vast physical and digital collections. Expect disco, soul, funk and reggae.

House, disco and techno

Wednesday August 31 2016 - Thursday October 6 2016

Wild Life

Throwback supply house, disco, electro and techno in the basement plus party jams, pop and R&B courtesy of Subculture Sounds on the ground floor.

Pop

Friday September 2 2016 - Saturday October 8 2016

Tie Dye High Five

Wispy-haired men in rainbow-coloured peace-symbol T-shirts will probably be few and far between at this Hackney tie-dye workshop. It's fresh-faced hipsters (rather than ageing hippies) that are more likely to be found here, tying up their whites and wielding...

Classes and workshops

Saturday September 3 2016

Cubed London With Moony Me

Disco, house and techno courtesy of the German-Venezuelan producer in his UK debut. With support from Frank McWeeny, EMB Collective and Chase The Compass.

House, disco and techno

Saturday September 3 2016 - Sunday September 4 2016

Show more
Average User Rating
3.4 / 5
Rating Breakdown
5 star:

2

4 star:

8

3 star:

5

2 star:

1

1 star:

2
This year's Wigwam is the best yet. marshmallows on sticks, hot cocktails, nice food and a manmade tree that you can actually climb. Super cosy and great quirky place to take a first date
Massive disappointment!!!!!!!
1/ between 11:17 and 11:18pm price went up from £8 to £10 whilst in queue.
2/ paid 4 entrances for £40, excited to have a drink on the rooftop --> which is NOT open at night. Too bad as this is why we had come for (after reading the latest timeout recommending it specifically for the rooftop). Too bad I heard people getting out of the bar shouting "don't waste your time here" AFTER I paid the £40.
3/ tried to kindly explain to the staff at the entrance that we only came for the rooftop and thus we don't want to stay and want our money back --> the answer I got was "you should have been more careful reading our website"
4/ stopped debating - as the money is already wasted, I tried to approach the bar where it took me ages to get drinks. Whilst in queue, a lovely smell of urine at the bar by the way.
5/ downed the drink and left because of terrible music
NOT a place I would recommend. At all.
PS: 1 star given because it is not possible to give none. Doesn't even deserve it.
My friends and I spent NYE at Queen of Hoxton. I am surprised there aren't more positive reviews as we had a tremendous time there ! The theme was cool, lots of people played the game by coming dressed up of wearing marine outfits. The music was very eclectic and it's a great thing because everyone was able to enjoy it ! The DJs were cool, especially the Menendez Brothers whom we unwittingly ended up talking to. Being French, we were pleasantly surprised at the friendliness of people there, we got to talk to lots of people from everywhere ! They served hot dogs on the roof, from which the view is amazing !!!! It's a great place to go party, and I normally hate clubs I prefer bars - but I had a great time at Queen of Hoxton. It was reasonably crowded and the only reason why it doesn't get a % stars for me is because the baristas took ages to take our orders everytime, which was very annoying. This would be the only bad thing I wanted to point out for improvement. Other than that, I am sure on less busy nights the service is great. If you've never been, you should go and experience it yourself :-) I highly recommend it.
I was out for a friends 23rd and it was shaping up to be a good night. Whilst getting a drink at the ground floor bar, i saw this 'DJ' madly twiddling nobs on the mixer channel which was at zero volume. Being a DJ myself i was intrigued, so i watched him for a while. The guy did not even attempt to mix. There was a track running and he literally just played with idle controls whilst dancing about like a moron. I've never seen such a pretentious display of fakery in my life. I've seen some terrible DJ's, but none as bad as this. I decided to talk to him. A few times i pointed out that he was using controls on a silent channel - no response. I then said he was a crap DJ. When he looked up, i realised it was Matt Horne (the guy from gavin and stacey). I was a little starstruck and stopped what i was doing to go tell my friends. As i pointed him out he was reeling of some trap to the bouncers about how i had assaulted him over the decks. They then grabbed me and took me out. I asked the bouncer why i'd been kicked out, i was told i 'shouldn't have pushed the DJ'. I paid £5 to get into that club and my night was over because Gavin can't accept the fact that he's a poser. The whole situation was hilarious. Seriously matt - stop kidding yourself and stick to the acting & whilst you're at it, don't ruin peoples evenings unnecessarily. Grow up. You're not a princess, and you're certainly not a DJ.
It's a nice venue. The one major issue is the stairs!! To get up to the roof, you need to be fit. My steel drum band covered a company party at this venue and we enjoyed it. With some further tweaks, the roof terrace could be more interesting, but overall, the staff were helpful and polite which makes a lot of difference to the whole experience.
More venues
Sponsored listings