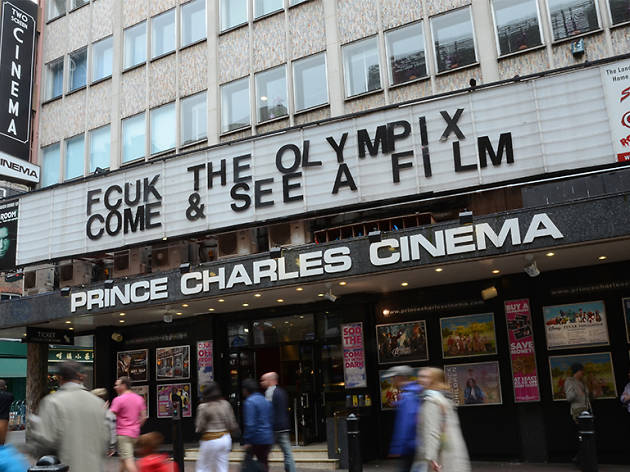 The Prince Charles in Leicester Square is the only cinema in London where no one is going to shush you. In fact, it's all about audience participation. Aca-along to 'Pitch Perfect', sing-along to 'Frozen' or get on your best jimjams and settle in for a marathon all-night pajama party. The Prince Charles started life as a porn cinema and it's still central London's wild card cinema. The programme isn't quite as sleazy as it might've been 40 years ago, but it's still a fantastic blend of new-ish blockbusters and arthouse titles with heaps of horror, sci-fi and teen-flick all-nighters, double bills and short seasons, often screened from 16mm or 35mm celluloid. Luxurious it ain't, but it's comfy, cheap and very cheerful, and the programming is as good as it gets. Voted 'best for fun' in Time Out's cinema awards.
Venue name:
Prince Charles Cinema
Contact:
Address:
7 Leicester Place
London
WC2H 7BP

Transport:
Tube: Leicester Sq
Do you own this business?
After Planes, Trains and Automobiles, writer/producer John Hughes turns once more to the nightmare of travel, this time from a child's perspective. Set to spend Christmas in Paris with parents and assorted relatives, young Kevin (Culkin) wis...

Read more

In 1939, rosy-cheeked chanteuse Judy Garland trumpeted the cosy, all-American proverb that 'there's no place like home' in 'The Wizard of Oz'. She returned five years later to reaffirm those beliefs in Vincente Minnelli's musical masterpiece, 'Mee...

Read more

Eight or nine plotlets, a castlist the size of a rugby scrum. Whatever persuaded first-time director Curtis that he could handle this lot, we can only hope that a hype-happy press and the biggest audience money can buy won't persuade him he's carr...

Read more

There are three things classic Disney animations are supposed to have. One: belting showtunes. Two: a bit of danger and darkness amid all the schmaltz. And three: a conservative message wrapped up in a traditional feelgood happy ending. Loosely in...

Read more

A hi-tech thriller with a human heart, offering slam-bang entertainment on a par with Lethal Weapon or Aliens. On Christmas Eve, visiting New York cop McClane (Willis) enters the high-rise LA office block where his estranged wife works, not realis...

Read more

When two bastardly billionaire brothers, Duke and Duke of Duke & Duke Commodities Brokers (Bellamy, Ameche), have a one dollar wager about the respective merits of breeding or environment on a man's character, they engineer the 'trading places' of...

Read more

After a swanky Manhattan party, Alice (Kidman), wife of well-to-do doctor William Harford (Cruise), confesses to fantasising about a naval officer. Haunted by visions of Alice with another man, William embarks on a long dark night of the soul duri...

Read more
Average User Rating
4.5 / 5
Rating Breakdown
5 star:

9

4 star:

7

3 star:

1

2 star:

0

1 star:

0
The best independent cinema ever!!
Worth becoming a member for £10/£7.50 p.a. for the member screenings alone (£1) - and a reduction on the bar prices! Generally the cinema area itself feels a little "tired" but excellent value for money, friendly staff and wonderful sing-along parties.
Vintage art house cinema showcasing a great range of recently released European and International films.
We very much enjoyed 'Raleigh Ritchie Presents'. The format of the evening was a great idea: first Raleigh's "old" music video, then one of his favourite films "eternal sunshine of the spotless mind", his new music video and a Q&A. It was insightful to learn more about how music videos are made. I had not seen the film before, so it was great seeing it on the big screen. The cinema has friendly staff and comfy seats. I'd very much like to go to more of these events :)
'Raleigh Ritchie Presents' was a great evening, looking into the two different music videos he had made for his single Blood Sport, a Q&A with Raleigh himself and the team that put the music video together and in the middle of it all a viewing of the classic film Eternal Sunshine Of The Spotless Mind.
It was an entertaining evening because it was great to get an insight into how music videos are made and that Raleigh was such an enthusiast and likeable guy, completely different to the character he plays in Game Of Thrones. I was also surprised about how much I enjoyed seeing Eternal Sunshine again but this time on the big screen in such a nice cinema. It was only a shame that people seemed to shy away from asking questions in the Q&A.
We really enjoyed the full evening and the presentation of Raleigh Ritchie new video. Great atmosphere and cinema! Definitely coming back. X