Karate chat with the World Champion, Judah Friedlander
After starring in '30 Rock' and winning martial arts contests across the globe, the World Champion's paying London a visit
By Ben Williams Tue May 21 2013
Who's the greatest athlete in the world? Usain Bolt? Messi? Bradley Wiggins? Nuh-uh. It's trucker hat-wearing '30 Rock' star Judah Friedlander.
Best known as Frank Rossitano in Tina Fey's sitcom, the 44-year-old stand-up is the self-proclaimed 'world champion' of, well, most things. Ahead of his brief London run, the self-confident comic found a few minutes in his karate training regime to chat to us about his heroic achievements.
So, you're the world champion of everything?
'Well, not math or reading, but pretty much everything else: karate, sex, sports – the fundamentals. But the official " World Championships" are karate matches, to the death – for charity. Those are what count. The Olympics? That's for amateur athletes.'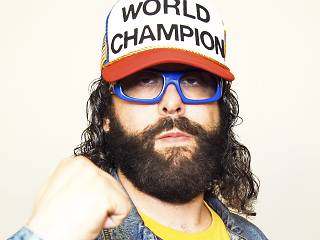 © Phil Provencio
You're known for your trucker hats, and the hats you wear on stage read 'World Champion'. How do they relate to the karate matches?
'They were given to me by the World Championship committee, they're basically like trophies. The front of the hat always says "World Champion" in some language, indicating the country where the competition took place.'
You have one hat written in braille. Where was that contest?
'That was actually in Korea. My karate kicks were so fast that they blinded all of the judges, so they had no choice but to step aside, learn braille, make the hat in braille and then give me the hat in braille.'
You must have been waiting a while…
'Yeah, I had to stand on the podium for six weeks, just doing nothing. It was really frustrating.'
Do you have any weak spots?
'No, I haven't found any. Scientists have been trying to figure it out for years and they haven't found any yet.'
You say you have an 'extra dark black belt' in karate. What does that mean?
'Well, I actually just got promoted to a new, more intense shade of extra dark black belt – they don't really have a name for it yet. But it's too dark, nobody can even find it, so we're not sure where it is.'
Who's the toughest person you've fought?
'One time I fought myself from the future, and that was really close. They had to stop the fight. There was no clear winner.'
Do you write the jokes on the hats in '30 Rock' yourself?
'Yes, I make all the hats and come up with all the stuff. A lot of times they're in-jokes, or they're exploitation B-movies that I, as well as Frank, would want to make. But I had to work within the censorship. I remember one time I did a hat that said "Balls". In the scene, Liz Lemon's having a meeting with the writing team about how we've got to start writing better, more classy scripts, so I figured: All right, I've got to make the trashiest hat possible. So I just wrote one that said "Balls". They actually had to run that hat by the censors.'
© Ben Ritter
Frank Rossitano on '30 Rock' is often pursuing members of the opposite sex. Are you as much of a ladies' man?
'Let's put it this way: James Bond has a poster of the World Champion on his bedroom wall, just for inspiration to get more chicks at his place.'
Do you share any other characteristics with Frank?
'Me, what I do on stage, and Frank Rossitano on "30 Rock" look pretty much alike. But the World Champion is someone Frank wishes he could be yet never could be. Plus, Frank's very lazy and he'll go for the easy joke all the time – like there was one season where Jenna Maroney (Jane Krakowski's character) got overweight, and Frank was right there immediately with the fat jokes. Personally, the me on stage, I would never do that. Let's say there was a fat guy heckling me. I would rip him to shreds, but I would never go for the obvious, never talk about how he's fat or anything.'
Now that '30 Rock' has ended, how do you feel about freeing up your schedule?
'It's exciting. Sometimes "30 Rock" was a struggle because I'd be doing the show and still be doing stand-up full-time. Then I also wrote an instructional karate book called "How to Beat Up Anybody". So it was like having three different careers. My movie career had to be put on hold a lot because "30 Rock" wouldn't really give me time off to do a movie or anything.'
What are you working on now?
'I've been doing stand-up since '89. I should probably have had seven albums out by now and at least a few DVDs, so what I'm working on right now is an album. And it's sort of an ongoing process, but I'm also doing a sort of stand-up concert documentary movie. I want to do something different, not just a straight stand-up DVD. Something more interesting and cinematic.
'I often don't like how stand-up comes off on TV, it's often kind of flat. So I'm experimenting with ways to film it, where it feels more live and intimate and not just kind of cookie-cutter. Then there's a couple of scripts I want to write for movies that I want to be in. They're kind of crazy sci-fi exploitation B-movies – comedies. But not your typical Hollywood movie, more like a '60s or '70s drive-in-style movie.'
So, is your stand-up show just about your World Champion status?
'No no, on stage not all the material I do is about sports or athletics or sexual achievements. It's like what you have in England: Anthony Hopkins has been knighted, so he's Sir Anthony Hopkins. So, no matter what I'm talking about, you still refer to me as the World Champion, just out of respect.'
---