Omid Djalili: 'I'm tapping into the alternative spirit'
Ahead of his month-long Leicester Square stand-up run, we talk to the comic-actor his relationship with the West End
By Ben Williams. Photography by Rob Greig. Tue Apr 23 2013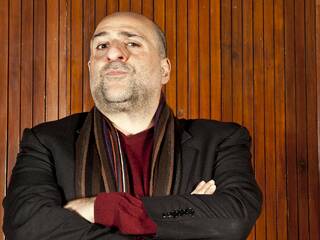 How did you enjoy playing the comedy clubs when you started as a stand-up?
'Oh, fantastic. Clearly the Comedy Store was the best, but there were some clubs that I liked because they were very unpredictable. One minute you have a fantastic gig at the Bearcat Club in Twickenham, and then I go back a month later and get booed off.
'At one of the Jongleurs clubs I used to do, in one weekend I got a standing ovation and came down in flames the next night, in a way that's never been seen, where the whole crowd were baying for my blood. I was physically escorted out of the door, and to this day I don't know what I did, I don't know what offended them so much.'
You're used to playing huge venues now. Is there still a certain thrill from doing a club gig?
'Yes. I did a club gig last night, there were 150 people there, and it was great because they really don't laugh if it's not funny; your material really gets exposed. Last night, somebody shouted "That's just not funny enough," which I thought was very good. There's a real thrill to perform to a smaller crowd because if they really laugh, then I've got to keep it in.'
Your first acting role in the West End was as Fagin in 'Oliver!'. How did the part come about?
'I got a call saying, "You have to audition for [theatre producer] Cameron Mackintosh." I said, "What if I don't want to do it?" and they said, "You don't understand, he's like a god in the musical theatre world, and when his finger points down at you, you have to respond." So I showed up – I hadn't really learned it – and he goes, "I think you can do this, but you've got to go away and show it to me, so I'll give you another month to prepare."
'I came back, and even then I didn't nail it. He said, "Okay, I've learnt two things: 1: I really still believe you can do it, but 2: I think you're very lazy." But I got it, and I think it knocked the laziness out of me.'
You've said that you think being a stand-up has helped your acting…
'Yes, because if you've been heckled and you've been abused, you're not so worried about criticism. Actors can get very nervous; the last thing you can do to another actor is say, "Don't do it like this, do it like this." But, as a stand-up, you're a little bit more thick-skinned.
'If I've ever done a film and wanted to improvise, I've just improvised, knowing full well that the worst thing that can happen is the director says, "Don't do that." But my experience is, even if they've said "don't do that" and then I've done it again, they go, "Ah, that's really funny." So it's also just about having confidence, and it's that thick-skinned element that I suppose allows you to be a bit more creative and free.'
And, apart from being less lazy, do you think acting has helped your stand-up too?
'Yeah, it has, because I realised that a laugh can come with the tiniest of nuance. If you're doing a film, the smallest nuance is so big on screen, so you have to learn to control your face. So, in comedy, I've watched myself and I do so many unnecessary things that get in the way. Whereas if you keep it straight, a slight nuance in the performance can be the difference between a half laugh and a big laugh.'
Despite the theatre work, this is your first stand-up run in the West End. What made you switch from huge venues to a month at the 400-seat Leicester Square Theatre?
'It's a chance to develop a show with my kind of crowd. I've always done tours, and just as I thought I was getting good, the tour stopped. When you tour, things change for each venue, whereas here I can really develop on what I'm doing.
'The big crowds are good, but when you're on stage at the Hammersmith Apollo it's like Euston station; there are 3,600 people, so there's always going to be 100 people getting up and moving around and it's very distracting. I don't want them to do that. I find with a 400-seater, there's something much more focused about it. I've never really had a bad gig in a 400-seat venue.'
There seems to be a slight divide in stand-up where more mainstream acts play a big venue for a night or two and more alternative comics perform long runs in small rooms. After this residency you'll have done both. Do you think of yourself as a mainstream comic or an alternative act?
'I've become very alternative, and I'll tell you why. I've looked at alternative comedy, and the first comedians, like Alexei Sayle and Ben Elton, who were kind of more leftist, were reacting to Thatcherite Britain, they were reacting to all the kind of rampant capitalism, and they were positioning themselves outside of the mainstream.
'Whereas, if you look at mainstream comedy now, in the guise of what used to be the old alternative, it's all anti-marriage, anti-God, anti-religion; that's the mainstream now. But if anybody gets up on stage and says, "Let me tell you why I believe in God," that's a very alternative viewpoint.
'When I started out I was totally different from everyone else; this crazy, badly dressed, hair-thinning, fat Iranian bloke who looked like he'd just come off the boat, and then switched and became almost like an Oxbridge ponce; people hadn't really seen that. So, even though I have done bigger venues and big tours, there's something about what I'm doing right now which is tapping into the alternative spirit.'
---
Watch a clip of Omid Djalili
More Omid Djalili features
Hobnobbing with Robert Redford and Bill Clinton – life is sweet for Omid Djalili.
Richard Bean and Omid Djalili explain why farce is back in vogue.
The Time Out Film team's verdict on Djalili-starring film 'The Infidel'