The best comedy shows in London this weekend
Looking for a laugh? Find the very best comedy in London this Friday, Saturday and Sunday
Whoooo! The weekend! Par-tay! Etc etc. Whatever you like doing with your two days off, a good ol' fashioned laugh at a London comedy club is always a recommended addition. To find out the very best comedy shows in London this weekend, plus recession-friendly free options, just click on the tabs below...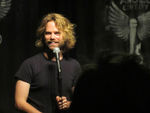 Comedy from the best of the open mic circuit plus an experienced headliner, every Saturday night and some Fridays too. This room gets absolutely rammed, so do get there early if you'd like a seat. To check the latest line-ups, click on each occurrence below.
Weekly open mic compered by Marilyn Muruako. Check the occurrences for the latest line-ups.
See all free comedy shows in London this Friday
Share your thoughts