Hampton Court Palace: stories for the senses
'The Glorious Georges' is a celebration of the 300th anniversary of the start of the Georgian era. At Hampton Court Palace you can see, feel, hear, taste and even smell palace life at King George I's court
By Time Out in association with Historic Royal Palaces
Alexi Duggins meets Jo Neil at Historic Royal Palaces to sniff out the palace's glorious stories…

A British king… all the way from from Germany
George I arrived at Hampton Court Palace as the first of a new royal line. Having left his wife in Germany – imprisoned for an act of infidelity – George had two other notable ladies on his arm… He spoke little English and fought bitterly with his son (the future George II), who never saw his mother again after she was imprisoned. Scandal and gossip abounded at Hampton Court as the King and his son fought for control.
Find yourself in the middle of one of the most infamous feuds in royal history as you meet the German Georgians at Hampton Court Palace.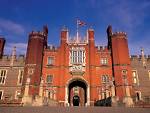 In George I's time at Hampton Court, the Palace saw a great change – lavish rooms were decorated for the Prince and Princess of Wales and a special kitchen was built for one of the most fashionable foodie pastimes of the period, drinking hot chocolate. Visit Hampton Court's recently restored Chocolate Kitchen and follow the 'smell map' that takes you through the palace to find out more about royal daily life and court intrigues right where they happened.
---
---