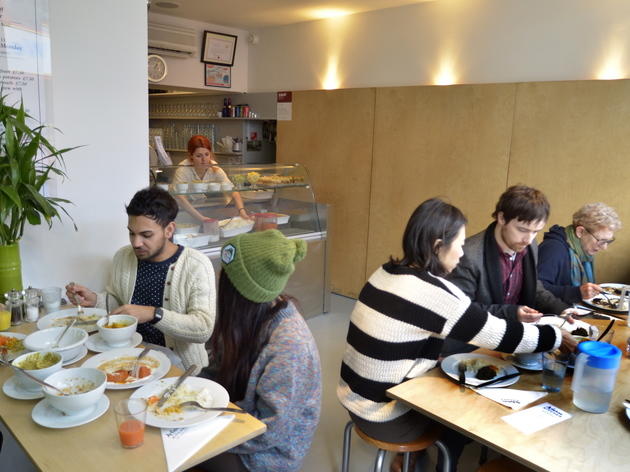 Not much changes at this long-running restaurant overlooking Islington Green. The two-floor premises are bright and clean, with spring-green and grey paintwork, simple blond-wood tables and stools, and no decoration beyond a few pot plants.
The menu of Afghan home cooking is equally straightforward: eight dishes (three meat, one fish, four vegetarian) of which the focus is hearty, warming stews that feature plenty of yoghurt and mint. Spicing is subtle rather than fiery. Moong dall is a comforting, thick, rich purée, while 'Sarah's' combines chickpeas, kidney beans and chunks of potato in a yoghurty sauce. Meltingly soft aubergine and thick slices of orange pumpkin come drizzled in yet more yoghurt.
The best method is to come in a group, so you can share dishes – though you can order half-portions to get more variety. Sides include tangy pickles, plain rice and (in the evening) a communal loaf. Fresh-squeezed carrot juice and a few beers and wines are among the drink options, though dogh – watery, mint-inflected yoghurt – is the most refreshing choice. Bring cash as cards aren't taken.
Venue name:
Afghan Kitchen
Contact:
Address:
35 Islington Green
London
N1 8DU

Opening hours:
Lunch served noon-3.15pm, dinner served 5.30-10.45pm Tue-Sat.
Transport:
Tube: Angel tube
Price:
Main courses £6.50-£7.50
Menu:
View Menu
Do you own this business?
Average User Rating
3.2 / 5
Rating Breakdown
5 star:

6

4 star:

2

3 star:

4

2 star:

2

1 star:

4
best food best atmosphere love the staff
If this place was bigger , it would need to be even bigger .... The best
Great atmosphere and delicious food. Perfect for sharing.
I just went to Afghan Kitchen. Having lived most of my life in Afghanistan, I know what good Afghan food is like; I make it myself. Afghan Kitchen was a more like Kitchen; forget the Afghan. It was good food, in fact, the food was excellent, but it was not Afghan by any measure. The Afghan bread (naan-e-khushk) was a decent effort, but with only one Afghan cook who is there part-time, it comes as no surprise the food is hardly Afghan. The restaurant seems to have a faithful following, so there must be something good to keep them coming back. I, however, will not be going back: not because it wasn't good, but because it wasn't Afghan. I will continue to look for my Afghan culinary experience somewhere else. Maybe Southall and Kabul Restaurant.
Food is quite nice but the atmosphere was completely ruined by the owner's voice shouting and screaming at the young waitresses. He tried to mask his atrocious behaviour by turning up the music volume. Won't be going back again! Staff should quit!!
Shoddy and rude service. Food far from outstanding food and meagre portions- i thought it was very overpriced. Three small pieces of aubergine drizzled with yoghurt for 7.50 sullenly plonked on the table. The chicken and mint was nice and more generous portion. Green tea was out, so was coffee. One water jug to share among 8 people at the table, was not refilled despite asking. Service was added to the bill, although no indication on the menu that service was anything other than discretionary. I hadn't expected only cash or cheque payment, although not a problem in itself, it meant I didn't have much change and I was me somewhat annoyed when I appologised and asked if being 5 pence short would be ok the waitress snapped back that it was not. I would have understood had it been 5p off the cost of the meal but given this was 5p off the service I would not have paid becuase of the poor and rude service throughout the meal. It just soured the whole experience completely. I won't be going back anytime soon.
I used to love this place so was really disappointed on a recent visit. We arrived on time for our reservation only to be told - without apology - that it would be another 15 minutes - when we finally got our table we waited another 15 minutes without service - at which point we walked out. They've always been a bit chaotic - but the haughty attitude of the staff and the stressful atmosphere simply isnt acceptable.
It's cramped. The food is very simple and very nice. Booking beforehand is a must. Make sure you try the pumpkin, truly exquisite
I think that the main goal of Afghan Kitchen is good food and that's what they serve you. It is not a pretentious place and the service is laid-back, which is why is cheap. I personally much prefer an independent small place with homemade food than all the chains of London with perfect robot service and frozen/plastic expensive food!
Been going here for 13 years now and watched it get slowly worse as the years went on... the attitude of some of the staff is beyond awful. So unhelpful, totally unbothered about the job in hand. It's not as if it's a particularly hard restaurant to serve - 10 things on the menu and 20 seats...
The chicken with yogurth and the vegetarian options are really good and unique. The service is ok, and the prices are reasonable. We will definitely come back again.
I think the food is wonderful and you get get anything like it elsewhere in London. However its way too crowded in there, so so noisy and i find the cutlery a little "spooney" for my taste - takes me back to neanderthal man!
Incredible yogurt chicken dish and good options for vegetarians. Good prices and service is ok. They do take out as well if you find the communal tables a little croweded. No sign outside so easy to walk past!
The food is simple but delicious. However the service is absoloutley awful. It got to the point where I could not bear to deal with the waitresses there (who seem to think that they work for the queen), so I stopped eating in and only got takeaway. But even then they still give you 10 minutes of bad attitude. The portions are getting much smaller. If the aubergines and chicken werent so good I would never go there again. But while while I am attempting to try and cook the dishes myslef, (they dont quite taste the same just yet) I shall send my husband there to pick up the take away. Serious attitude problems.
More venues
Sponsored listings