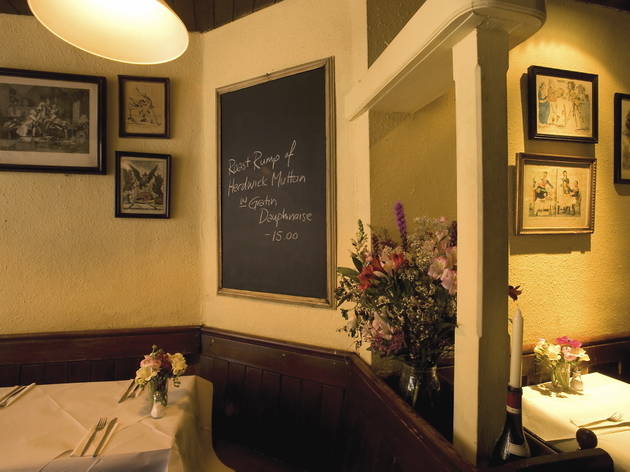 A Soho stalwart, so seemingly unchanged over the years that our review of 20 years ago still stands today: '…a jolly bistro, always packed to the gills with lunchtime regulars. The wine list is well chosen, the food unpretentious…' ('Time Out Eating & Drinking Guide', 1994).
And that's exactly how the customers like it: unfussy starters (daily-changing salad, welsh rarebit, smoked salmon plate or dressed crab are typical) and no-nonsense, well-portioned mains, such as roast lamb with butter beans and broccoli. It's like the best sort of dinner party food (if your hosts had a great wine cellar). Chicken and mushroom pie with mash had smooth but not over-rich mash, pastry done to a T, and a generous filling. Desserts such as sticky toffee pudding with toffee sauce and vanilla ice-cream (Neal's Yard cheeses and a choice of sorbets are further options) complete the picture.
Set on two small, slightly cramped floors, the look is wine bar-shabby and the atmosphere cosy; service is brisk but friendly. Kick off with the Kingston black apple brandy aperitif and forget about food fads and restaurant pop-ups for a few hours.
Venue name:
Andrew Edmunds
Contact:
Address:
46 Lexington Street
London
W1F 0LW

Opening hours:
Lunch served 12-3.30pm Mon-Fri; 12.30-3.30pm Sat; 1-4pm Sun. Dinner served 5.30-10.45pm Mon-Sat; 6-10.30pm Sun
Transport:
Tube: Leicester Square, Oxford Circus or Piccadilly Circus tube
Price:
Main courses £11-£20
Menu:
View Menu
Do you own this business?
Average User Rating
4.1 / 5
Rating Breakdown
5 star:

6

4 star:

5

3 star:

0

2 star:

1

1 star:

1
Good food, good wine, lay back atmosphere, perfect to relax and enjoy, love it!
An old favourite. Rarely changes which is totally a good thing. Reasonably priced wine list, great atmopshere
Went last night for a special Birthday meal (midweek). Terrible lacklustre service. In fact the two waiters could not have cared less. We had to ask for nearly everything. Souffle was good. Wine overpriced. Steak chewy and gristly. Ice cream lazy and poorly displayed. This is a place that was once good and is now clearly coasting. Spend your hard earned pennies elsewhere.
We came here early on a Friday evening for a romantic post-valentine's dinner after reading some excellent recommendations. The waitress met us as soon as we walked in the door and took our coats after seating us. The dining area looking directly onto the street is small - cosy, but not cramped (though we could have benefitted from a little more table real-estate once we had wine, water, bread and plates in front of us) - and the mood was set by the lighting and low hum of conversation around us. We ordered water immediately and opted to wait on choosing the wine until we knew what we were eating. Once we had decided, the waitress was somewhat elusive. She was alone, and busy, so this did not detract from the experience but they could use another member of staff in the busier periods. We opted for a slow cooked octopus and chorizo stew for starters and a sharing steak for two, rare. Once we had the waitress' attention, we asked her opinion on the wine and were recommend a fantastic red, the name of which eludes me. No upselling or judgement; just an honest and accurate recommendation. The food was very impressive, flavour and portion-wise. The starter was easily big enough for the two of us and was absolutely phenomenal. I've never tasted anything quite it. The only let down was that one steak was rare and one came medium rare. Not a huge disappointment, but not what I was expecting. Dessert was a slice of lemon tart. No frills, no mess - just really pleasant (though it was served with sour cream for some reason - this didn't really fit). Overall a great experience and decent value for money. I would very much recommend it to friends and family.
I have been dining at AE's for almost 30 years now, and have never been disappointed. Excellent food, ambience and service. Andrew Edmunds is run by unpretentious people who are interested in good, fresh, seasonal foods, and excellent, interesting wines. Well worth the detour to enjoy a perfect lunch or dinner. Old English hostelry styling, quirky atmosphere but very comfortable and satisfying. Do book a table as it is very popular.
Lovely atmosphere and great food. I went on a date on Sunday night. Everything tasted delicious - even for me as a vegetarian.
I've been here twice so far and hope to go back. Both times we were a party of four, and I didn't handle the booking, although I remember the second time there was some issue with our table and it took a while for us to be seated. The staff were friendly, and I guess the awkward size and layout of the place restricts what they can actually do to ease things along. I would definitely go back any time for the food! Since I don't like red meat or pork I'm usually forced to choose between the one Vegetarian option and one fish, which will more often than not be two completely unimaginative dishes. At Andrew Edmunds I would have gladly devoured every single item on the menu (game birds, fish, seafood, beautiful vegetables) and what I did have was delicious. Both times my three (omnivorous) co-diners and I left happy and satisfied. I do recommend the desserts as well by the way, they're well worth pigging out on.
Very nice place!we didn't have a reservation but they squeezed us in a slot.We ate smoked eel and a lovely Christmassy goose main!also the halibut with spinach and homemade tartare sauce was amazing!definitely would recommend the puddings too
Came with 2 friends on a sunday evening. Very nice restaurant looking like a "bouchon lyonnais" style, small table very close to your neighborough with simple food for great value. The staff were pleasant and helpfull. The Ostopus and chorizo was a weel balance and tasty starter, the pate de foie gras served with toasted brioche was perfectly decent, the roast duck breast with beetroot and citrus has a surprising well pleasant texture, the cheese plate present four cheeses of different charactere, the stiky toffee pudding is one of the best in London and the prune and almond tart was a perfect finish. The must is the wine list at an amazing value thanks to the owner wich is a wine lover. I will recommand you to choose your wine first as time is needed to make your mind. Very charming place that I will re visit shortly for sure.
This is a Restaurant that pretentiously insists you book no more than a week in advance, rings you on the day to confirm your reservation, then when you rock up at the allotted time, tell you your table isn't ready. No apologies, no "have a complimentary drink to allevoate your inconvenience" more "just wait utill we tell you and then you can go to your table". Some would describe this place as cosy, intimate and romantic. I would describe it as cramped, noisy and claustrophobic. When we were eventually allowed to sit down, the food was no less enthralling than their rude staff. Crab spaghetti that tasted of absolutely nothing, and steaks, though tender, had no flavour at all and one member of the party enjoyed their sea bass. Because of its location, this Restaurant doesn't care whether you come back or not, and therefore acts accordingly.
A truly fantastic experience, the food was fantastic and considering the quality and location very good value. It is a small place and the staff were occasionally a bit absent minded with menus and bills but never when it came to our food. The size adds to the experience when you get hit by the smells of other peoples food and hear them having a great time. It is quite fast paced but when it was clear my date and I were in no hurry to move on we turned down desert and no one asked us to move on aftertwo and a half hours. I would always recommend Andrew Edmunds.
More venues
Sponsored listings