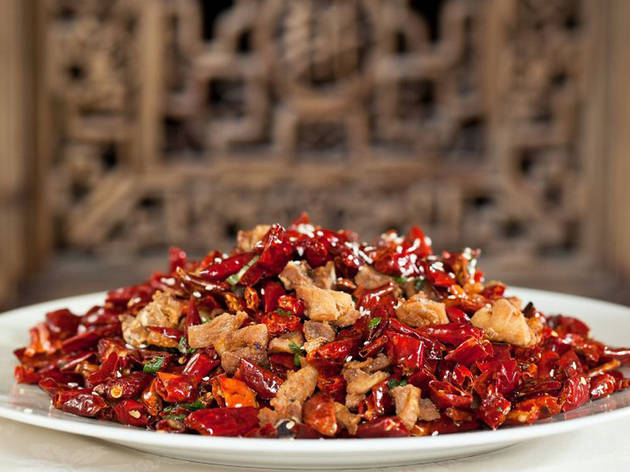 1/13
2/13
3/13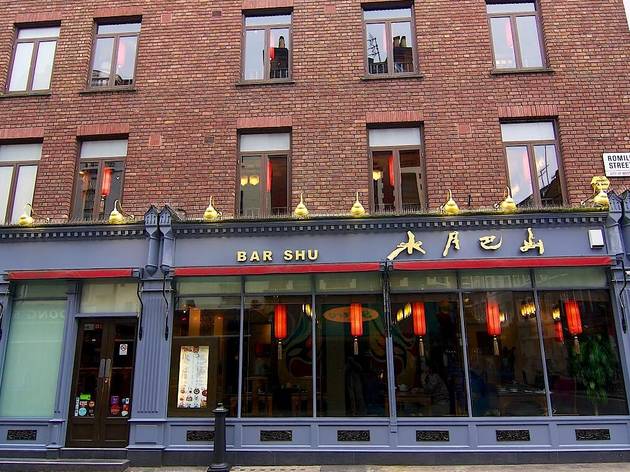 4/13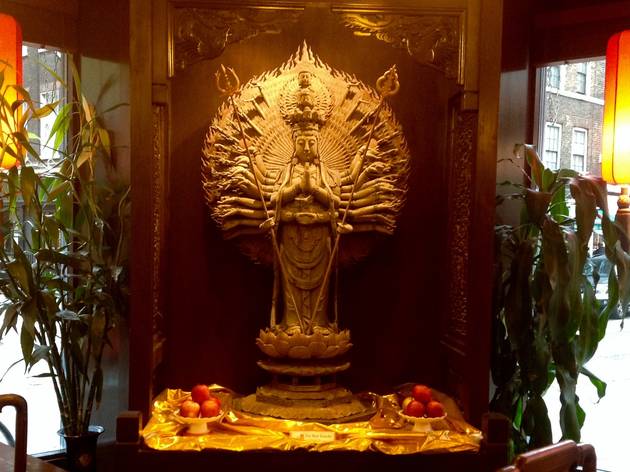 5/13
6/13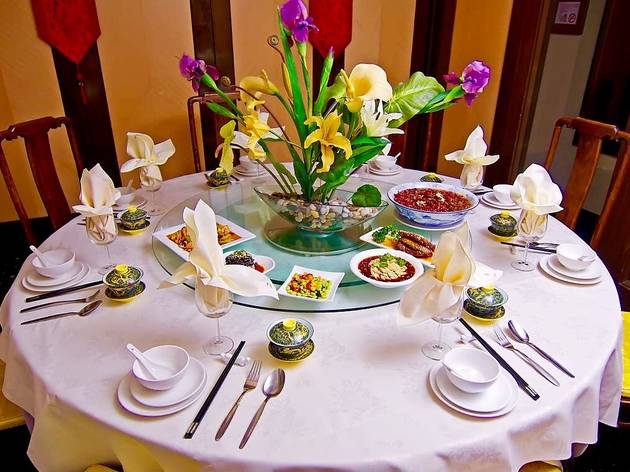 7/13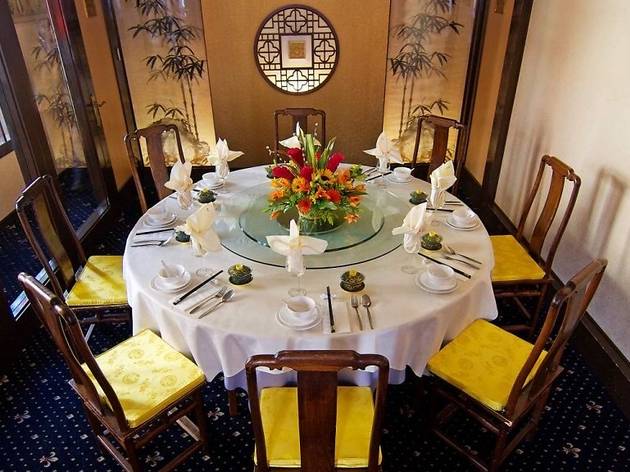 8/13
9/13
10/13
11/13
12/13
13/13
Just outside Chinatown, this is London's prime exponent of the alluringly fiery and mouth-numbing cuisine of China's Sichuan province.
The distance north of Shaftesbury Avenue, though only 20 metres, is important. Barshu (the original of a Sichuan quartet along with Ba Shan, Baozi Inn and newcomer Baiwei) is distinct from Chinatown's mostly Cantonese restaurants in looks and pricing, as well as cuisine. The dark wooden ground floor is brightened by red lanterns and partitioned by a beautifully carved screen; upstairs is similarly woody.
Despite such rusticity, you could spend extravagantly here – though there are ways to lessen the bill. Order tea (£2 per person) rather than wine (the cheapest bottle is £21.90). You'll need to slake your thirst to counteract the fiery, numbing and sour flavours that characterise western Chinese cookery. The menu holds much interest, listing the likes of pea jelly, prairie tripe, and stir-fried chicken gizzards with pickled chilli – each dish is depicted.
To start, order from the 'Chengdu street snacks' section, rather than the pricey appetisers; sweet-potato noodles in hot and sour sauce was a filling bowlful of noodle soup, chilli oil and numbing peppercorns, for just £4. Main courses of fish-fragrant pork slivers (a pleasing textural mix including wood-ear fungus and crunchy bamboo shoot) and stir-fried long beans, chopped small and well-paired with minced pork, also hold delight.
Drawbacks? Many dishes are hot and oily, so order steamed rice and (expensive) plain vegetables for balance. Service could be sharper too, but Barshu nevertheless remains London's prime exponent of this alluring cuisine.
Venue name:
Barshu
Contact:
Address:
28 Frith Street
London
W1D 5LF

Opening hours:
Meals served noon-11pm Mon-Thur, Sun; noon-11.30pm Fri, Sat
Transport:
Tube: Leicester Square or Tottenham Court Road tube
Price:
Main courses £9.90-£30.90. Minimum charge £20 per head
Menu:
View Menu
Do you own this business?
Rating Breakdown
5 star:

4

4 star:

2

3 star:

4

2 star:

0

1 star:

5
Wow... people in this town really don't know what they are talking about. One of very few real Chinese places in London. You don't come here for the service, you come here for the food. You might not like real Szechuan food, that's fine. But don't give the restaurant a bad review, just because it's outside of your usual flavour palate. If you like food in China or places like the San Gabriel Valley, you will love this joint. Just for the sake of objectivity, it is really pricey though.
Wow... the review below demonstrates why London is lacking for good Sichuanese, or Vietnamese, or Thai, or Mexican, or most other cuisines that feature the heat and acidity of chilies. Who goes to a Sichuanese restaurant, orders a dish with "chilies" in the name, and complains about receiving "a bowlful of fire"? Perhaps some people should stick to bland Cantonese food a short distance to the south...
Outstanding, exquisite dining in downtown Chinatown, close your eyes order the food and experience the finest Szechuan dining is Soho laced with chillis no kidding this place rocks the twice cooked pork exceptional
This, along with My Old Place, is the best spot in London for authentic Sichuan cooking. Numbing, hot, delicious. So what about the service? Just eat.
The food was excellent. However what was was disappointing was the up selling. Knowing plate sizes vary across restaurants we asked how much to order, to be told that 2 starters, 3 mains and rice between two of us would be right. This turned out to be enough to feed an army and with the hefty price tag on each dish left us with over full stomachs and under full wallets. Ignore what the staff say and order less, rather than more. You can always order more later. It is such a shame when restaurants do this, a too frequent problem in the more touristy central areas of town.

An incrediblemoment to live. A delicious traditional cooking and nicely presented. A cosy restaurant rather smart, is really worth seeing for its food. A staff ready to help you to make your choice, so much there is of dishes an experience as high waits.
The food here is amazing. Have the fish-fragrant aubergines.
Grumpy service is part of the charm.
Very impolite pushy staff. If you don't book a table in advance, you'll be told to "enjoy your meal in 1.5 hrs"!!! I'm not sure if I can enjoy anything if I have to do time keeping and bear the annoying staff looking so forward for me to finish and get out. While exiting the restaurant the waitress closed the door before I fully exited the door which made me really angry!!!
The food is average and at least 1/3 overpriced for such quality. I am definitely not going back there as £72 is not the money for such kind of service.
Very rude service... they really are very grumpy in there. The food is pretty good though (if you like scorchingly hot fare) although the plates tend to be short on the main ingredient and covered in red chillies to mask this fact, so it's not exactly a cheap dining experience.
We tried to eat dinner here on a Sunday night. It looked nearly full, but they found us a table. We looked at the menu and ordered - one of us is a vegetarian and allergic to nuts, though not peanuts. As we were hungry, but not starving, we elected to order three dishes, two starters and one main, thinking that if we wanted more, we would order it. When we placed our order, the waitress seemed positively pissed off. She then told us there was a minumum order of 12.50 per person. so we tried to order another dish. But there weren't enough vegetarian dishes on the menu to do so. Then we mentioned the nut allergy. She basically told us that given the allergy, we couldn't eat there - it is a mild allergy. So we left. I will certainly never return. Here is a synopsis of the reasons: 1. the staff were rude 2. they demanded we order significantly more food that we wanted 3. the prices, for anything other than basic tofu or a starter, were extoritionate - at more than £20 for a fish dish. \ 4. There are several better, more accomodating and better value Chinese restaurants within 2 minutes walk. As I said, I will never return. Go, only if you like being ripped off and insulted.
There was so much salt in the food that my mouth was sore by the end of the meal. Also, the waiter did the old trick of not adding up the bill incorrectly... £91 for two people!?
The food is good but if you don't like spicy food this is not the place for you. I would definitely recommend the aubergine dish, one of the best Chinese dishes I've had. The service was efficient but unfriendly and unless you ask you won't receive an itemised bill which I did to find out that service charge had already been added. It's quite pricey we ended up paying £72 for two with one bottle of beer and bottle of mineral water, still it's just about worth it.
Awful restaurant- i have never eaten food as spicy as that- do not buy the chicken with chillies- it is £20 for a bowlful of fire. I had 'ants climbing a tree' - supposedly noodles with pork. However, i got three grains of minced pork and a load of gelatinous noodles for £9.50. If you want a Chinese meal, DON'T go here, go to Chinatown(which is a 5 minutes' walk away.
Very very overpriced - very very average - avoid. Even more disappointed now that I've discovered they include a service charge but present you with a non itemised bill ( We left a tip).