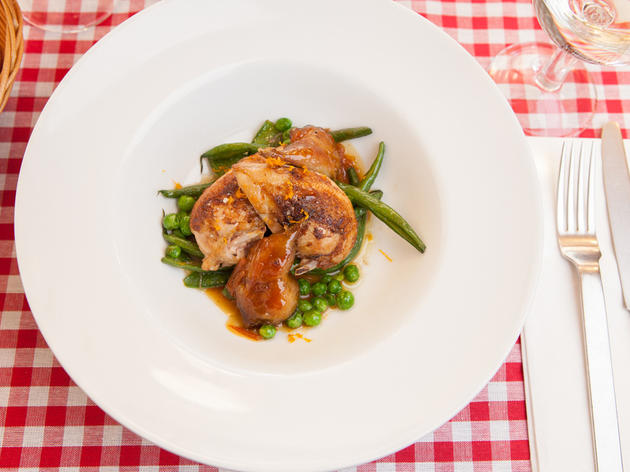 1/7
Jessica Long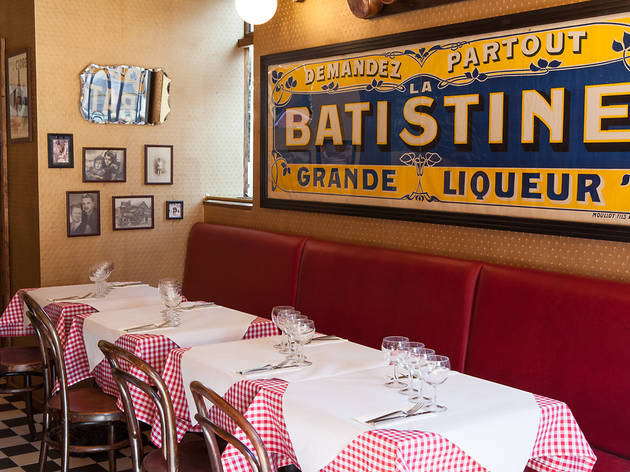 2/7
Jessica Long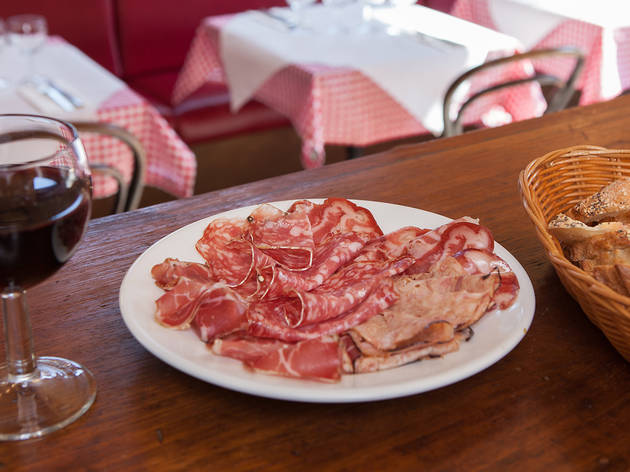 3/7
Jessica Long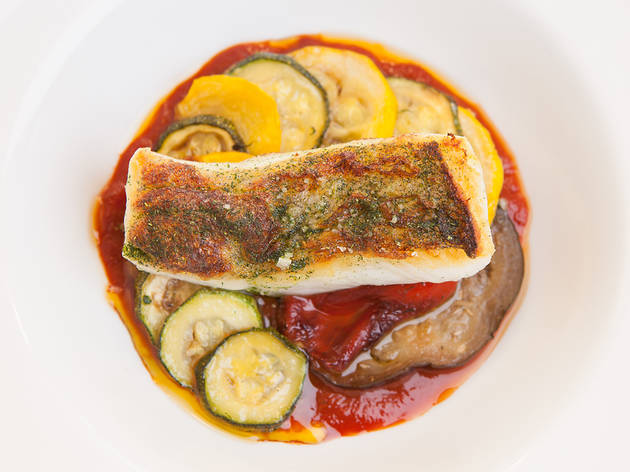 4/7
Jessica Long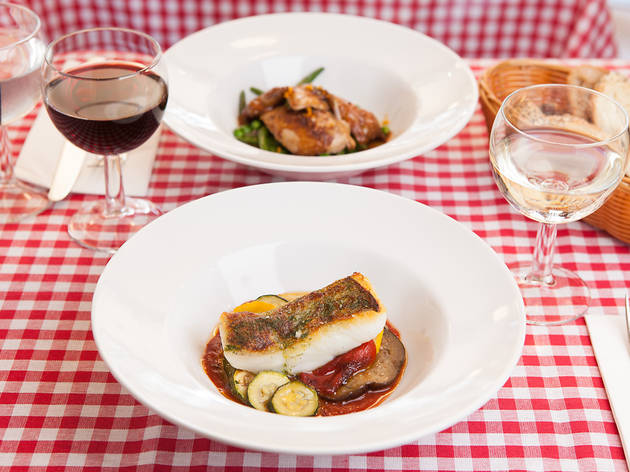 5/7
Jessica Long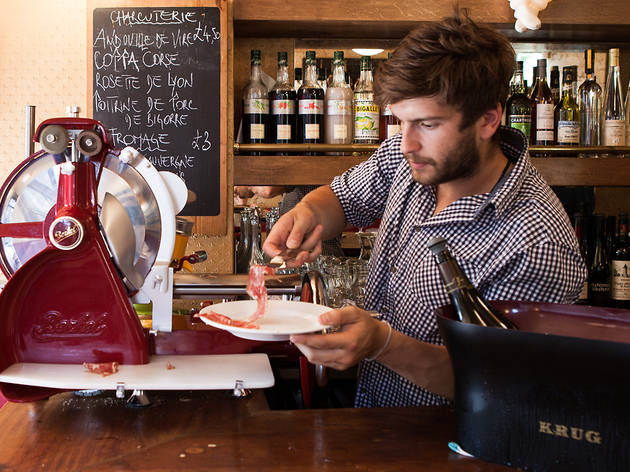 6/7
Jessica Long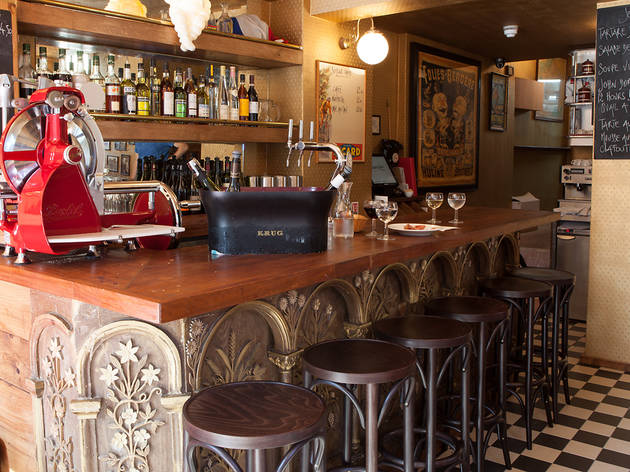 7/7
Jessica Long
A shot of warm, villagey France in Bermondsey with a sensibly priced menu of boldly chosen, smartly executed French classics.
With José, Pizarro and now Casse-Croûte, nifty eateries are blooming along Bermondsey Street like edible flowers. They're a tight-knit family, as the just-opened Casse-Croûte's owner Hervé Durochat is also a partner in José and Pizarro. But while José and Pizarro both offer canny takes on Spanish food, Casse-Croûte is a shot of France – a warm, villagey France. There's space for just 20 covers on the site of a former sandwich shop, with the room done out in dark wood and embossed wallpaper suggesting a patina of age.
Casse-Croûte feels genuinely familial – in the opening week, Hervé was greeting customers with the Parisian double kiss. In these early days it was already a joyful scrum of elbows, knees and waiters' bums brushing your back as they went past.
Best of all, the menu of boldly chosen, smartly executed French classics really delivers. Delicate shavings of calf's head were given zip with a tangy sauce ravigote, while creamy mackerel rillettes were pepped up with a scoop of mustard ice cream. A main course of pollock on a bed of artichokes was heady with parsley and dill, while the guinea fowl two ways – slices of roast breast and a mound of slow-cooked dark meat – was an earthy hit of good-quality game. Desserts were a little more workmanlike: a punchy peach melba and an intense chocolate gâteau with powerfully minty ice cream, but admirable. With the sensible pricing, and a cheese and charcuterie selection in the works, nous reviendrons.
Venue name:
Casse-Croûte
Contact:
Address:
109 Bermondsey St
London
SE1 3XB

Opening hours:
Meals served 9am-10pm Mon-Sat; 9am-4pm Sun
Transport:
Tube: London Bridge
Price:
Main courses £11.50-£14.50
Menu:
View Menu
Do you own this business?
Rating Breakdown
5 star:

8

4 star:

4

3 star:

0

2 star:

1

1 star:

2
We've been to this wonderful restaurant several times and it has some of the best food I've tasted anywhere. The food is excellent... honest, fresh and tasty and without fussy presentation. The staff are attentive but don't fuss around you all the time. I love the authenticity of the environment, the food and the staff but judging by some of the reviews, that's not for everyone!
As treat for my Girlfriend I wanted to recreate our trip to Paris with a fine meal. We do not normally take the whole 3 plate set but on this occasion we could not stop ourselves. All the food was excellent and as French as it should be. You would struggle if you were Vegetarian and as a non meat eater I was worried. However the fish was very fine. The menu is limited and of course only in French. But the waiter delighted us with a run through of the dishes, The wine he recommended was also very nice and not the most expensive on the list which was a bonus. Service was pleasant and slightly Parisian flitting between attentive when needed and leaving you to enjoy your meal. It is assumed I think if there was anything wrong you would let them know like any French person. Clearly I'm also a fan of the decor which is unpretentious and the atmosphere which is friendly. Booking is highly recommended as people were turned away all night. I particularly liked finding my name written on the table cover. Highly rated and when I need to treat the Girl Friend again I know a safe bet.

I defy you to find better food and drink on Bermondsey Street (or London Bridge for that matter!). Every time I go, I am blown away by the food, service and atmosphere. Breakfast, lunch and Dinner it's always sublime.
Warm, friendly, small restaurant. We went for dinner and had some gorgeous cured meat to share with drinks first as the kitchen doesn't open till 6pm. We shared the sardines for entree. The sardine was generous and fresh, served with a tangy sauce. I had the veal belly with ratatouille. It was delicious! Never had the belly from a veal before and it was paired well with the vegetables and red sauce. Hubby had the fish which although came in a small portion, still left him full. Staff are relaxed, speak French and all friendly. All up was GBP45.
An absolute delight. I've been waiting (and eating) through it all, American Burgers, Spanish, Italian. Finally - the French Revolution is here. He has done such a beautiful job of everything. Just charming. Delicious seasonal menu and robust wine list. I felt transported.
Never want to go anywhere else for a special evening out.
Never ever disappoints in any way
Lovely space, lovely food, lovely wine and lovely staff. Total winner.
Feels like being in France, but with a nice toilet!
Finally booked a table hear, and with less than 20 covers you need to book, good service, I like that I can order 500ml of wine so I can have red, and my partner in crime - white, the menu is small, which I like, the food is rich, as its French, with a good atmosphere, the best on Bermondsey St, still Pizarro, but slowly trying the competition!
Terrible should take a hint from their sister restaurants on the street. Friendly service, better food and wine to be found just around the corner. Not worth the money. Walk up to Maltby Street or go to Pollen Street you'll be much happier, fuller and 100% less insulted.
To put it simply, the staff were rude. They told our group of friends off for speaking too loudly, when someone asked for another drink the waitress joked, 'get it yourself,' and when they got a starter order wrong we were blamed. The person organising our evening rang the restaurant beforehand to ask if there were any options for a vegetarian friend and was told that there were. But when we arrived the only choice was ratatouille on its own (basically the side-dish from the fish - and not much larger, either). Don't be seduced by the cosy atmosphere - the staff are anything but welcoming. To sum up, I wouldn't recommend this place if you: a) are in a group, b) are vegetarian c) want to go to a restaurant.
Don't believe the hype. This is an ok french restaurant, with food quality not particularly memorable, although fair for the (moderate) prices. Called on a Monday to book a table for 18.15 for the following a Friday night (nothing available later) and I was told the table was reserved for me for a two hour slot until 20:15. Fair enough. Planning a quick meal, we arrive at 18:30 and get told off by Mr Durochat himself for being late (no double kiss for us!). "I can't afford to lose business, it's been happening for over five years" (I thought this place opened about a month ago?). "People come in asking me for tables and I have to turn them away" (this when only 3 of the 10 tables were occupied). Eventually, he claims we can have a table "but only because I've had a cancellation". Assuming everything he said was true (and I doubt it) the discussion felt patronising and absolutely unnecessary. The food was ok, simple and tasty, certainly not stellar, small portions. Starter of girolles on toast was nice, pork main was tasty but dry and the mash accompanying it tasted a bit fake. Roasted fig dessert was bland. Wine by the glass (st emilion) was average, clearly from a bottle that had remained opened for a very long time. I certainly won't rush back.
More venues
Sponsored listings