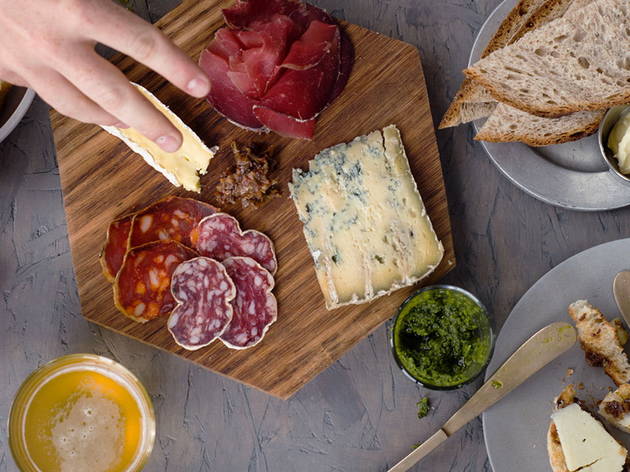 1/8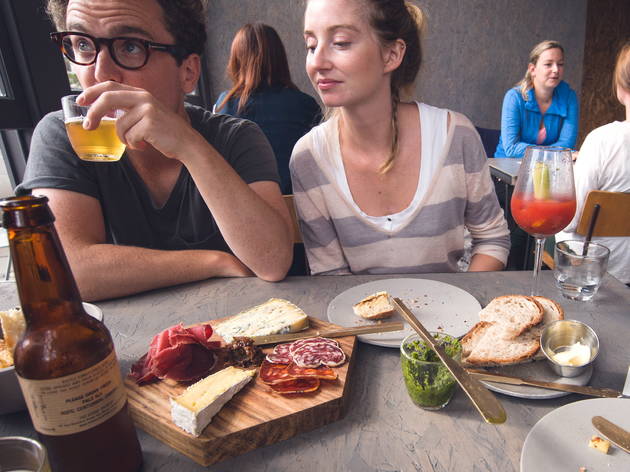 2/8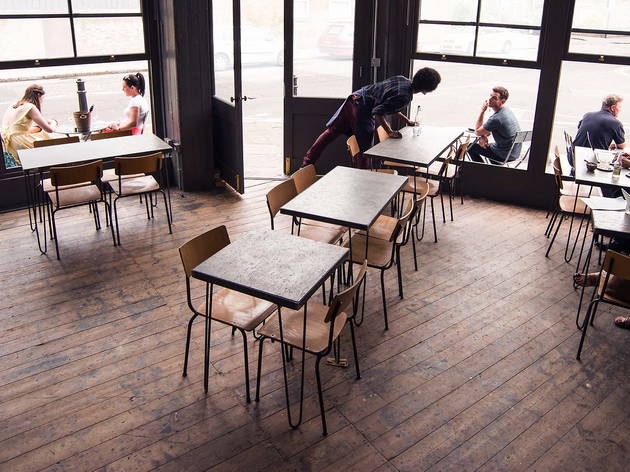 3/8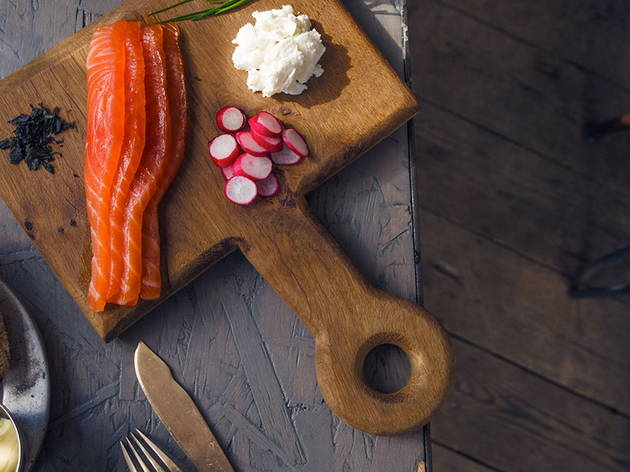 4/8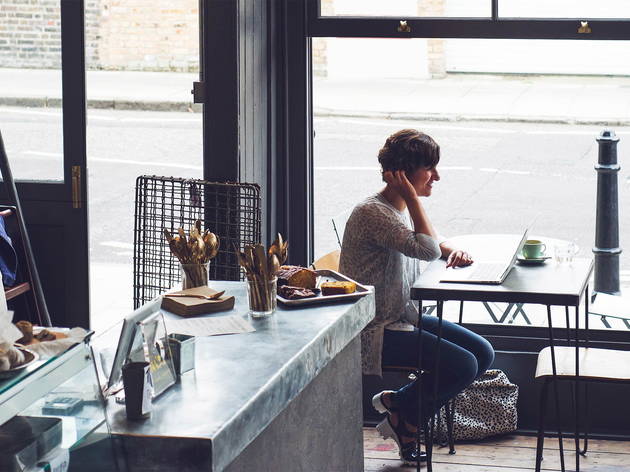 5/8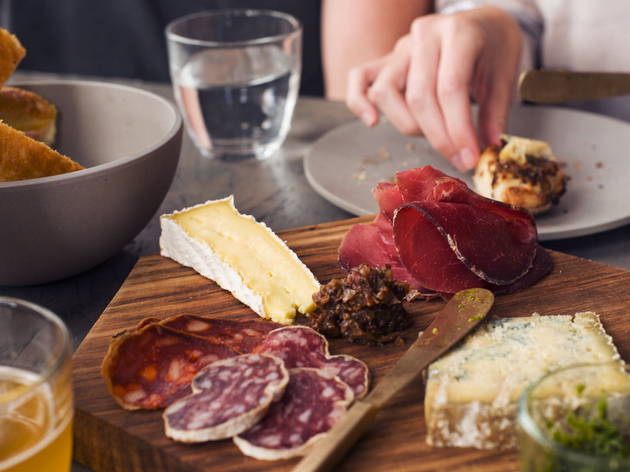 6/8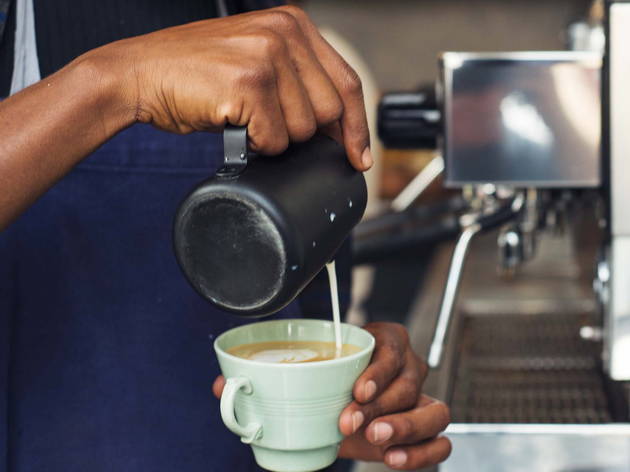 7/8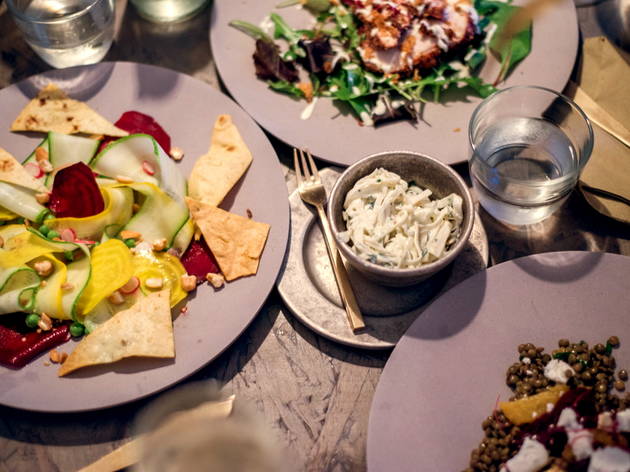 8/8
Forget Regent Street and Bond Street. In the residential roads of Highbury, between Stoke Newington and Finsbury Park, lies one of London's shopping hotspots. There's Café Vintage for afternoon teas and retro threads, Sargent & Co for classic steel-framed road bikes and even what is probably the world's only Sylvanian Families shop – dedicated to the woodland-creature toys. Until not too long ago there was also Banners & Bayonets, a military memorabilia shop. So it used to be the ideal spot to stock up on a family of anthropomorphic mice and cycle away on a retro steed, Iron Cross proudly pinned to your lapel.
Now, though, those martial premises have become this charming new deli, coffee shop and restaurant, open for breakfast, lunch and light dinner. Almost everything on the menu is available to take away – there are sharing plates such as charcuterie or cheese, bowls of olives or toasted corn, or more involved dishes such as lentils, pomegranate, beetroot and goat's cheese, or courgette with fresh peas and crisp bread. And everything we tried was brilliant. The recommended Portuguese vinho verde was a perfect summer evening tipple, though the Kernel beers also tempted.
Despite the casual air, it's clear someone has had a good think about Fink's before it was set up, and little touches set it apart: very cool crockery and cutlery, wine kept on ice and poured for you, a few simple design flourishes. Any street in London is much the poorer without a military memorabilia shop, but as a replacement Fink's takes all the honours.
Venue name:
Fink's Salt & Sweet
Contact:
Address:
70 Mountgrove Rd
Highbury
London
N5 2LT

Opening hours:
9am-7pm Mon-Wed; 9am-11pm Thur-Sat; 10am-5pm Sun
Transport:
Tube: Arsenal
Menu:
View Menu
Do you own this business?
Average User Rating
4.5 / 5
Rating Breakdown
5 star:

13

4 star:

1

3 star:

2

2 star:

0

1 star:

1
This place is fantastic. It's cool, but not achingly so. It's relaxed, the staff are friendly and the daytime clientele are a mixture of good looking young folks, good looking older folks, and extremely cute babies. Perhaps just entering this cafe ups your appearance?
I've been for lunch, for brunch and for dinner. The sandwiches are killer. Try the artichoke and goat's curd on focaccia. The small plates at dinner time are beautifully composed, perfect with a cold glass of prosecco (their wine list is impressive) and the cheese and charcuterie boards have been really thoughtfully curated. Also, a word to the wise - if the celeriac remoulade is on the menu, do not miss out.
Someone has put a lot of effort into this place and it shows. I couldn't rate it more highly. Go!

I live in SW London but the positive reviews of this place pulled me in its NE direction. My effort was rewarded with polite, thoughtful and charming staff who served some of the best wine and food I've had in a while.
It is a cosy little place with a fantastic atmosphere that was not 'OTT' or loud as I was predicting due to its excellent reviews.
Have to recommend the charcuterie board and thick cut smoked salmon dishes. Excellent food. Can't wait to go back.
Fink's is the reason that I want to move to Finsbury Park. From the food to the crockery, from the soundtrack to the typeface and from the coffee to the staff, everything about Fink's is just perfectly pitched, exquisitely sourced and lovingly created. Fink's is pretty much like spending the afternoon or evening at your best friend's house but with better food, wine and service. What could be better?!
I live nearby and Fink's is a great addition to the area. It's a very, very nice place to go any time of day - great with the sun pouring through the huge windows, or cosy with a glass of wine in the evening. The food I have had has been uniformly excellent - to pick one highlight among many, make sure you try the harissa, bloody marvellous! Also, again picking things somewhat at random, the cucumber soda and linden flower tea are favourites.
Nice to support something individual and high quality like this.
I visited Finks recently with my friends and we had such a lovely night...so much so, we have already arranged another date in our diaries!
The wine, food and service were all amazing! We shared a mixed board of cheese and charcuterie which came with plenty of bread and was very filling! We also tried the balsamic beef pretzel which was the best thing I've eaten in a long time. I would highly recommend this and also not forgetting the bacon jam! I bought a couple of jars of that from the deli counter to take home!
Finks has such a great atmosphere...there needs to be more across London! I can't wait to go back!
Fink's is the kind of place anyone should be thrilled to have in their neighbourhood. I've been now at pretty much every time of day and have never been disappointed - the food, service and most importantly atmosphere are superb. It's the kind of place that caters for any mood, be it a casual nibble and a glass of wine or a boozy night with a group of friends (I have done both). I urge anyone nearby to go take a visit - it's a real breath of fresh air.

I can no longer finish dinner out with a cheese board as its always so disappointing compared to what Finks has on offer. Great coffee too
Amazing choice, always so tasty and the staff are fantastic too!
Finks is a very relaxed eating place with such friendly welcoming staff and the food is fantastic
Fink's is our favourite local spot. Try the Conde Villar wine and eat EVERYTHING
Gorgeous interior and gorgeous food- my favourite weekend spot.
They do some interesting breakfast options and great coffee.
I'd wanted to visit Fink's having been past it everyday on the way to work and thinking how great it looks. That is true - from start to finish, Fink's doesn't dissappoint in terms of presentation. However, we went for Sunday brunch and the food, although very tasty, comes in very small portions. We had the 'brunch board' which was billed as coming with a selection of cheeses and charcuterie. It contained 2 pieces of bread, a few mini slices of salami and two cheeses. No chutney, not enough bread and hardly a 'selection' of meats. The smoked salmon bagel was also tasty but at 6 pounds for a small bagel and a few slices of salmon, it would have been nice to have had at least a garnish of salad or similar. That said, all ingredients were great quality and everything tasted lovely. Sometimes it does make me mad that establishments such as this assume that because I live in and frequent a supposedly 'up and coming' or 'gentrified' neighbourhood, I will pay way over the odds for something just because it looks nice.
I really wouldn't recommend Fink's for brunch (oh also it doesn't have standard brunch fare such as eggs etc so only go if you fancy things like cheese and bread or yoghurt for brunch - nothing hot) but I can imagine that for a snack with a glass of wine in the evening, it would be great.
My husband and I have just had lunch there, the food portions are ilarious and the quality of food is appalling. I had a chicken sandwich wich was cold (from fridge) with tasteless mayonaisse (called creamy sesoning!), chewy cold bread and unwashed wild rocket (it wasn't in the menu and I don't really like it!!!). My husband had 1 english muffit cut in half with a thin slice of cheese and bacon chutney... everything without any side. DON'T GO THERE if you don't want to waste your money thinking you are having a proper lunch as you'll have a disgusting snack.

More venues
Sponsored listings