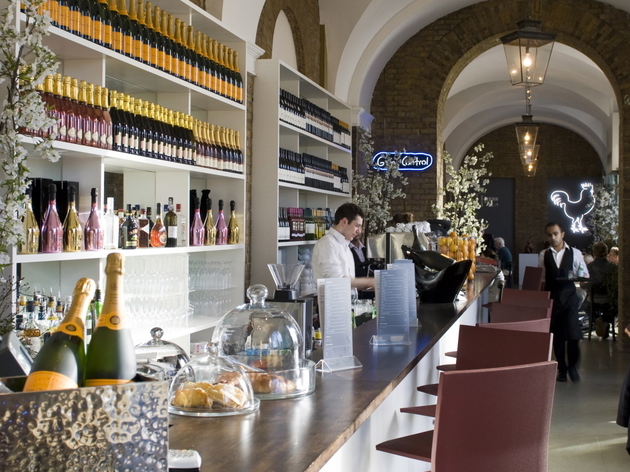 As befits its Chelsea location, this welcoming brasserie at the Saatchi art gallery is smarter than most. The white linen tablecloths, exposed brickwork and impressive bar are all somewhat in thrall to the vaulted ceiling and expansive curtain of floor-to-ceiling arched windows running the length of the listed interior. There's also a large outdoor terrace.

Naturally, the art addict touches are present and correct – a giant shoe sculpture here, a neon picture there – but the menu itself is a lesson in conservative precision. Service is disarmingly friendly, the wine list modest (but with plenty of choice by the glass) and mains offer comforting flavours and proportions. So you'll find cod and chips, steak sandwich, charcuterie and smoked fish platters, caesar salad and afternoon tea.

Chicken breast fricassee was delicately presented with a drizzle of foamy cep sauce, but served with slightly rubbery gnocchi. Smoked haddock came with a rich hollandaise and a perfectly poached egg. As for dessert, they don't come much more old school than steamed rhubarb pudding or knickerbocker glory.
Venue name:
Gallery Mess
Contact:
Address:
Saatchi Gallery
Duke of York's HQ
London
SW3 4LY

Cross street:
King's Road
Opening hours:
Bar open/snacks served 10am-9.30pm Mon-Sat; 11.30am-6.30pm Sun. Snacks £3.50-£14.Restaurant Breakfast served 10am-1pm Sat, Sun. Meals served 11.30am-9.30pm Mon-Sat; 11.30am-6.30pm Sun
Transport:
Tube: Sloane Square
Price:
Main courses £12.50-£22. Set tea (2.30-6pm) £9.50-£11.50 (£22.50 incl champagne)
Menu:
View Menu
Do you own this business?
Average User Rating
3.2 / 5
Rating Breakdown
5 star:

6

4 star:

2

3 star:

4

2 star:

1

1 star:

5
A great location, excellent food and good service - what more do you need
To say standard is a compliment. Typical place that benefits from being on the side of a tourist attraction but with the pretension of the 'arty element'. Overstaffed, with waiters playing kind-of-posh for no result. Half empty inside, but no possibility to move in from the patio (it was windy and cold) as allegedly all booked (It was 2pm, it remained half empty).
Worth moving 50 meters further to find something better. Especially for such an average menu. Reasonably priced, if you go for a set menu.
Had a truly appalling experience at this place. The weather was warm, so we (me and my friend) sat down at one of the empty tables outside, ordered wine, a cheese plate and water. What followed will probably go down in history as the most unexplainable behaviour from a waitress I've ever seen. She wrote down our order and said "I will have to speak to the manager." Needless to say, we were both stunned by this - then I said "Excuse me?", as my first thought was that perhaps I'd somehow misunderstood her (her English was really bad). She repeated that she would have to speak to the manager, "because we have many tables reserved for lunch". WTH?? What did she want from us?? Did she expect to pressure us into ordering more? The patrons at the three tables around us were happily having their coffee in the afternoon sun and weren't being harrassed into ordering something else. I told her I did not understand what it was exactly that she wanted from us and pointed out that the table we sat down at was absolutely empty and did not have a 'Reserved' sign on it. She muttered something like "oh, ok" and did not bother us again - another waitress brought our order. I obviously should have spoken to the manager myself, but didn't want to completely ruin an otherwise wonderful afternoon at the Saatchi gallery.
A shame really - I've been to this restaurant before, and while the service there has always been somewhat indifferent, this definitely takes the cake. Disgusting doesn't begin to cover it. Will do my best to avoid this place.
The service there was APPALLING... we waited for soooo long for someone to come over every time, although many waiters walk in front of you, like you are invisible. But that's not all, i ordered the mussels, and half of my plate was just empty shells... i was really hungry; when i politely said this to a waiter, he took him 20mn to get me the manager and that guy said 'you're the first one to complain!' worst reaction in the world. Then we waited another 30mn to get our desserts, and finally had to leave before they arrived as we already spent 2hours seated at the table,... ABSOLUTELY horrible! Chelsea, you should really make efforts as the rest of London is so much better.
Very welcoming , friendly and bustling establishment which is let down by poor value and bland cuisine.
Went there with girlfriends and babies recently. First of all the guy who took our reservation understood we were coming with 4 kids so they booked us a table for EIGHT! But we were 4 mummies with prams. So anyhow after much rudeness from the manager (a rude blonde lady) we almost had to beg for a menu (yes we came to eat even though we have young babies with us - all very well behaved btw!) Then the manager lady came pushing one of the buggies talking to herself she lost already 4 spaces because of us so she has to make space and get rid of the buggy there etc. How rude was that first of all? Then nobody took our order for ages until we called a waiter. For me, if in the first place the guy did a mistake with booking, what did we have to say? That horrible lady made us feel not welcome and less than a dirty piece of clothe... No thank you at the end and we went out feeling not welcome at all, still. I will never go there again unless I get an apology.
As others have said, it is a lovely and sophistociated restaurant in an interesting section of Chelsea. I went there because it was a Time Out critics choice and it had the set dinner special mentioned above on this site. When I got there I was told there was no set or special menu so I ordered off the regular menu which cost twice as much as the price above. The food was above average but expensive for what I got. They also brought my starter salad at the same time as my dinner which was annoying. All and all I came away a bit disappointed.
A lovely modern and sophisticated restaurant in the heart of Chelsea. A great selection of dishes on the menu as well as an extensive drinks menu. I had a fish dish which was excellently cooked and presented beautifully. Staff were delightful and attentive. A great space in such an affluent area of London. Would highly recommend.
Went there last weekend for afternoon tea - a little pit stop during shopping trip. Decor is amazing - elegant and a little kooky. The tea was beautifully presented - I love the simplicity of the slate stand! My friend and I loved the selection of mini cakes, all cute and delicious. It was great to see proper tea selection as well - our waitress was very knowledgeable about it and, following her recommendation, I had first great tasting green tea in ages! Service also gets thumbs up - friendly and accommodating, nothing was too much trouble (my friend has few allergies and the waitress was very helpful with arranging some substitutes to the original selection). Overall - will visit again and recommend to my friends.
It is now 17 for two people which is still reasonable. The scones, tea, etc were delicious. The two macarons that come with it all are hands down the worst I've ever had but the entirety of the meal made up for it. Service was terrible. The waiter ignored us when we were seated for 10 minutes, was then extremely cold to us, and took about 20 min to bring the bill at the end. Love the location, establishment itself, scones--hate the service (and sub-par macarons) ;-)
Went there last Saturday for a quick lunch with my boyfriend. Enjoyed a yummy burger cooked on a brioche bun and cooked medium as requested. Managed to sit ourside and catch a few rays too - bonus!
My best friend and I went to the Gallery Mess last night for dinner after visiting the Saatchi Gallery to see their new Korean exhibition. I thought the food and service was fantastic. The nice weather helped as we were able to eat al fresco. I had the crab cakes followed by the poached sea trout which were both cooked to perfection. The price wasn't cheap and neither was it expensive. A lovely all round experience - I'll definately be heading back.
It was my first time both at the Saatchi Gallery and the restaurant and I really enjoyed both. The interior of the restaurant is nice and elegant in it's simplicity and created a nice atmosphere for me and boyfriend to enjoy our evening meal. I had the chickpea and mint soup to start with - fresh and delicious to taste - and salmon and cod fishcakes as my main, really enjoyable! I finished with simply amazing chocolate and honey cheesecake, really worth betraying my New year's resolutions for! The staff was really helpful and very attentive. I will be definitely recommending this place to my friends!
I have been into the Gallery Mess a few times now, and have enjoyed each visit. The waiting service is always pleasant, and look very sharp. This past visit I had the Chicken breast. It was cooked perfectly, and very juicy. I will definitely recommend, and have to friends.
Went last night. Really not up to any kind of standard, appears simply to do business because it's in the heart of Chelsea. Half empty. Had a burger - no offer of how I'd like it prepared (rare, well etc) - bad sign. Burger came. Just rubbish - bun overtoasted, burger done more than well (don't they trust their meat?!), almost too dry to eat. Chips good. Wine was thin, should have been robust. Service was good. Waiting staff should chase the chef out and do it themselves. Not worth the money, not worth the time. Hit reset.
More venues
Sponsored listings