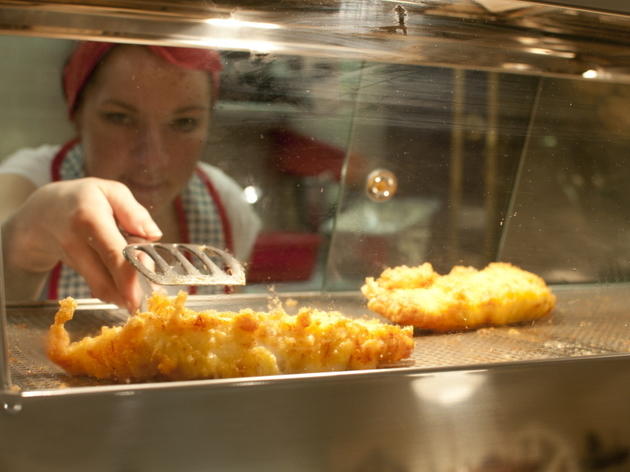 Nostalgia rules the roost at this quality chippy, which comes complete with jukebox, jellied eels and newspaper-wrapped chips.
Poppies' pick and mix assortment of shiny British kitsch – including a jukebox, mini red telephone box and a monochrome photo of heart-throb Cliff Richard – makes it look like a simulation of a fish and chip shop. The food on the plate is also better than the real thing. The Billingsgate-sourced fish is so fresh that diners are offered the option of having it grilled as well as fried. Extending beyond the staples of cod and haddock, the menu encompasses mackerel, seafood platters and jellied eels.
Lemon sole was simple, crisply battered and matched well with Meantime London ale, while chips were irresistible. Takeaway orders in faux-newspaper wraps are doled out by waitresses in diner-style outfits complete with retro headscarves. Service on our visit was outstanding: friendly and unforced. There's a gleamingly clean feel to the place (powder-blue Formica tables and all) that draws in everyone from neighbourhood hipsters to grandads with little 'uns on their knees.
The bill, however, gives the game away – Poppies is a cut above. It's spawned a second branch in Camden: not suprising, since this is as good as fish and chips gets.
Venue name:
Poppies
Address:
6-8 Hanbury Street
London
E1 6QR

Opening hours:
Meals served 11am-11m Mon-Thur, Sat; 11am-11.30pm Sun
Transport:
Tube: Aldgate East or Liverpool Street
Price:
Main courses £10.90-£15.90
Menu:
View Menu
Do you own this business?
Average User Rating
3.4 / 5
Rating Breakdown
5 star:

5

4 star:

6

3 star:

4

2 star:

2

1 star:

3
The best Fish and Chips this side of the UK
I haven't had fish and chips in years, so this place was everything that I was hoping it would be - quality and good value for money (the portion is humongous). Get the haddock; cod is more authentic, but the haddock is really tasty.
We use Poppies as much as we can The one at Camden is Brilliant with Bands playing Friday and Saturday nights The Staff are Amazing and Friendly Food is great a unique night out "This is the Plaice to go to Rock your Sole"
Don't even bother trying this place. It's awful. The staff are rude and obnoxious. Save yourself and try somewhere else. Don't wast your money!
greasy, average, chips half cooked, sauces from tubes. fishes are tasteless, serving is super slow. not impressed at all.

Not again! Had the takeaway Fish and Chips ( cod). The fish was completely overcooked, mushy and tasteless. I am not even sure if it was cod at all. Tasted rather like something very very cheap. The chips were tasteless and definitely not crispy. The currysauce was not worth the money either. What is the use of a fancy place with lots of decorations, when you cannot eat the food??? I am very disappointed and really miss the takeaway which was there before. The new place seems just another place for tourists who are happy with everything you serve them. I will stay away!!!!!
Five stars, sorry but you must be crazy! The waiting team were lovely. But the fish (grilled haddock) had been over cooked and the chips were only so so. Toffs in Muswell Hill is about 10x better.
Great stuff. Not sure about James's review "Best place for fish and chips is masters in waterloo. Fish bought in billinsgate that morning". Since you went for fish and chips on a Sunday, quite how Masters would get the fish fresh that day from Billingsgate when its closed is beyond my comprehension.
Music terrible. Sit in the back if you don't want to hear it so much. Staff must have to listen to it constantly. Everything else really first class.
Good food Great Service :)
This is the first time I've had fish and chips in a long time.. And I have definitely been missing out! Since visiting Poppies Fish and Chips for the first time a couple of days ago I have been having cravings for their melt in the mouth food since. They also have great customer service and a fast moving queue! So i'll definitely be going back soon, and would recommend it to anyone in the area for lunch/dinner/late nights!
Went for takeaway on Sunday and was disappointed unfortunately as I was really looking for a decent place for fish and chips around my area (whitechapel.) The interior is pretty superficial and the staff who I dealt with were far from cockney types..' both issues I could easily overlook. I just found the quality of the fish inferior, batter was greasy and the chips sub standard. Best place for fish and chips is masters in waterloo. Fish bought in billinsgate that morning, battered to order and large portions (with free bread, prawns, gerkin, pickled onion and sauce.) Although the staff are a bit sombre, it's a lot more genuine. Not a bad experience but I haven't been back since.
My wife and I visited Poppies yesterday and were amazed by how busy this place was on a Sunday! It was great going back to the 50's and we met Pop too - what a lovely man full of stories to share. To the important bit though - the food was amazing. The Fish, particularly the Haddock I had, could only be fresh to taste like that and the batter was so light and no stodge! I would thoroughly recommend all my friends in the city and anyone visiting London to visit and experience this great restaurant. We will definitley be back too! Thanks for a great Sudnay afternoon lunch.
I have a BIG PROBLEM with this restaurant! I went in there soon after it opened after reading glowing reviews. My group of friends and i asked the waitress which fish was sustainable and she asked me what that meant. Confused, she went to get the manager who said he didn't know and that we must be accusing the restaurant of serving fish that wasn't fresh. We tried to explain that we wanted to know what was line caught and what was caught in trawlers. The manager laughed at us because he thought we were niave enough to think that fish were caught by one fisherman with a rod (hes impression of line caught). The manager got really aggressive with our table of girls and it wasn't a pleasant experience. We nearly walked out and i wish we had because although my fish was very nice, my friends Calamari was anemic. The timeout review makes it sound like the people serving you are knowledgeable old east-end types which is not the reality.
More venues
Sponsored listings