Lord of the Flies
Regent's Park Open Air Theatre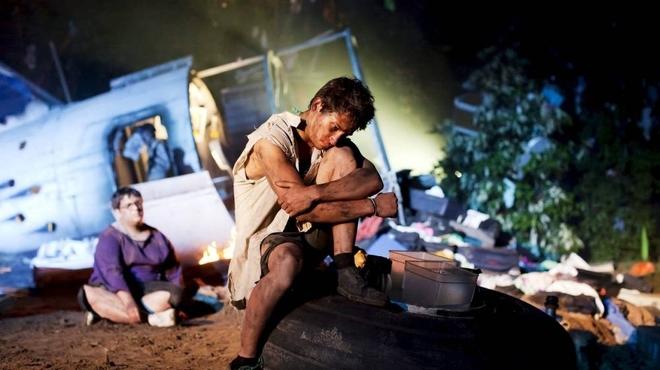 Lord of the Flies © Johan Persson
Time Out rating:
<strong>Rating: </strong><span class='lf-avgRating'>3</span>/5
User ratings:
<strong>Rating: </strong><span class='lf-avgRating'>5</span>/5
Rate this
Time Out says
Posted: Tue May 31 2011
Something dystopian has crash-landed in Regent's Park. William Golding's 1954 novel about marooned schoolboys who turn a tropical paradise into an all-too human hell is the original 'Lost', in short trousers. And that's exactly what it looks like thanks to Jon Bausor's high-impact design.
Half a massive passenger plane juts torn wings into the quiet English trees, making a deadly playground for curriculum stalwarts Ralph, Piggy and Jack, and bringing Golding's classic dystopian warning even closer to home.
Open Air Theatre artistic director Timothy Sheader has assembled topping leads for the first production in his summer season.
George Bukhari is touchingly faithful and plausibly irritating as Piggy, the plump non-U scapegoat whose specs are stolen and whose sensible advice is ignored. Alistair Toovey is is splendidly straightforward and graceful as Ralph, the boys' natural leader. Piggy and Ralph's awkward friendship is too cringeingly bromantic here. But it's a great stage moment when Ralph's elected chief, winning possession of the boys' coveted Conch shell in a magnificent rugby-style run through the whole
pack of them.
As the sky darkens, there are plenty chanting, stomping, grovelling, victim-kicking opportunities for drama. But the opportunities don't quite outweigh the drawbacks of staging Golding's intense story in this wide-open, quintessentially English space.
Golding's novel closes in on the boys: you follow their descent into savagery through their own distorted eyes and then pan out, shockingly, to see what they've become. Across an amphitheatre, they're ragged and small and, despite a late start-time which uses the night to good effect, cruel Jack (James Clay) and his blood-crazed band of choirboys-turned-pig-hunters are not as scary when you can only see their painted outsides.
Nigel Williams's adaptation is effective but rigid and too black and white: it's not always a gift to the young actors and it's even more discouraging for young actresses. There are no roles for girls in the all-male story; had there been, the quality and energy of the ensemble might have been more even.
Still, it's impressive that Sheader's Open Air Theatre, which could easily rest on its lovely alfresco laurels, is prepared to take risks on a play which is dark, cautionary and not remotely entertaining.
Users say
<strong>Rating: </strong><span class='lf-avgRating'>0</span>/5
Near Regent's Park Open Air Theatre