The Woman in Black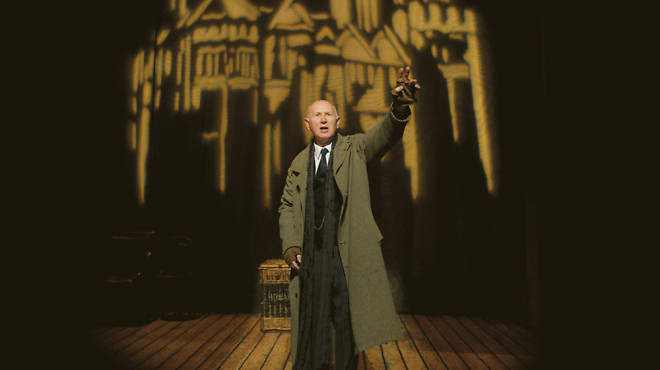 Ken Drury in The Woman in Black © Tristram Kenton
Time Out rating:
<strong>Rating: </strong>4/5
User ratings:
<strong>Rating: </strong>4/5
Rate this
Time Out says
Thu Apr 14 2011
It's been over 20 years since this skillful adaptation of Susan Hill's 1983 Gothic horror story first started setting West End audience a-shiver. 'The Woman in Black' remains perennially popular – particularly, it seems, with generally hard-to-please teenagers – which is testament to its rough-theatre appeal and the extraordinary and enduring potency, not of guts, gore or special effects, but of simple suggestion.
Ageing Arthur Kipps (Patrick Drury) is haunted by sinister events that befell him 30 years earlier. In an effort to exorcise his demons, he hires an actor (Antony Eden) to help him tell his story for an invited audience.
As they rehearse, though, their staging itself becomes prey to supernatural visitations from the titular hatchet-faced, whip-thin, funereally garbed woman. Stephen Mallatratt's dramatisation and a deft production by Robin Herford exploit the peculiarly spooky atmosphere of an empty theatre, making us, as an audience, feel almost like spectral voyeurs. And the chills are irresistibly effective: swirling fog, a creaking rocking chair, a locked door, a pale visage looming out of the gloom.
Only occasionally does the staging show its age. The projected image of the gaunt, sinister house of Kipps' tormented memory looks hopelessly cheap and crude, and a graveyard conjured with dust sheets struggles to convince, even within the low-tech aesthetic parameters of the piece.
Yet the shrieks and gasps that greet the performance demonstrate that, even in the twenty-first century, this doughty little drama still casts its delicious spell of malevolence and menace.
Event phone:

0844 871 7677

Event website:
Categories:

Theatre. West End. Drama

Type of event:

Plays and shows
The Woman in Black
2013 - 2014
Date Venue Time Price information
10% off our normal price

Your discount will be provided on checkout. Booking essential. Click here to book

Offer expires 26 July 2014. This offer can be redeemed on Mon, Tue, Wed, Thu, Fri, Sat between 2pm and 8pm.
Write your own review