Art in Los Angeles: Top 10 must-see works at LACMA
LACMA holds one of the most impressive collections of art in Los Angeles. Here are 10 art works you don't want to miss.
By Jade Chang
There are more than 100,000 pieces of art in the Los Angeles County Museum of Art's (LACMA) encyclopedic collection of world art—we're sure that even Michael Govan, the museum's dashing director, hasn't managed to see them all. So what should you look for in a LACMA daytrip? Here are our 10 must-see art works, all with some special relationship to the museum, or to Los Angeles itself.
Art in Los Angeles
Photograph: Courtesy LACMA
Chris Burden, Urban Light (2008), view at dusk
In the '70s Chris Burden was a performance artist so provocative (he once crucified himself on a VW bug; another time he had an assistant shoot him in the arm) that David Bowie and Laurie Anderson both memorialized him in song. Now in his sixties, the Topanga Canyon–based artist has turned to creating such mesmerizing installations as Urban Light, a dozen rows of vintage LA streetlamps—202 in total—that are arrayed and lit at the museum's entrance on Wilshire Boulevard. It's the best example of build-it-and-they-will-come—no matter what the hour, as there's always someone taking photos of the glowing piece. Also worth seeing: Burden's frenetic, kinetic Metropolis II—a whizzing racetrack of toy cars that snakes through and around a constructed megalopolis—currently on view on the first floor of the Broad Contemporary Art Museum (BCAM).
---
Readers' choice
You voted for your favorite work of art at LACMA and the results are in.
The winner is:
Chris Burden, Urban Light (2008)
But man was it was a close race! Here are the statistical results:
1.37% - Ardabil Carpet
5.48% - George de la Tour, The Magdalen with the Smoking Flame
5.48% - Diego Rivera, Portrait of Frida Kahlo
6.85% - Ed Ruscha, Standard Station
8.22% - George Bellows, Cliff Dwellers
9.59% - Barbara Kruger, Untitled (Shafted)
9.59% - Henri Matisse, La Gerbe
16.44% - Christian Marclay, The Clock
17.81% - David Hockney, Mulholland Drive
19.18% - Chris Burden, Urban Light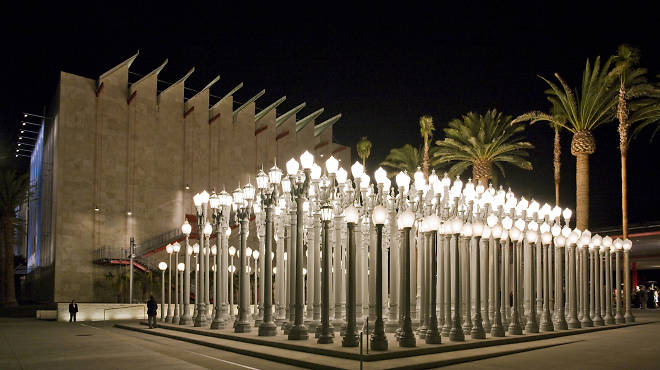 Chris Burden, Urban Light (2008), view at night Photograph: Courtesy LACMA
---
Time Out Los Angeles on Spotify