86th Academy Awards: Oscar nominees, winners & movie reviews
This year's best movies, actors and silver-screen professionals have already been nominated and are headed to the 86th Academy Awards. Oscar fans, get ready!
By Time Out editors Fri Dec 20 2013
Oscars best- and worst-dressed

10 things we learned at the Oscars

The funniest Oscars tweets

Best red carpet dresses

Is this a golden age for film?
---
It's almost time for the 86th Academy Awards: Oscars will go to the lucky two-dozen winners on Sunday, March 2, 2014. Time Out Los Angeles will tune in, of course, and spot celebs and sling as much sass as possible during the broadcast. Whether you're looking for the next great sports movie or romantic comedy, use our guide to keep tabs on Best Picture hopefuls.
When are the Oscars?
Good question, thanks for asking. The Academy Awards will be held March 2, 2013 at 4pm PST. The Oscars are held at the Dolby Theatre in Hollywood.
Watch the 2014 Oscars trailer
---
Oscars events in Los Angeles
---
Interviews with the stars behind this season's blockbusters
---
Oscar predictions for 2014
---
Oscar-inspired film lists
---
---
Steadfast commanders in chief, secret CIA missions and a sexy, mentally unstable ballroom dancer: We predict this year's Oscars winners.
The wait for the Academy's announcement of this year's Oscar nominations is over, and if you ignored months of chatter, you're better off.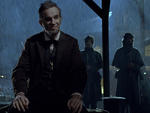 The Oscar nominations have been made and the 85th Academy Awards are right around the corner. Prepare for the show by familiarizing yourself with the nominees.
---
2013 Best picture nominees
Rated as: 5/5
Critics choice
---
You might also like
---
Time Out Los Angeles on Spotify