Museo Thyssen-Bornemisza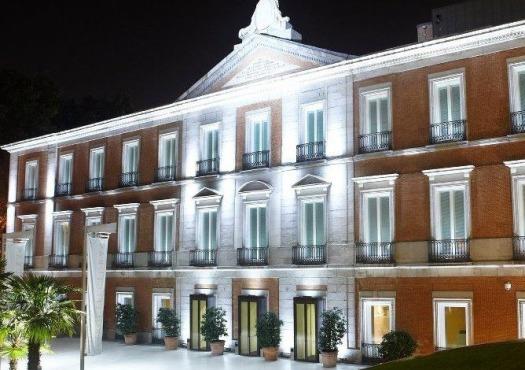 Museo Thyssen-Bornemisza
Time Out says
Posted: Wed Apr 23 2014
When the Thyssen-Bornemisza Museum opened in 1992, Madrid added the second point to its 'Golden Triangle'. The private collection of the late Baron Hans-Heinrich Thyssen-Bornemisza is widely considered the most important in the world. Consisting of 775 paintings, it came to Madrid on loan, but in 1993 a purchase agreement was signed with the Spanish state. The Baron's decision to sell was doubtlessly influenced both by his wife, Carmen 'Tita' Cervera, a former Miss Spain, and by the offer to house the collection in the then-empty Palacio de Villahermosa, an early 19th-century edifice that was superbly reconverted by architect Rafael Moneo at fantastic cost. Thanks to this revamp, involving terracotta-pink walls, marble floors and skylights, visitors can view the works with near-perfect illumination. In 2004, the museum unveiled its new wing, in which some 200 paintings and sculptures from Carmen Cervera's own collection are on display.

The collection was started by the Baron's father in the 1920s but was dispersed among his heirs after he died in 1947. The Baron bought back the paintings from his relatives and then extended the collection, buying up first Old Masters and then more contemporary works during the 1960s. The Baron's own home in Lugano, Switzerland, had space to exhibit only some 300 works, leading him to look for a larger home for the collection, most of which can now be seen in Madrid, though some paintings are housed in the MNAC museum in Barcelona.
The collection
Following the collection in chronological order gives you a lesson in Western art history. Beginning on the second floor, you'll find 13th-century works, notably by the early Italians, such as Duccio di Buoninsegna's 'Christ and the Samaritan Woman'. You finish the tour on the ground floor, where Roy Lichtenstein's 'Woman in Bath' is on show. Along the way, you'll have seen examples of all the major schools. The collection partly complements the Prado's and the Reina Sofía's collections with substantial holdings of 17th-century Dutch painting, Impressionism, German Expressionism, Russian constructivism, geometric abstraction and Pop Art.

The Thyssen's detractors say the collection is a ragbag, catch-all gathering of every kind of style, put together with neither a sense of discrimination nor an eye for quality. However, one of the Thyssen's great attractions is that, while it is extraordinarily broad in scope, it is also recognisably a personal collection that reflects a distinctly individual taste, as seen in the wonderful room dedicated to early portraits, with works by Antonello da Messina and Hans Memling. Equally quirky is the section on early North American painting, including 'Presumed Portrait of George Washington's Cook' by Gilbert Stuart and works by American artists who are rarely seen in Europe, among them Thomas Cole, Frederick Remington and Winslow Homer.

The Thyssen also has its share of real masterpieces. Among the Old Masters, the works of Duccio, van Eyck and Petrus Christus stand out. The museum's most famous painting, however, is the great Florentine master Domenico Ghirlandaio's idealised 'Portrait of Giovanna Tornabuoni' (1488), in the Portrait Room. Two rooms further on is Vittore Carpaccio's allegorical 'Young Knight in a Landscape' (1510), another gem. From among the masters of the Flemish School is the sublime 'Annunciation' diptych by van Eyck, which is more like a three-dimensional sculptural relief than a painting. The Thyssen is particularly strong in the German Renaissance, with many works by Cranach the Elder, a remarkable series of portraits by different artists, and Albrecht Dürer's 'Jesus Among the Doctors', which portrays an idealised, almost effeminate Christ pressed upon by diabolical doctors.

From the later 16th century and baroque there are superb paintings, such as Titian's 'Saint Jerome in the Wilderness', Mattia Preti's unsettling 'A Concert' and Caravaggio's magnificent 'Saint Catherine of Alexandria'. There are also representative works by El Greco, Rubens, Guercino, Tintoretto and Jusepe Ribera, and a Bernini marble, 'Saint Sebastian'.

The first floor begins with several rooms of 17th-century Dutch paintings – arguably the least interesting section of the Thyssen – followed by the most varied part of the museum, with such pieces as a sombre 'Easter Morning' by Caspar David Friedrich; a Goya portrait of his friend Asensio Juliá; a great selection of Impressionists (Monet, Manet, Renoir, Cézanne, Degas dancers, two beautiful and little-known van Goghs); and even Constable's 1824 'The Lock' – although not jumbled together, but carefully ordered and arranged.

The collection is generally strong in German art of all kinds, with several rooms of Expressionists and powerful works by Emil Nolde, Ernst Ludwig Kirchner, Otto Dix, Max Beckmann and Blue Rider group artists Franz Marc and Kandinsky. Also present, on the ground floor, are some more familiar modern masters – Braque, Mondrian, Klee, Max Ernst and Picasso (in the shape of his 1911 'Man with a Clarinet'), among others. The last few rooms focus on the USA, with a fabulous Georgia O'Keeffe, 'New York with Moon', plus 'Hotel Room' by Edward Hopper and Robert Rauschenberg's 1963 'Express'. 'Large Interior, Paddington' by Lucian Freud, an early David Hockney, 'In Memoriam Cecchino Bracci', and Ronald Kitaj's 'The Greek from Smyrna' are also on display.
The Carmen Thyssen-Bornemisza collection
This extension opened in 2004 and incorporates two adjoining buildings: numbers 19 (the Palacio de Goyeneche) and 21 of C/Marqués de Cubas. The new space exhibits some 220 works of the 300 belonging to the private collection of 'Tita' Cervera, which she has ceded to the Spanish state for an 11-year period (though three were already up and the collection's future remains uncertain). In addition there is a huge area for temporary shows, and the library, restoration workshops and cafeteria have all been expanded. Access is from Room 18 on the second floor, which leads straight into rooms with early Italian and Flemish works by the likes of Luca Giordano, Jan Breughel and van Dyck, outstanding among which is the van Dyck's 'Christ on the Cross'. Moving on, you'll enter a well-illuminated gallery that contains views and landscapes by Canaletto, Constable, Corot, Guardi and van Gogh. In the next room are 18th-century French and Italian paintings and beyond that is the exhibition 'Naturalism and the Rural World', a selection of 19th-century paintings from North America. Room H contains the works of the early Impressionists, among them Degas, Pisarro, Monet, Renoir and Sisley. Downstairs on the first floor you'll find works by North American Impressionists and other artists from the period of late Impressionism. Two rooms are given over to Gauguin (the displays include his 'Mata Mua' and 'Coming and Going, Martinique') and other post-Impressionists. From then on, you move into German Expressionists, Fauvists and the early 20th-century avant-garde movements. In addition, there is a Rodin Room, where one of the Baroness's four sculptures by the French artist is on show; the others are spread throughout the first floor.
Another of the strengths of the museum are the temporary exhibitions (Cézanne, Julio Romero and Antonio Lopez are just some of the top names), which have been a big hit among the public. Advance booking is essential, since capacity is limited. Separate charges apply.
Address:

Museo Thyssen-Bornemisza Palacio de Villahermosa. Paseo del Prado 8
Centro
Madrid
28014

Venue phone:

91 369 01 51

Venue website:
Opening hours:

Tue-Sun 10am-7pm

Transport:

Banco de España (M: L2)

Price:

€10; reduced €7: over-65s and students. Paseo del Arte ticket €25.60 Temporary exhibitions €9 and €11. Free Mon noon-4pm

Map

Museo Thyssen-Bornemisza

Palacio de Villahermosa. Paseo del Prado 8




Centro




Madrid




28014

91 369 01 51

40.416021

,

-3.694946
What's on at Museo Thyssen-Bornemisza
Art
With such a suggestive title, who doesn't want to get up-close and personal with the work of the Belgian surrealist painter Paul Delvaux? His works, which form part of the permanent collection as well as that of Carmen Thyssen, are known for his dream...
Painting
His art is the exaltation of the joy of life, a hymn to the pleasure that he claimed through his paintings, wonders in manipulating light from colour. Now, part of the work of Raoul Dufy (1877-1953), an artist who played an essential role in the birth...
Art
Inasmuch as they're now called 'selfies', which makes it seem like a new trend, the truth is that self-portraits have existed almost as long as art has been art. Now, the Thyssen-Bornemisza Museum is hosting this exhibition 'Autorretratos. El artista...
Users say
<strong>Rating: </strong><span class='lf-avgRating'>0</span>/5
Near Museo Thyssen-Bornemisza