Toronto 2013: Dallas Buyers Club, Supermensch, Prisoners
Hustlers play the odds in three studies of brinkmanship.
By Joshua Rothkopf Mon Sep 9 2013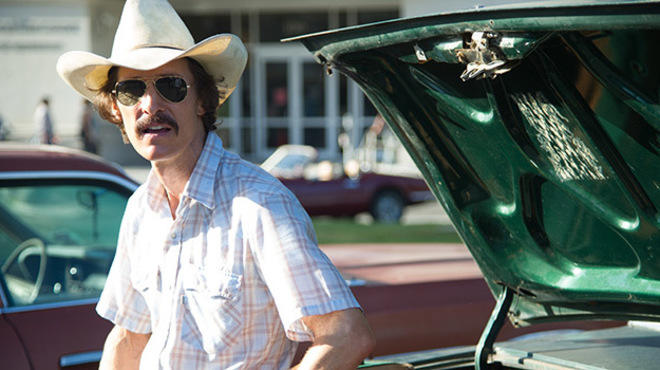 Matthew McConaughey in Dallas Buyers Club
"I like your style, Hiroshi," coos Matthew McConaughey (how else would he say it?) in the powerhouse star vehicle Dallas Buyers Club—but it's McConaughey's style we're hypnotized by. Has a former glamour boy ever made as good as this one? Only an hour of screen time before complimenting Hiroshi, McConaughey's Ron Woodroof is dead-ending as an unlucky rodeo gambler, plowing strange ass in the animal stalls and aching with undiagnosed HIV. Much has been made of the actor's commitment to a radical weight loss: To play the real-life Woodroof, he's become almost skeletal, losing 40 pounds of golden tone. But the real attraction here is an internal transformation, as this shit-kicker blooms into an AZT expert, an illegal seller of unapproved treatments, a global traveler and an accidental activist. (He even comes around to the gays, at least one of them: a sassy girl Friday played by a fully immersed Jared Leto.) The movie would make a fitting counterpart to last year's AIDS chronicle How to Survive a Plague; both concern heroism brought on by desperation and smarts.

RECOMMENDED: Full coverage of the Toronto Film Festival

Negotiations—from hustling to furious bluff-calling—thrum through a few of my favorite Toronto films. Can legendary entertainment manager Shep Gordon, profiled in the so-crazy-you-wouldn't-believe-it Supermensch: The Legend of Shep Gordon, really have entered the business as Jimi Hendrix's drug dealer? With winning candor (of the no-nonsense Jewish variety), Gordon brushes off his best stories, like the one about putting a chicken onstage for glammy client Alice Cooper to abuse, then calling the cops on his own show, acting as an incensed parent for publicity's sake. "Coupons" are what Gordon calls his life debts, and he's amassed a jaw-dropping amount of them from gushing A-listers happy to reveal both the smooth operator and the occasional jerk. Viciously funny and vibrating with larky archival clips, the doc bears an unusually distinctive style for a first-time filmmaker, former Wayne's World host Mike Myers (who touches on his own rough patch and Gordon's intervention). Introducing the movie in a Joy Division T-shirt and some upbeat gratitude, Myers seemed animated; he's got reason to be. His documentary is a good deed done.

The plop of a wayward water bottle almost triggered heart attacks at my screening of Prisoners, a merciless kidnapping thriller that held the crowd in silence. Swaddled in rainy grays (courtesy of ace shooter Roger Deakins) and a Seven-like brood, the movie plays its psychological gamesmanship to the hilt. In woodsy Pennsylvania, two preteen girls are snatched on Thanksgiving Day. Hotheaded dad Hugh Jackman wants answers and isn't above some abduction himself—of released suspect Paul Dano, adding memorably to his onscreen collection of effete creeps. As with Incendies, director Denis Villeneuve plumbs bottled rage and the breakdown of civility; if his follow-up constitutes a Hollywood sellout, more directors should consider doing it. As Jackman's brutal secret interrogation wears on, the clues parceled out with devilish scarcity, detective Jake Gyllenhaal sifts through the facts. It's great to see a dogged investigator actually doing some investigating; gone is the boyish sleuth from Zodiac. Unlike Dallas Buyers Club and Supermensch, this is one negotiation that goes from bad to worse, but several scenes are beyond electric.

Follow Joshua Rothkopf on Twitter: @joshrothkopf
You might also like
---
@TimeOutNewYork
Subscribe to Time Out New York on Spotify for playlists and recommendations from our Music team.


Check out New York's best restaurants, hottest street style, cool apartments and more.