The top 15 hip-hop mixtapes of 2011
By Drew Millard Mon Dec 19 2011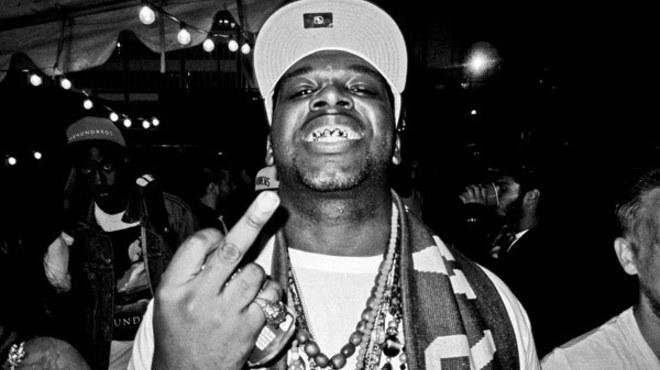 Mr. Muthafuckin' eXquire Photograph: Lee Shaner/Knocksteady
This was the year that punk-rap broke; 2011 was the year that rappers from disparate backgrounds and skill levels seemed to form like Voltron, channeling the intensity and fuck-it-all attitude of punk to create hip-hop that was rawer, less content, more out therethan hip-hop of the past. As I sat down to write this list, I realized that for various reasons, all of these mixtapes fit under this (admittedly) very loose taxonomy of "punk-rap." Some are expressly punk—SpaceGhost Purrp and A$AP Rocky pretend to worship Satan, and Cities Aviv used to be in a punk band, for example—and some of these guys have probably never heard a Crass song in their life. But that's the beauty of punk-rap. There are no rules. Only attitude.
15. Cam'ron and Vado: Boss of All Bosses 2.8
In the past year and a half, Killa Cam has been making a case for his return to the throne of New York City rap, with a reformed Dipset, some triumphant shows at Best Buy Theater, and an ace single that absolutely nobody paid attention to. A few months ago, he and protg Vado quietly released this mixtape, featuring the whole Dipset gang and containing as much whimsy, creativity and flat-out rhyme skill as anything the group has done since 2004. Don't sleep, because Cam'ron is back. And you bet your ass he's wearing purple.
---
14. Clams Casino: Instrumental Mixtape
Clams Casino is punk in the way that Television were punk: by approaching his craft with a sense of intricacy that seems in some way of the other. The 24-year-old producer makes oddly calming beats, often layering ambient samples upon hard-hitting drums and effervescent vocal samples. A listen to this tape—comprised of instrumentals Clams crafted for the likes of Lil B and Soulja Boy—is like a trip through your own consciousness.
---
13. Stalley: Lincoln Way Nights
Stalley likes to call himself to hip-hop's Bruce Springsteen, claiming the working-class as his constituency. In the past few months, however, he's become a symbol for those who've been hoping for good old-fashioned Talib Kweli—style conscious rap to make a resurgence. What makes Stalley so revolutionary is that he couches his rhetoric in some of the tippingest, hardest-knocking beats this side of the deceased Pimp C. Now that he's signed to Rick Ross's Maybach Music label, he just might have the visibility to bring the righteous man's hip-hop back into vogue.
---
12. SpaceGhost Purrp: Blvcklvnd Rvdix 66.6
What was most exciting about SpaceGhost Purrp, the 20-year-old producer from Miami, was that he seemed to have fallen out of a black hole. Here was a kid who looked like he was about 12, pretended to be a time traveler from 1991, replaced every single vowel in his tracklisting with an inverted V (VLL VF HVS TRVCKS LVVKVD KVND VF LVKE THVS) and rapped about Satan over otherworldly post-Screw goth boom-bap. It was incredibly confusing, and more than kind of awesome. Congrats to Purrp, who's now found a home in the fellow feaux-Satanist A$AP Rocky's crew.
---
11. Waka Flocka Flame: Lebron Flocka James 3
Waka Flocka is hip-hop taken to a hardcore punk extreme: cacophonous, pitch-black marching anthems for corner boys, created by a six-foot-five-inch, gang-affiliated anger machine. Flocka isn't for the faint of heart, and he isn't for those who value lyrics in their hip-hop. If you want a soundtrack to your next street brawl, however, you could do a hell of a lot worse than Lebron Flocka James 3.