Gastronomic tours
Our pick of the greediest ways to go around Paris
By M. Astella Saw
Marche Monge Karl Blackwell / Time Out
With glistening fruit tarts down one cobbled street and artisanal cheeses down another, Paris presents a particularly toothsome panorama. These guided tours with resident food experts will add sugar, spice and all things nice to a trip around the city.
Guided food tours of Paris
From the oldest pastry shop in Paris to an Ali Baba's cavern of kitchen supplies, this three-hour private walking tour (€300 for a party of two) winds round the doors of some of Paris's best food producers and suppliers. Native Parisians Betty Bitton and Paule Caillat can plan itineraries based on participants' interests, so a fondness for pâtisseries, say, can be taken into account. Where indulging in the fruits – and meats, and sweets – of someone else's labour isn't enough, Caillat is also available for half-day cooking classes (from €270 per person), which begin with a market tour before students head to Caillat's Marais apartment to cook their four-course lunch.
Iris Amice loves history as much as she does chocolate. A professional guide certified by the French Ministry of Culture, the docent of this Paris Walks tour (€27) is roundly praised for the engaging manner in which she transmits nuggets of social and historical information. That she does so while handing around a box of truffles probably helps. Over two hours, participants visit a number of chocolatiers, slowly but surely coming to understand how Paris is not just the city of lights, but also the capital of dark chocolate. Unlike some other walking tours, Paris Walks welcomes children on a wander, so families might find it worthwhile to organise a private tour (prices vary). Visit the Paris Walks monthly programme for full details.
Rather than thinking of the city in arrondissements, the guides at Paris by Mouth prefer to see the landscape in terms of its pâtisseries, fromageries and countless other food shops. The organisation, originally a collaborative website put together by a group of food writers, organises three-hour walks (€95) around particular neighbourhoods, so you might wander the picture-perfect streets of Abbesses, moving from croissant to award-winning baguette, or stop in at the traiteurs and boucheries of Les Halles, the market area novelist Emile Zola called the belly of Paris. Alternatively, savour the city by food category instead. One wine tour (tipsily) exploring the new generation of sommeliers and winemakers in eastern Paris promises an introduction to the sorts of artisanal drinks that are livening up the city's wine lists. The Christmas itinerary (€105) takes participants through a seasonal market and the specialty shops of Saint-Germain, with generous tastings of candied chestnuts and foie gras along the way.
Former restaurant consultant Wendy Lyn, a native Floridian who has lived in Paris for more than 20 years, has spent the last two decades building relationships with chefs, producers and food retailers – and she wants to introduce them to her hungry guests. Lyn organises private three-hour walking tours (€160) for groups of up to four people, helping them pick through the best duck foie gras and cured Auvergnat sausages in a Latin Quarter market, or selecting crusty baguettes straight out of the oven at an award-winning boulangerie. Her Kitchen Confidential tours (from €180) get you into the city's professional kitchens, so you can tour chocolatier Patrick Roger's studio and chocolate factory, or learn how to make the perfect Paris-Brest under Bistrot Paul Bert chef Thierry Laurent. For more details, click here.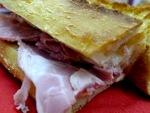 Context Travel Baguette to Bistro
Participants following this Left Bank itinerary (€80), from walking tour specialist Context Travel, go from regional cheeses to homemade rillettes via a cone of chocolate mousse. The two-and-a-half-hour walk is led by a trained chef or food journalist, who opens the doors to specialty food shops and neighbourhood boulangeries while also introducing visitors to the roots of French cuisine and the ins and outs of bistronomie. Small groups of no more than six people make for an intimate insider experience, though those looking for an even more discreet time can book private tours (from €315) for their party. For more info, click here.
---