The best Airbnbs in Paris
Experience the French capital in style with our selection of the best Airbnbs in Paris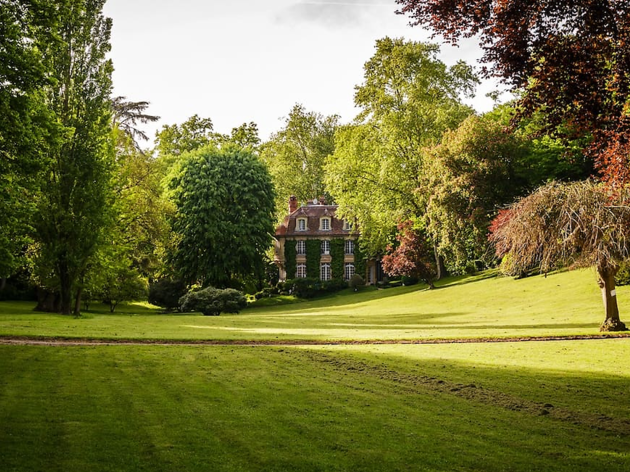 Paris is a beautiful city steeped in history and glamour, but boy is it pricey. In fact, according to a recent survey by The Economist, it's the most expensive city in the EU. Sacré bleu! But don't let that put you off, because it's possible to enjoy the French capital without breaking the bank and it starts with renting a perfectly located, très chic Airbnb apartment. We've rounded up the most charming and affordable stays that are walking distance from some of the best tourist attractions and activities in the capital, so you can splash those savings on delicious cheese and vino.
The best Paris Airbnbs
© Airbnb
Let's be honest – Parisian views don't get much better than this. Whoever owns this Airbnb is one lucky person, but being able to experience this terrace view for a few nights is reward enough. Gaze upon the Eiffel Tower, while sipping on a great French coffee, from this neat and stylish one-bed. There's a sizeable (for Paris) living room with a separate kitchenette.
Image ©Airbnb
Les Terrasses de la Tour Eiffel
Another gorgeous flat with equally gorgeous views of the famous Paris landmark. This one's got enough room to host 12 people (so you bring the whole brood) and it's beautifully kitted out inside with a modern, design-led feel and a very cool cantilever staircase.
Image ©Airbnb
© Airbnb
Luxurious apartment in Saint-Germain
This place is trés regal – it's like Versailles but without the crowds. Well, almost. It's spread across 2500 square feet of bedrooms (five), bathrooms (two), some very desirable wood panelling and incredibly high ceilings. Plus it's situated in the very trendy Latin Quarter, so you won't be short of things to do here.
Image ©Airbnb
Cosy flat in South Pigalle
Located in So-Pi, this lovely little flat will have you in amongst countless cafés, chocolateries and cocktail bars. Plus a stroll northwards will find you at Moulin Rouge (to the west) and Sacré-Cœur (to the east). The apartment itself is bright and airy, with a balcony to have croissants and coffee on in the mornings.
Image ©Airbnb
Luminous three-bed in Pigalle
Another Pigalle pad: this one would especially suit groups of up to six, especially if one person doesn't mind crashing on the sofa. The three double bedrooms are all white/cream, but in a calming way, rather than a dentist's waiting room. There's also shed loads of light streming in through the floor-to-ceiling windows. But be warned: this place is on the fifth floor and there's no lift.
Image ©Airbnb
Art Deco apartment with Eiffel Tower views
This two-floor Art Deco apartment overlooks the Seine all the way to the Eiffel Tower, with the views probably best taken from the very spacious terrace. Well, why not? It's close to Rue de Passy and just a ten-minute walk from Trocadero. A romantic retreat at its finest.
Image ©Airbnb
A four-bedroom industrial loft
The owners of this beautifully rustic loft conversion took an old industrial building and turned it into one of Paris's loveliest Airbnb spots. There's a huge amount of space, and the aesthetic that makes this place so appealing is best seen in the high-ceilinged living space, the sun streaming through the skylights.
Image ©Airbnb
Quaint apartment in Saint-Germain-des-Prés
A quaint apartment south of the Seine that boasts beautiful exposed brick and original beams. Nearby you'll find the historic coffeehouse Café de Flore, Paris's oldest restaurant, Le Procope, and the exotic Jardin du Luxembourg.
Image ©Airbnb
Charming one-bed apartment in Canal Saint-Martin
If you're coming into Paris via Gare du Nord, Canal Saint-Martin is an ideal district to stay in as it's only a ten-minute walk away. It also offers stunning views of the water, cobbled streets and eateries aplenty. This pretty apartment has a kitchenette-cum-living room, with separate bedroom (and sofabed) and sleeps up to three people.
Image ©Airbnb
Open-plan apartment in Montmartre
Located only a short stroll north of the striking structure on the hill that is Sacré-Cœur, this cute flat provides a homely, light and airy space for two to relax in. There's an old-school feel in this area (think 'Amelie', as a lot of it was filmed here) with seriously quaint bistros, architecture and shops.
Image ©Airbnb
Studio apartment, Le Marais
A sweet studio in the leafy Marais district, offering shed loads more light and space than you'd typically get in a Parisian apartment. There's a washing machine and a kitchenette with all the mod cons, plus its central location means it's walking distance to most sites (and surrounded by Metro stations for everything else). With one double bed and a sofabed, this place can accomodate four, but would be more comfortable for two.
Image ©Airbnb
© Airbnb
A classy Parisian flat in Bastille
French flats don't get much more authentic than this – if your idea of Parisian is one with money and views. This may not be the cheapest place (under £100 each if split between four), but you sure do get a lot for your money. A panoramic view across the city through massive windows, for one, a balcony that snakes around the apartment, and decor finished to five-star hotel standards.
Image ©Airbnb
© Airbnb
Family home in Belleville
A whole house in Chinatown. This place sleeps eight comfortably (more could fit on sofas) and has a vibrant decor that reflects that personalities of the family that usually lives here. There are loads of amazing Chinese restaurants and supermarkets in this area, plus it's a short walk from the luscious Parc des Buttes-Chaumont.
Image ©Airbnb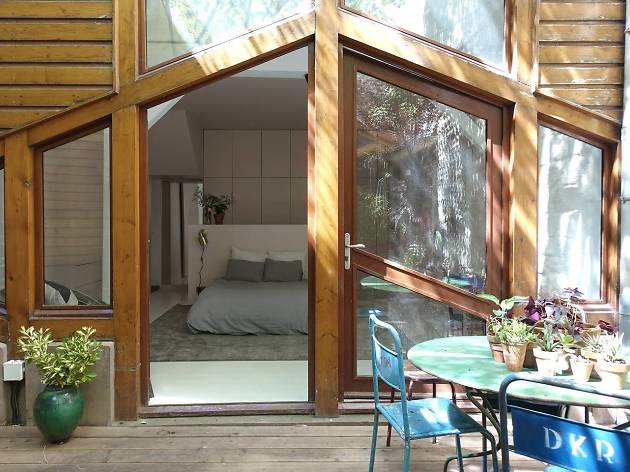 A room in a Belleville private garden
This is an ensuite room-only situation, but it's too beautiful to miss out. Architecturally and decoratively stunning, with pyramidic doors that lead out onto a spacious suntrap of a terrace. There's no kitchen, but there are tea/coffee-making facilities, and there are more than enough affordable eateries around Belleville to satisfy you.
Image ©Airbnb